Lindsay Lohan Was Blindsided By Her Split With Samantha Ronson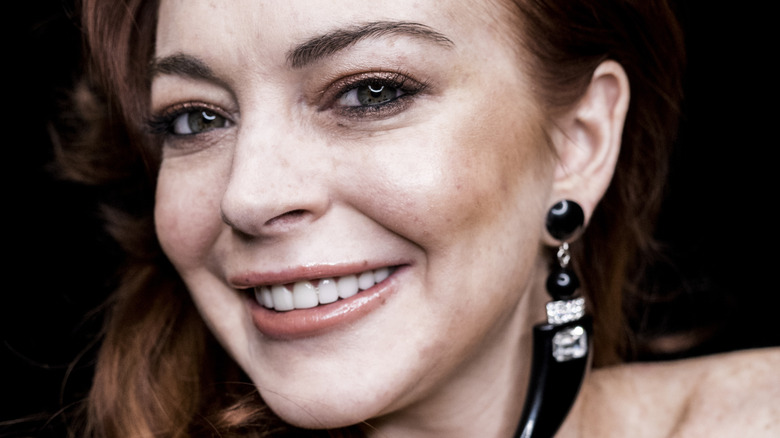 Gareth Cattermole/mtv 2018/Getty Images
While artists sometimes need a separate Wikipedia entry to list their accolades, Lindsay Lohan has a Wiki page dedicated to her personal life. That's how much interest the "Mean Girls" star has generated for myriad aspects of her nonprofessional life. Chief among them is Lohan's long arrest record, which is intricately connected to her history of addiction. But besides her history of legal troubles and substance abuse, Lohan has also raised eyebrows over her ever-changing political views, passionate opinions about foreign affairs, and, unsurprisingly, her relationships — romantic or otherwise.
In the early aughts, the media couldn't get enough of Lohan's feuds with Paris Hilton and Hilary Duff. Lohan's romantic partners have also put her in the media. In 2016, Lohan's relationship with Egor Tarabasov caused a stir when she accused the Russian millionaire of abuse, The Sun reported. The following year, "The Parent Trap" actor was deemed hypocritical for complaining her allegations were largely ignored by the media and the public just a week after she stood up for convicted sex offender Harvey Weinstein.
While both sides had good points there, Lohan had previously caught uncalled-for flak for her relationship with Samantha Ronson in 2008 and 2009. "I was bold enough to say, 'Yeah, I like a girl. And?' That put her in a situation where she was being attacked every day. That's not fair," she told Us Weekly in 2012. While the initial reaction to the relationship largely centered on it being same-sex, it later shifted to how it ended.
Lindsay Lohan claimed she was ghosted by Samantha Ronson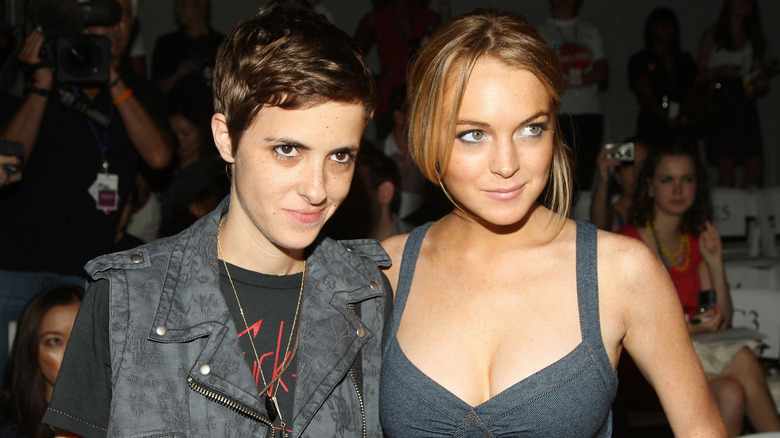 Stephen Lovekin/Getty Images
The media reveled in the fact that Lindsay Lohan was in a relationship with a woman. But Lohan gained many observers' sympathy amid her and Samantha Ronson's breakup in March 2009, when the actor shared the details of how the British DJ left her. "I had no idea what was going on," Lohan said on "The Ellen DeGeneres Show" in April 2009. "I just hadn't seen her in, like, a week. She, like, disappeared."
As far as Lohan is concerned, there is only one way to break up that is worse than going through a highly publicized romantic split. "When you don't know you're breaking up," she told DeGeneres. "Really weird." At the time, Lohan still harbored hope she and Ronson could figure things out. "I really care about Samantha and we'll see what happens," she said. "Maybe when we're fully in the right place. And I love her."
Just a few weeks before the interview, Lohan's father celebrated the breakup, telling ABC News the relationship was unhealthy. "Well, thank God ... What they had was very toxic. It had become very toxic," he said. "Lindsay doesn't need to keep following Samantha around." In 2012, Lindsay suggested her father knew what he was talking about. "I needed to love myself first before I could be with anyone. And I was going through a lot. Two toxic people cannot be together. End of story," she said in the 2012 Us Weekly interview.
Lindsay Lohan downplayed the relationship later on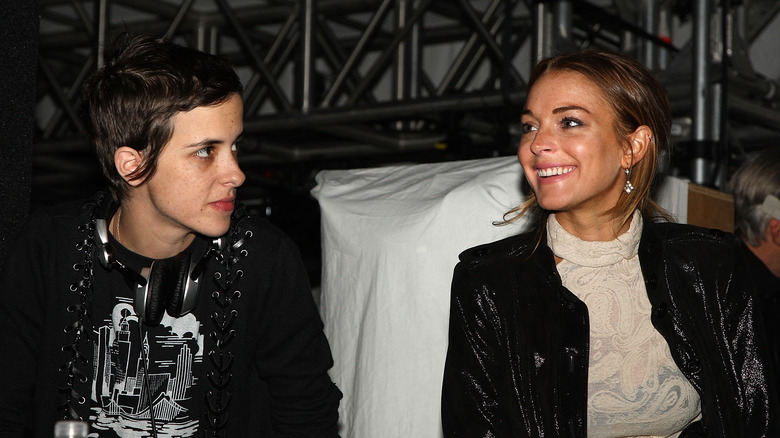 Bryan Bedder/Getty Images
Despite opening up her heart to the public about how she felt about her split from Samantha Ronson, Lohan later chalked up the relationship to experimentation. "I think I needed to experience that and I think I was looking for something different," Lohan told Piers Morgan in a 2013 Daily Mail article. Lohan also suggested she dated Ronson out of her own insecurity. "When I was with Samantha, I didn't want to leave, because I didn't want to be alone," she detailed. "It was very toxic."
A few years earlier, Lohan admitted she was caught off guard by the feelings she developed for Ronson, noting she had never been in a same-sex relationship. "I never really thought about women before, it kind of just happened with Samantha," she told The U.K. Sun in 2010 (via Today). "It surprised me." Despite her history with Ronson, Lohan said she was never in doubt about her sexuality. "I know I'm straight," she told Morgan, denying she considers herself bisexual.
In November 2008, when Lohan and Ronson's romance was still just speculation, she said she had a different reason for hesitating to embrace the bisexual label. "I don't want to classify myself," she told Harper's Bazaar. "First of all, you never know what's going to happen ... I appreciate people, and it doesn't matter who they are, and I feel blessed to be able to feel comfortable enough with myself that I can say that."