The Troubled Life Of Rod Stewart's Oldest Son Sean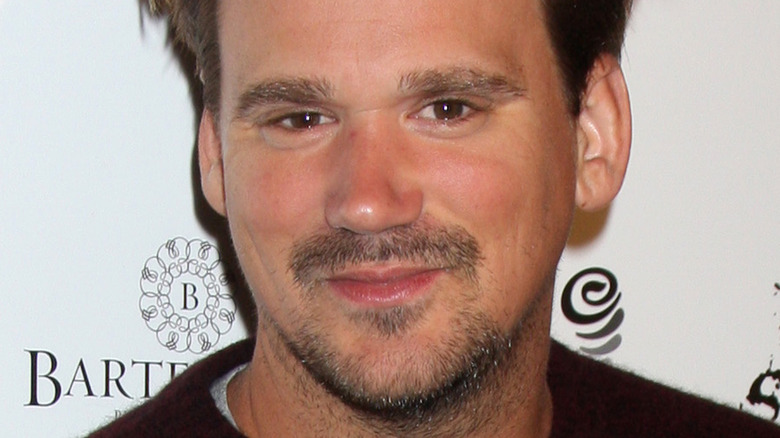 Kathy Hutchins/Shutterstock
When it comes to Hollywood children, a.k.a. nepo babies, there's often a troubled path that some of them find themselves on as teens or adults. Whether it's the money, family connections, or privilege, these particular celeb kids go on to have trouble with the law. And Sean Stewart, son of musician Rod Stewart, is one of those particularly rebellious Hollywood kids.
Before even getting into Sean Stewart's issues with the law, first, there's his time doing drugs. He's been open about the fact that he used to do lots of them, which is why some of his court cases have included rehab as a point of his sentencing (more on that in a bit). While on Brandi Glanville's "Podcast One" show in 2014, Stewart said, "Everybody likes to party. I've done my partying. I've done enough drugs to kill Hollywood." He also said that he'd "never go back to that." He went on "Celebrity Rehab with Dr. Drew" in 2008 as well, and while speaking with OK Magazine at the time, he said he was already sober at that point of the show, and wanted to help others by appearing on it and speaking out about being sober.
What else has Stewart done? Read on to find out (including the time he and Rod Stewart got the police called on them together).
Rod Stewart's son, Sean Stewart, is no stranger to trouble with the law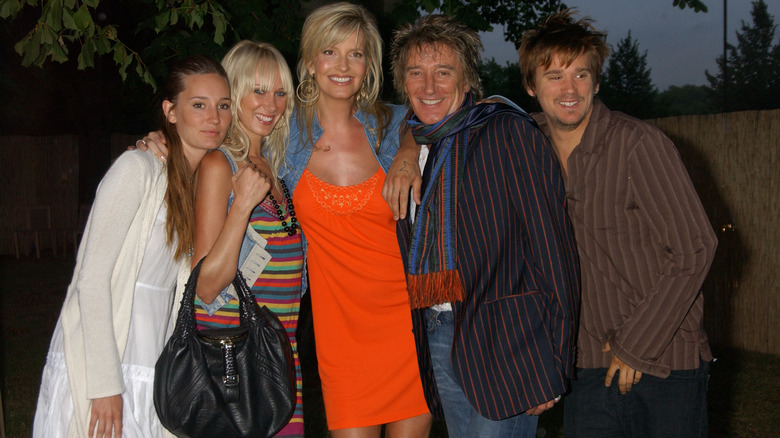 Dave M. Benett/Getty Images
British singer Rod Stewart has a lot of kids. Between five women and three separate marriages, Stewart fathered four boys and five girls, with Kimberly Stewart, Ruby Stewart, and Sean Stewart as a few of the most famous. And unfortunately for Rod Stewart, Sean used to get in trouble with the police a lot. In 2002, Sean went to jail at the age of 22 for assaulting a 19-year-old outside of a California restaurant. He pleaded no contest to felony assault and was sentenced to 90 days in jail, according to the Los Angeles Times. He was also placed on a five-year probation, ordered to pay $5,600 to the victim, and to participate in an anger management and drug rehab program. The most random part of this story is that Dean Cain, who made it big playing Superman in the '90s on "Lois & Clark: The New Adventures of Superman" — is the person that stopped the fight. Cain is known more for his political takes now. 
Stewart's pattern of violence continued into 2007 when he was accused of assaulting a married couple in April. The Monterey Herald reported that the two claimed Stewart and his posse threw bricks at their car. The issue was handled out-of-court with a settlement after Stewart pleaded not guilty. In August 2007, Heavy reported that Stewart had another lawsuit involving a 2006 nightclub fight. This was also settled out of court with a settlement.
The police were called on Sean Stewart and Rod Stewart in 2019
More recently, Sean Stewart's antics with police have died down. He was arrested in 2015 for riding on a luggage carousal and going into a "restricted area" of the airport in Miami. It was a practical joke that went "a little too far," Stewart told the Daily Mail Australia. He just had to pay a fine to close the case. Most notably, Sean and Rod Stewart were both involved in a scuffle that caused police to be called on New Year's Eve 2019. 
Right before the clock struck midnight, they got into a fight with hotel security at a hotel, Breakers, in Palm Beach, FL. They weren't allowed into a private event at the hotel and they started making a scene. Sean went "nose to nose" with security, which involved shoving. And Rod Stewart apparently punched the security guard in the ribs after this. "They were being loud and disruptive all night," a source told People. "It was like a frat party."
They faced possible charges of simple battery but no one was arrested, which is a good thing for Rod, specifically, who's now married to Penny Lancaster, a special constable with the City of London Police. Luckily nothing has happened recently, with Sean marrying his girlfriend, Jody Weintraub, in a surprise ceremony on Valentine's Day right after he proposed.