A Look Back At Ryan Seacrest And Julianne Hough's Romantic Relationship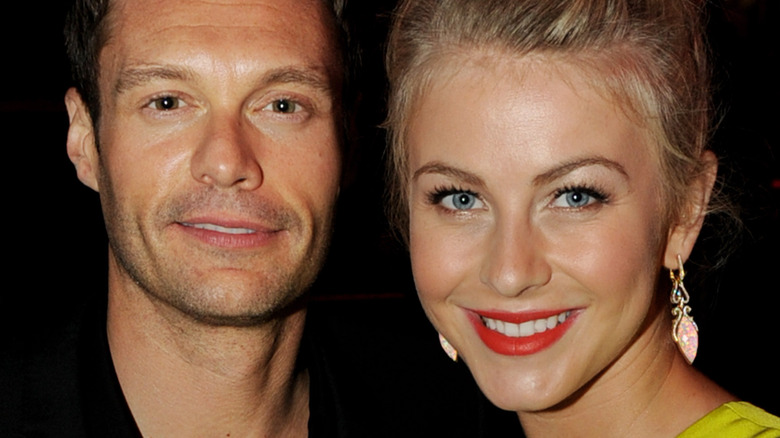 Kevin Winter/Getty Images
More than 85% of Americans know who Ryan Seacrest is. Yet, the popular television host has managed to keep his personal life largely away from the spotlight. Perhaps because of his low-key dating history, Seacrest's relationship with Julianne Hough drew plenty of attention when it came to light in early 2010. Hough gushed about her then-boyfriend, letting us in on the "American Idol" host's penchant for grand gestures. "He's really romantic," she said on "The Ellen DeGeneres Show" that November. "He's not even in town, and I got in my car and there are flowers everywhere. For my birthday, same thing. Flowers everywhere. I was almost embarrassed."
Hough was just 21 when she began dating the 35-year-old Seacrest. But he'd supposedly been interested in the "Dancing With the Stars" alum for several years. "He was after me since I was 18," she reportedly told a TMZ source. It took Hough that long to agree to go out with him because he wasn't really her type. "After a few years, he was persistent ... so I went out with him on a date and I realized how much I liked him."
In 2012, however, Hough admitted she'd always been rather aware of Seacrest. "I'm kind of dating my first celebrity crush, so I feel pretty fortunate," she told Us Weekly that October. But the relationship ended just five months later, People reported in March 2013. Seacrest, in true fashion, has remained tight-lipped about the breakup. But Hough has given us hints.
Ryan Seacrest and Julianne Hough's work schedules reportedly got in the way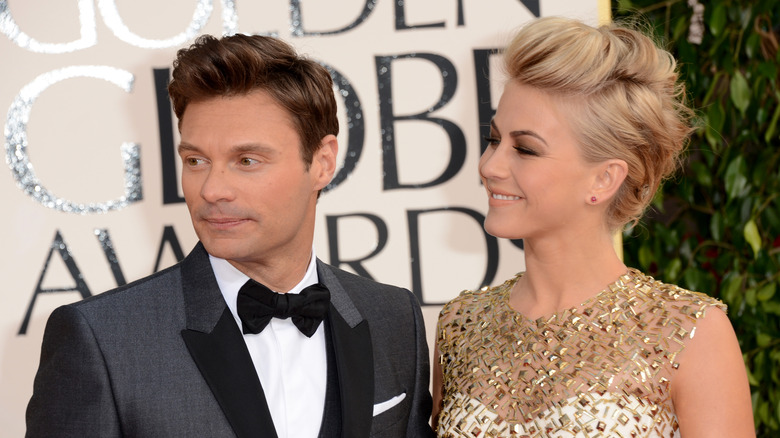 Jason Merritt/Getty Images
No one doubts that finding work-life balance when faced with the type of work schedules Julianne Hough and Ryan Seacrest have is a challenge. Hough, herself, addressed that during their relationship. "It's a hard thing to do, especially when you're so caught up in your work and bettering yourself," Hough told Parade in 2012. "It does get hard because you're so focused on that." However, the "Footloose" actor contended she and Seacrest had found a way around it. "At the end of the day you have to find a balance with what's really important," she said. "I'm so lucky that I have a great relationship."
When they broke up, sources suggested Seacrest's relationship with his career put a strain on his romantic relationship. "It's a lifestyle she couldn't handle anymore. Work always, always came first [for Ryan]. She wants a more low-key life," an insider told Us Weekly in March 2013. That coming from Hough — a dancer, singer and actor who's clearly passionate about her career — might sound perplexing. "I'm a very anxious person. If I'm not working, I go crazy. I've been lucky in my career," she told Glamour in 2012.
At first, Hough and Seacrest's work ethic and drive actually brought them together. "We both like that perfection in ourselves, and we want to make our relationship like that," she said. Seacrest, however, is apparently next-level. "Dude works all the time," the Us Weekly source said. "He never sleeps."
Julianne Hough hinted at a deeper reason for her split from Ryan Seacrest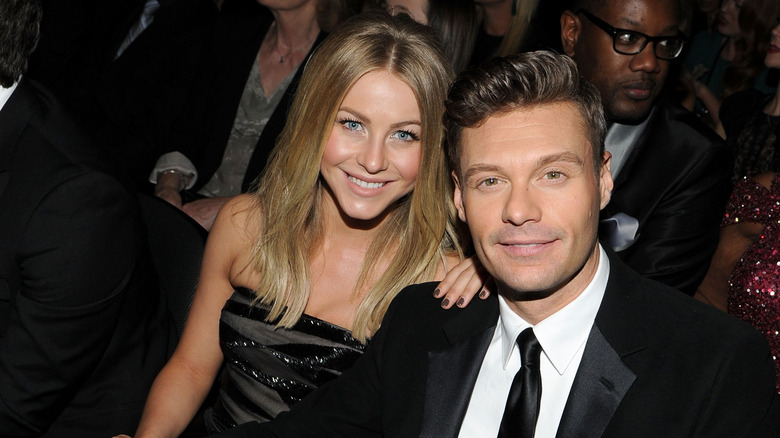 Larry Busacca/Getty Images
While crazy schedules may have played a role in Julianne Hough and Ryan Seacrest's split, she hinted at another more mysterious reason, too. "There was nothing wrong or bad, but there was nothing right," she told Redbook in 2014. Hough suggested her heart was never fully in the relationship, but Seacrest had nothing to do with it. "I didn't say what was on my mind because I didn't want to ruffle any feathers," she revealed. "I needed to be perfect."
Regardless of the reason, Hough and Seacrest went their separate ways, while still harboring love and respect for each other. In March 2022, Hough proved she's still on good terms with her former boyfriend during an "On Air with Ryan Seacrest" interview. "We're friends, we chat," she said. In the meantime, Seacrest tried to explain the concept to his co-hosts, who couldn't imagine interviewing one of their own exes. "There is nothing uncomfortable about it because we remained friends for years and still are," he argued.
Indeed, Seacrest showed he had no ill feelings in July 2017, when he congratulated Hough on marrying Brooks Laich on "Live with Kelly and Ryan." As Seacrest showcased a newspaper clipping of the wedding, his co-host Kelly Ripa commented on how good Hough looked in the photos — and Seacrest agreed. "She looks stunning." Seacrest also congratulated Hough's family before wishing her the best. "Congratulations, Julianne. Happy to see you happy," Seacrest gushed.