The Complicated Relationship Between Aaron Rodgers And Brett Favre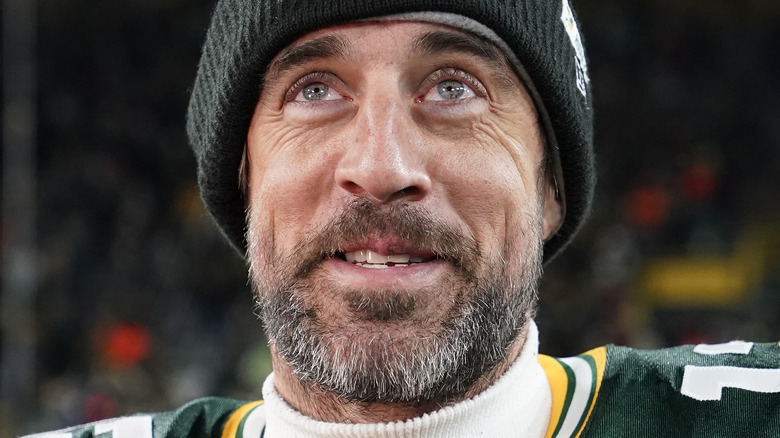 Patrick McDermott/Getty Images
If the city of Green Bay, Wisconsin is known for one thing, it's football. The Green Bay Packers are the only NFL team to be owned by fans — approximately 360,000 stockholders — and these same fans regularly brave freezing temperatures to watch their team compete at Lambeau Field. The people of Green Bay have also had a lot to cheer about in recent years. Since 1992, the Packers have made the playoffs 22 times (as of this writing). This is due in large part to legendary quarterback Brett Favre, who started with the Packers in 1992 and left the franchise after signing with the New York Jets in 2008. The Hall of Famer started in two Super Bowls, nabbed the Vince Lombardi trophy in 1997, and made a name for himself as one of the toughest quarterbacks of all time. Favre's life off the field might not be squeaky-clean, but he's still beloved in Green Bay.
Favre's successor, Aaron Rodgers is Cali-born-and-grown, but he's adjusted nicely to life in the Midwest. Like No. 4, Rodgers won a Super Bowl in 2011, and he and his cannon of an arm have led the Packers to the end-zone on numerous occasions. But with a 2022-23 losing season in the rearview, NFL.com reported that the team might be ready to move on from their aging quarterback. It's a situation that's eerily similar to when Rodgers was waiting in the wings for Favre to retire.
Brett Favre wasn't happy when Aaron Rodgers came to Green Bay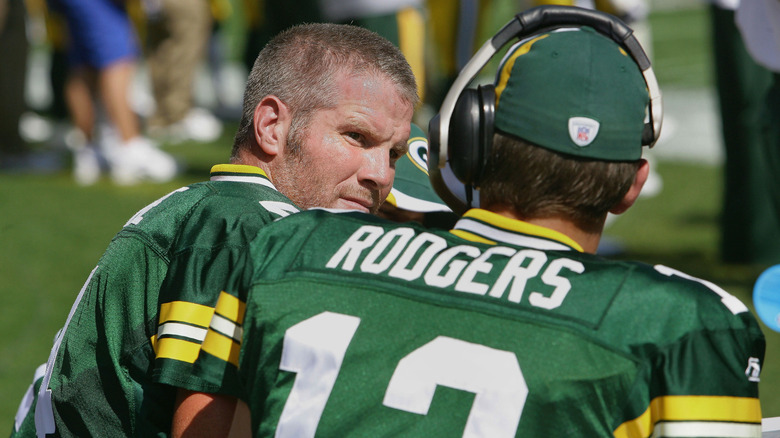 Tom Szczerbowski/Getty Images
It's not easy for a star quarterback to welcome who he perceives to be his replacement. When Aaron Rodgers was drafted by the Green Bay Packers in 2005, three years before Brett Favre retired, No. 4 wasn't exactly warm and fuzzy to Rodgers. "[With Favre] being a veteran, having played multiple seasons and then the team drafted a guy to eventually take your place ... I can tell you on my side there was nothing but cheerleading and hard work and I kept my mouth shut," Rodgers said on "In Depth with Graham Bensinger." In a separate interview with Graham Bensinger, Favre reiterated the fact he wasn't close with his successor. "I don't have to give [Rodgers] any insights on what I do or don't do," he said, adding that his job was to "win ball games," and not to mentor Rodgers. Essentially, Favre didn't like the idea that he was expected to mold Rodgers into a winning QB, which precipitated their rocky relationship.
The Hall of Famer doubled down on his take, insisting that the situation between he and Rodgers wasn't unique. "I'm much older than him," Favre told Graham Bensinger, intimating that the age difference meant they didn't have much in common. Ironically, Rodgers dealt with a similar situation when the Packers signed quarterback Jordan Love in the 2020 NFL draft. Pundits expressed outrage on his behalf, opining that Rodgers "should ask to be traded."
Brett Favre and Aaron Rodgers ended up on better terms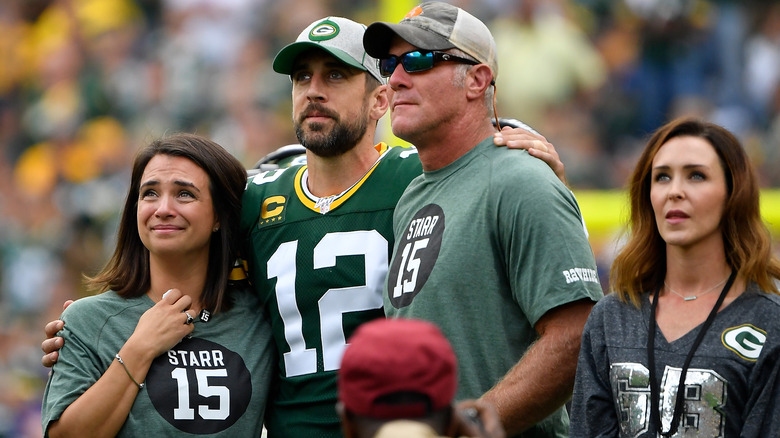 Quinn Harris/Getty Images
Once Brett Favre retired and made room for Aaron Rodgers to shine, their relationship improved. "I love Brett, I always had a great appreciation for him, but we were caught in the middle of a power struggle," Rodgers explained on "The Pat McAfee Show." "Not a lot of young quarterbacks [have] the opportunity to go to a team with a first ballot Hall-of-Famer in the same room," he mused on a separate occasion, speaking to Fox 11's Cody Krupp. And, though Favre certainly didn't go out of his way to make Rodgers' life easier, the MVP winner acknowledges that he still did his best to learn what he could from Favre. "I was standing behind him in the huddle ... listening to what he was saying before the start of a period. I was sitting in meetings with him, [taking] ... notes. I was watching hours of film ... trying to give him a little advantage for the week," Rodgers reflected (via CBS Sports).
Those early lessons translated into a successful career for Green Bay's No. 12. Whether he's willing to pass on those same lessons to Jordan Love still remains to be seen. But Favre clearly mellowed out towards Rodgers since quitting the NFL, even complimenting Rodgers on occasion. "Aaron Rodgers ... has all the tools," Favre told the NFL Network (via CBS Sports) in 2012. "He's got a great arm, extremely accurate, handles the cast around him perfectly."