Inside Lizzo's Friendship With Adele (And Why They Say It Works)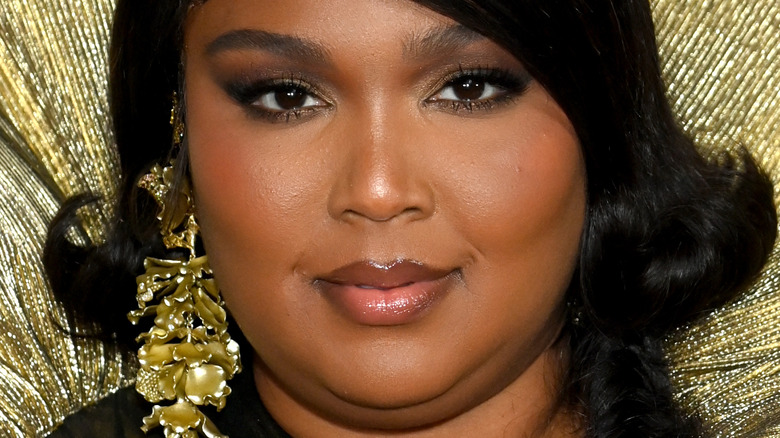 Dave J Hogan/Getty Images
There's no question that Lizzo and Adele are two of the most powerful names in music. The musicians have captured enormous fanbases by staying true to themselves and their work, all while exuding confidence every step of the way. Both stars have had outstanding careers in the industry, going on to receive several Grammys for their respective hits. Though the two artists come from completely different backgrounds, with Adele growing up in the U.K. and Lizzo hailing from Detroit, the women have more in common than one would think. As Lizzo once told "The Howard Stern Show," "[Adele] is literally me in a different font." Although their musical styles differ, both have endured heartbreak and succeeded in releasing powerful tracks documenting their endurance through and beyond breakups.  
In 2022, Lizzo opened up to People about her close friendship with the "Easy On Me" singer, explaining how much their budding sisterhood has meant to her through the years. "She's been through similar things that I have, and she's given me really good advice," she said. While it may be hard to find true friends when the world is your oyster, these two seemed to be a pair of pearls sharing one fabulous shell of a friendship. Here's the inside scoop on Lizzo's friendship with Adele (and why they say it works). 
They instantly clicked after meeting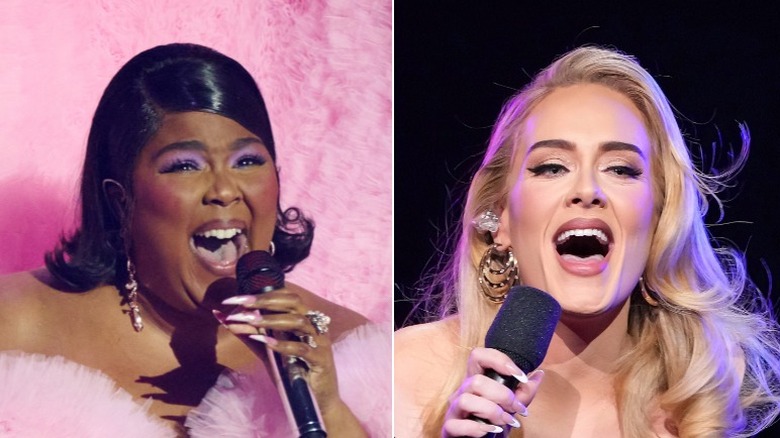 Gareth Cattermole, Kevin Mazur/Getty
Adele and Lizzo had an instant connection after meeting each other for the first time. Speaking to People, Lizzo admitted that while she couldn't remember exactly what party it was that she met the "Easy On Me" star, she found an immediate friend, regardless. "I met her at a birthday party or a Grammy party — I can't remember where because I was drunk at both," she admitted. During an interview with "Radio Andy," Lizzo elaborated that wherever it was they met — in this case, she suggested it was at a shindig thrown by producer Mark Ronson — the two instantly shared a mutual excitement upon meeting each other.
Adele might have remembered a bit more than her pal, as she gushed about her friend to thousands of fans while on stage in Las Vegas. "I met her at a house party ... and she was like 'Oh I'm a singer,'" she recalled during her show, revealing that it was sometime before Lizzo's first major label EP, "Coconut Oil," was released in 2016. "... I was like, 'I'm having a karaoke party next week if you want to come.'" The "Set Fire To The Rain" singer told her fans that she kept up with Lizzo through the years and had enjoyed some intensely emotional one-on-one chats with her. "I really think very highly of her," she added. 
They share the same astrological sign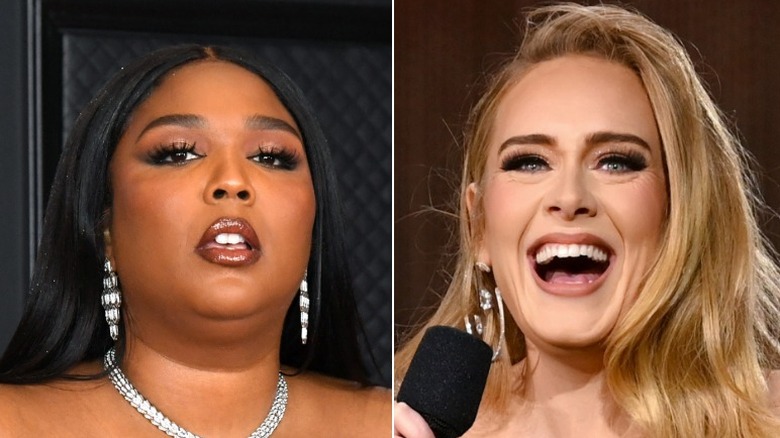 Gareth Cattermole, Kevin Mazur/Getty
Lizzo and Adele have more in common than being musical icons, they also share the same astrological sign. "We're both Tauruses, and when we're together, the decibels of how loud we get with our laughter is incredible," Lizzo explained on "Radio Andy" with Andy Cohen. "We can just kiki with each other, we really are super similar." 
Taurus zodiac signals are known for their loyalty and their tenacity, so in this friendship, there's no question as to why these stars are so close. Lizzo opened up about why she admires her friend so much, admitting that she and Adele are both cut from the same strong cloth. She told People, "We have very similar personalities and the way we think, and we just connected in that way. We're both supreme divas. We know our worth." Adele similarly exudes that same confidence. The singer has been open about her weight loss journey — but admitted that being self-assured has nothing to do with your dress size. "I'm as confident and mouthy now as I was then! That's personality," Adele told The Face. "I don't think your body gives you a personality." 
With her unapologetic poise and sass, Lizzo brings this same joyful sense of power to her chart-topping hits. As she boldly declares in the opening lines to "Truth Hurts," "I just took a DNA test, turns out I'm 100% that b***h even when I'm crying crazy" — a true Taurus lyric if ever we heard one! 
They support each other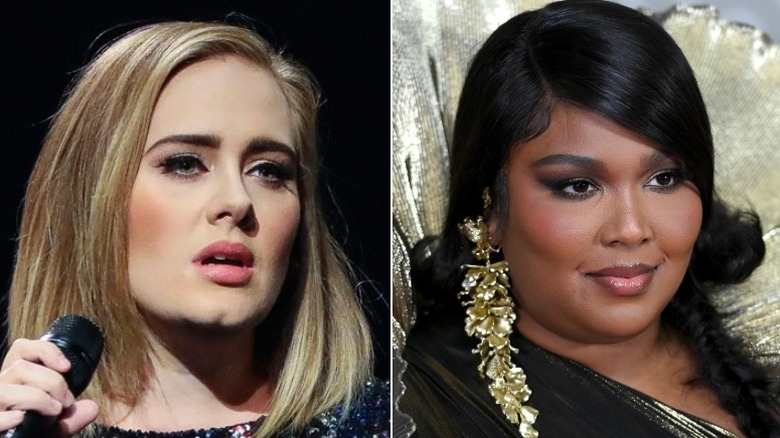 Scott Legato/Getty, Dave J Hogan/Getty Images
True friends show up for each other — and it's no different between Adele and Lizzo. The two musicians have gone out of their way to shout each other out. Adele took time during a Las Vegas show to give her bestie credit for her documentary "Love, Lizzo." Talking to her fans, she said, "It was so sincere. It was so truthful ... I laughed, I cried, I loved seeing all the footage and the photographs of her when she was little." She went on to appreciate Lizzo even more, adding, "She is so thoughtful, she sends flowers to you, she remembers things about you. She's amazing, so I'd like to give her all of my love."
Meanwhile, Lizzo was front-row for the "Adele: One Night Only" concert in Los Angeles in 2021 besides the likes of Drake and Oprah Winfrey. Lizzo gushed to People, "When it came time for her performance, she extended an invitation, which was incredible — she put my a** in the front row, which was even more incredible!" The "Good As Hell" singer went on to praise Adele's vocals, admitting she was happy to show up for her friend. Tyler Perry, Melissa McCarthy, and Donald Glover were also in attendance, and the concert was recorded for the CBS documentary "Adele One Night Only," which included a special interview with Adele's fan and concert goer, Winfrey. 
They have both hosted Saturday Night Live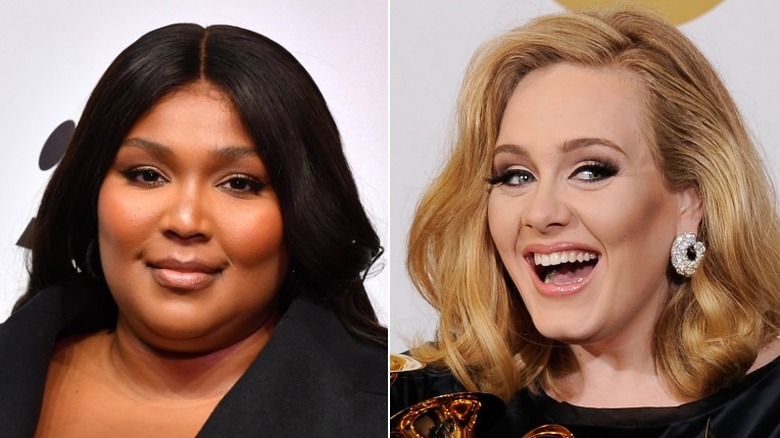 Kevork Djansezian, Sarah Morris/Getty
Both Lizzo and her bestie Adele have taken the stage at "Saturday Night Live." While Lizzo was preparing for the show, she told "Radio Andy" that she got a sweet text from the "My Little Love" singer. "At 'SNL,' she texted me. I hadn't heard from her in a minute, 'cause you know, life," Lizzo admitted. "But I was looking at her photo 'cause it's right outside the dressing room and she texted me and was like, 'I hope you kill it this weekend babes.' And I was like, 'Oh my God! I'm looking at you!'"
Lizzo made "SNL" history in April 2022 as the first female host on the show to introduce herself as a musical guest. However, it certainly wasn't her first time on the show. The musician had previously appeared as a musical guest in December 2019. Two years later, she made her third "SNL" appearance, in which she closed out the final episode of 2022 by performing her hit "Break Up Twice" as well as a cover of Stevie Wonder's "Someday at Christmas." Meanwhile, though Adele has likewise made a handful of "SNL" appearances as a musical guest, she made her hosting debut in 2020.
They both love Beyoncé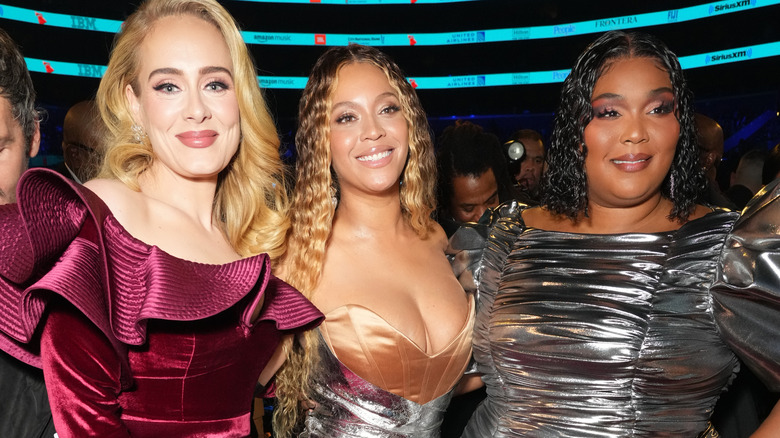 Kevin Mazur/Getty Images
Like most folk, Lizzo and Adele share a fond love for Beyoncé — but honestly, who doesn't love Queen B? In 2023, Lizzo posted a photo to her Instagram of her proudly posing next to the "Rennaissance" star at that year's Grammy Awards, along with the caption, "I won" alongside a teary-eyed emoji. She also took to Twitter alongside her bestie Adele to praise the superstar as she became the most-awarded Grammy winner of all time. Posting a snap of the two posing together as the star delivered an acceptance speech in the background, Lizzo wrote, "Selfie as Beyoncé casually makes herstory."
Adele also gave the star huge praise on stage when she accepted her Grammy award in 2017 for "Album of the Year." During her speech, she paid tribute to Beyoncé's achievements that year. "I can't possibly accept this award, and I'm very humbled and very grateful and gracious but [the] artist of my life is Beyoncé," she declared through tears. "['Lemonade'] was so monumental ... and so well thought out and so beautiful and so soul-baring ... I love you and I always have."
Speaking to Vogue in 2021, Adele elaborated that she believed Beyoncé was the true winner that night. The two had enjoyed a private conversation after the show in which she told the star that the Recording Academy likely didn't understand the visual album. "They don't want to support the way that she's moving things forward with her releases and the things that she's talking about," she said.
They bring the fun wherever they go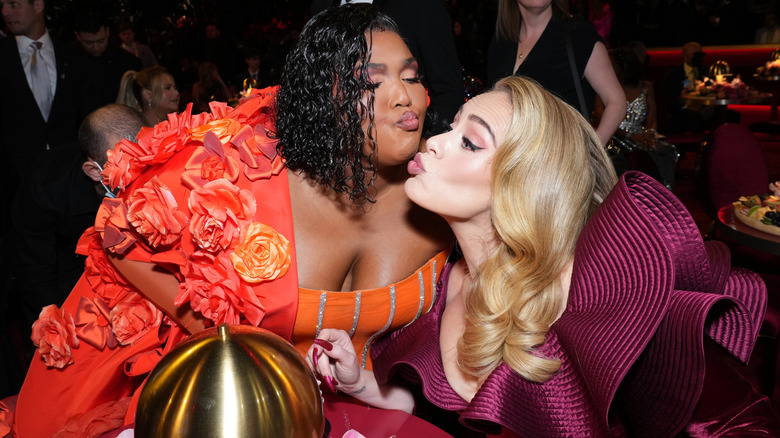 Kevin Mazur/Getty Images
What are the Grammy Awards without a little tequila to warm you up? Those were Lizzo's exact thoughts when she brought a flask to the 2023 ceremony to share with Adele. "I legitimately was so drunk," she said in an interview on "Elvis Duran and the Morning Show." "Me and Adele were drinking so much that we didn't even really know what the categories were at this point." Lizzo admitted she snuck in a flask to ease her nerves, as well as some white wine for her bestie. It surely helped to take the edge off the evening, even though Lizzo took home the Grammy award for "Record of the Year" for her track "About Damn Time," while Adele won a Grammy for "Best Pop Solo Performance" for her single "Easy on Me."
The Grammys wasn't the only time these two have bonded over drinks. In an interview with Heart FM, she revealed that the British artist doesn't exactly invite her over to her house for tea. "We drink wine with ice," she clarified. Lizzo elaborated that Adele has a beautiful house decorated with a particular flair. "It was real English," Lizzo said. "I was like 'I feel like I'm in England.'" When the singer was pushed on more details about her pal's home, including whether Adele kept Yankee Candles burning in it, Lizzo quipped, "Too much wine. I don't remember."
They are both big on body positivity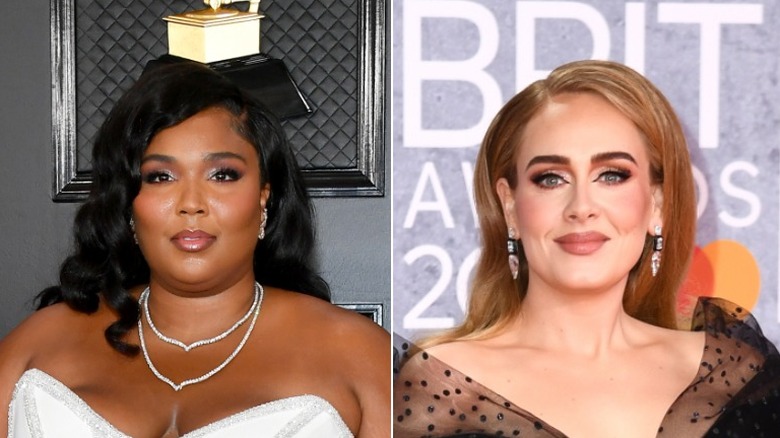 Amy Sussman, Gareth Cattermole/Getty
Lizzo and Adele connect not only through their music and similar personalities but also in how they empower women. Both icons have been open about their own struggles with body image, and have spoken out about the importance of knowing your self-worth regardless of any lingering insecurities. 
In many of her hit songs, and beyond, Lizzo has powerfully preached about the importance of loving oneself and one's perceived imperfections. However, she's aware of how the message has been appropriated over the years. "You look at the hashtag 'body positive,' and you see smaller-framed girls, curvier girls. Lotta white girls. And I feel no ways about that because inclusivity is what my message is always about," she told Vogue. "... [But] I would like to be body-normative. I want to normalize my body. And not just be like, 'Ooh, look at this cool movement. Being fat is body positive.' No, being fat is normal."
Adele has also been vulnerable and honest about the experiences she's endured concerning her body, opening up about the topic during an interview with Oprah Winfrey for her "One Night Only" special (via ET Canada). Discussing the public's reaction to her major weight loss, she said, "I'm not shocked or even fazed by it. My body has been objectified my entire career. I'm either too big or too small. I'm either hot or I'm not." She added that no matter what her dress size has been, she's always remained body-positive, regardless. 
Is there an Adele and Lizzo collab in the future?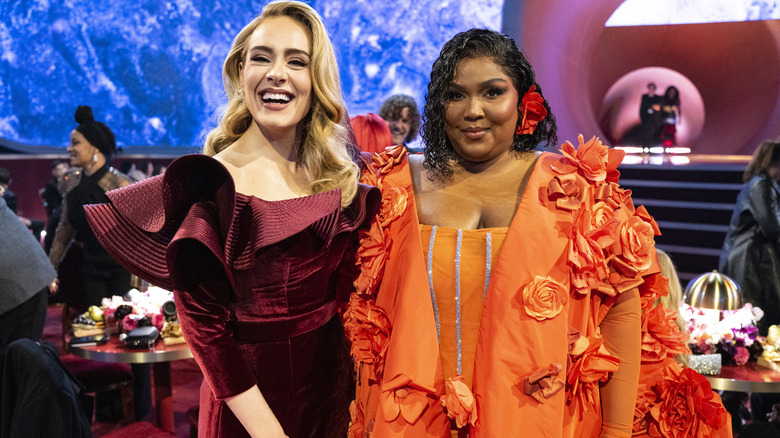 John Shearer/Getty Images
Now that we've confirmed Lizzo and Adele are the best of friends, can we expect a music collaboration in the future? When asked whether or not she would want to work on music with the "Hometown Glory" singer, Lizzo admitted she would be down to add her own flair to a track with her friend. "You know what I would do ...?" Lizzo said on the "The Howard Stern Show." "I would play flute with Adele because she's that kind of artist." However, she also noted that the pair had seemingly never discussed the idea before. 
In the same interview, Lizzo praised Adele's piano-playing capabilities and her ability to never lose sight of herself when writing and releasing music. Highlighting what a tremendous feat it is that Adele's chart-topping music continues to break records, she added, "I look up to her a lot ... She gives us piano ballads that go number one which is just like so hard and rare to do, you just have to be like the rarest gem of all time to be able to do that — we need her."
They keep their friendship circle small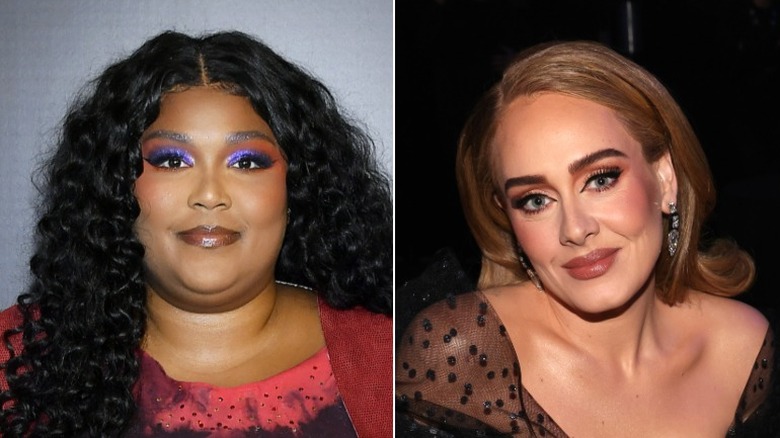 Roy Rochlin, Jmenternational/Getty
It's not easy to find true friends in Hollywood — which is why Lizzo and Adele keep their circle tight. Perhaps why these Taurus ladies get along so well is that they value loyalty and true friendship, something difficult to find when you're a mega-celebrity. "We don't really f*** with too many people, but we f*** with each other," the "Good as Hell" singer revealed when asked about Adele on "Radio Andy." Part of that attitude comes with Lizzo's life growing up, moving around to different cities and chasing a dream that requires flexibility and movement. "I've had a pretty reckless abandon when it's come to cities I've lived in and relationships and careers — leaving and moving on," Lizzo told Vanity Fair. 
Adele echoed that sentiment, admitting that she had trouble making celebrity friends at first. "​​I had avoided talking to anyone that was ever famous in any capacity," she told Rolling Stone. "... I was like, 'Well, I'm not famous.' I'm very British like that." Though Adele may not have a huge group of people she keeps close to, she evidently values those she does keep tight with. Following a live performance of "Someone Like You" in Las Vegas, the singer emotionally offered some important advice. "A relationship falling apart, whether you're married or not, it's really difficult and it's really traumatic," she said. "Keep your friends close to you because they're better than any man, better than any woman. Your friends are for life."