The Real Meaning Behind Adele's Easy On Me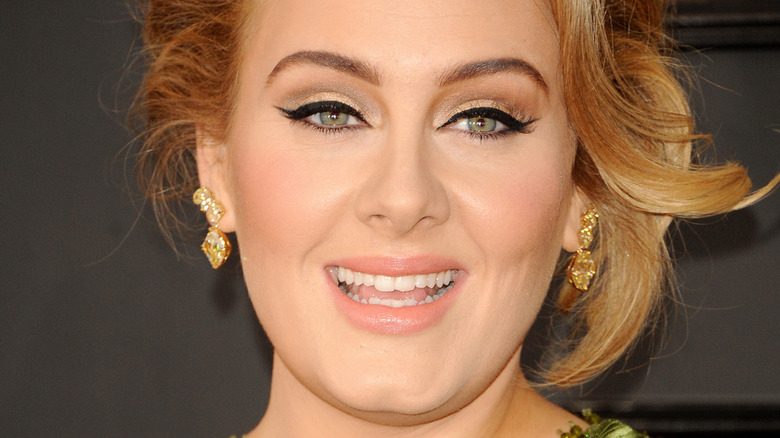 Tinseltown/Shutterstock
Adele is making a return to the music industry after a long, six-year hiatus that had her fans begging for more of her signature soulful sound. Her latest album, "30," scheduled for release on November 19 follows on the heels of 2015's Grammy-winning "25." Adele's third studio album was a huge success with tracks like "Hello," "When We Were Young," and "Water Under the Bridge," and confirmed what the world already knew: Adele is a superstar. With its graceful melodies and heartbreaking lyrics, "25" captured the hearts of listeners and broke the record for the most single sales of an album in a week with 3.38 million albums making their way onto the listening devices of Adele's fans in the first week of its release, as per Billboard. 
While we eagerly await "30," Adele has given us a bit of insight into the nature of the project. The musician said on Instagram that the album was written and recorded during "the most turbulent period of my life," and described the collection of songs as "that friend who, no matter what, checked in on me even though I'd stopped checking in with them because I'd become so consumed by my own grief." Luckily, Adele has given her impatient fans a teaser of the album in the form of the single, "Easy on Me," which was released in the US on October 14. As is the case with most Adele tracks, the meaning behind the lyrics is heavy.
Adele gets vulnerable on 'Easy On Me'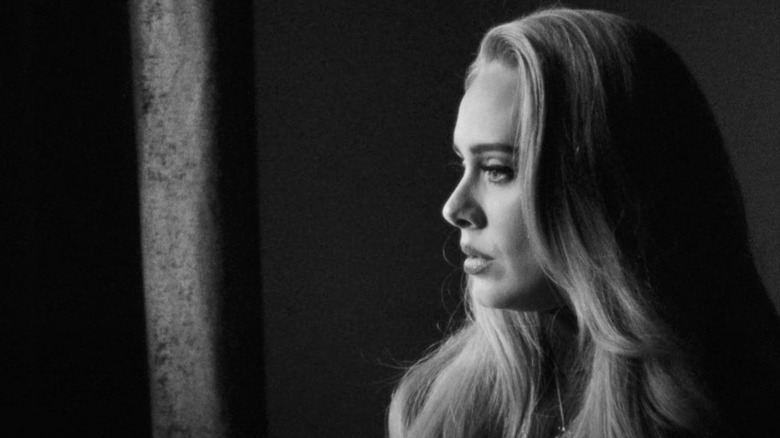 Adele/YouTube
"Easy on Me," Adele's lead single from her upcoming album "30," has already set the internet ablaze with ideas. However, the meaning behind the song seems fairly straightforward. Alongside the gentle tones of a piano, Adele's strong, graceful voice can be heard singing (via Genius), "There ain't no room for things to change / When we are both so deeply stuck in our ways / You can't deny how hard I have tried / I changed who I was to put you both first / But now I give up." In the past six years, we know that Adele and her now-ex-husband Simon Konecki divorced after two years together and that they share a son named Angelo. We also know from an interview with Vogue earlier this month that Adele wrote the album, in part, to explain to her son why his parents got divorced and to tell her side of the story. It is clear that Adele's latest single is a piece of the puzzle that has been her divorce.
Later in the song, Adele sings: "I had good intentions / And the highest hopes / But I know right now / It probably doesn't even show." This gives us the idea that her marriage not panning out as planned has caused reactions and emotions in her that may be hard for someone from the outside to properly decipher.
Inside Adele's divorce from Simon Konecki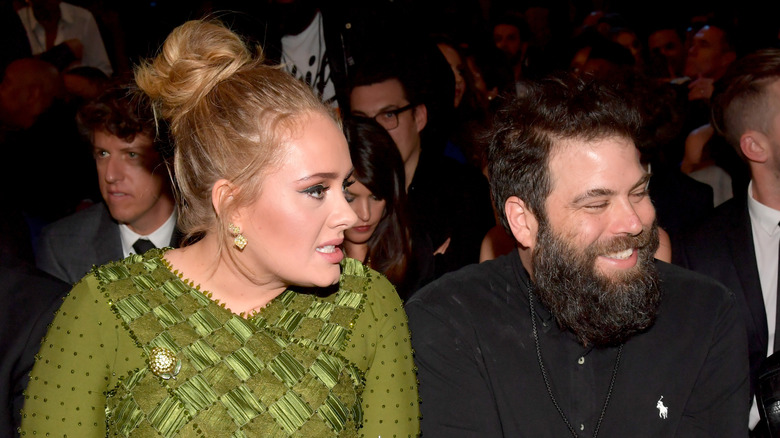 Lester Cohen/Getty Images
Vanity Fair reported in March that Adele's divorce from CEO Simon Konecki had been finalized after a nearly two-year separation. Although the two were only married for two years, they went public with their relationship back in 2012. Just a few months later, they announced their pregnancy and then welcomed Angelo in October of that same year. The news that the "Skyfall" artist filed for divorce in 2019 came as a shock to fans, although, as a close source told US Weekly, "Their relationship evolved and they became more like friends than lovers." 
Adele didn't open up publicly about her divorce until a recent interview with Vogue — the first she's given in five years. In the interview, she doesn't hold back, delving into every aspect of her personal life, including her divorce. The "Set Fire to the Rain" singer confirmed that "nothing bad happened" but that the marriage just "wasn't right" for her anymore. "I wasn't miserable miserable, but I would have been miserable had I not put myself first," Adele told the publication. The hardest part of the divorce for Adele was helping her son understand the reasons why his parents were splitting up. Although she and Konecki are civil with one another, she says Angelo just doesn't "get it" and that it has caused her "terrible anxiety." Again, this is all reflected in the lyrics. When Adele sings, "I was still a child... so go easy on me," we know exactly what she means.