What Really Led To Michael And Juanita Jordan's Divorce?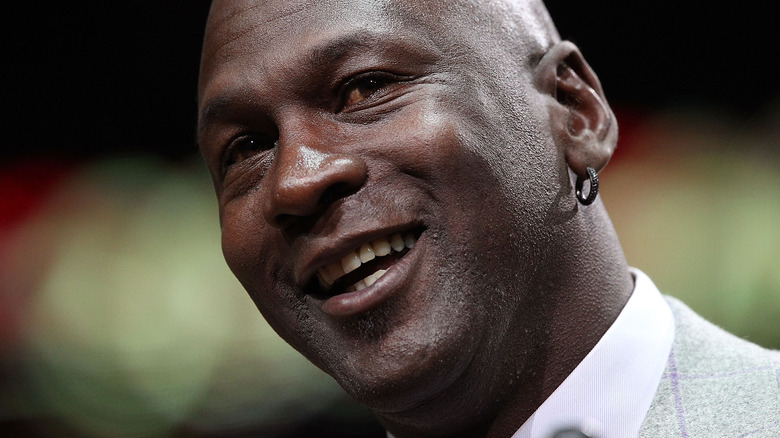 Jonathan Daniel/Getty Images
Michael Jordan broke numerous sports records during his 15 seasons in the NBA. However, the former NBA star also broke a major record off the court. The beloved athlete lost a fortune after divorcing his ex-wife, Juanita Vanoy in 2006. Once everything was finalized, a judge ruled that Jordan had to cough up a whopping $168 million. Vanoy's payout marked the most expensive celebrity divorce at the time, although it was soon eclipsed by the $425 million divorce settlement Mel Gibson paid his ex-wife.
While Jordan and Vanoy made it to 17 years of marriage, Vanoy originally attempted to end things years prior in 2002, although she later changed her mind. In 2006, the estranged couple put on a united front as they announced the end of their relationship. "Michael and Juanita Jordan mutually and amicably decided to end their 17-year marriage," their lawyers said in a statement (via People). "A judgment for dissolution of their marriage was entered today. There will be no further statements." 
If you're wondering just how Vanoy was able to walk away with such a large portion of the NBA legend's fortune, well, that isn't exactly known since the couple had a prenup. However, Vanoy did have three of Jordan's children (one before the marriage), which certainly helped her case. And while it's clear that Vanoy walked away from the marriage with more than a broken heart, the hefty payday wasn't what prompted her to end her marriage to Jordan.
Michael Jordan may have cheated on his first wife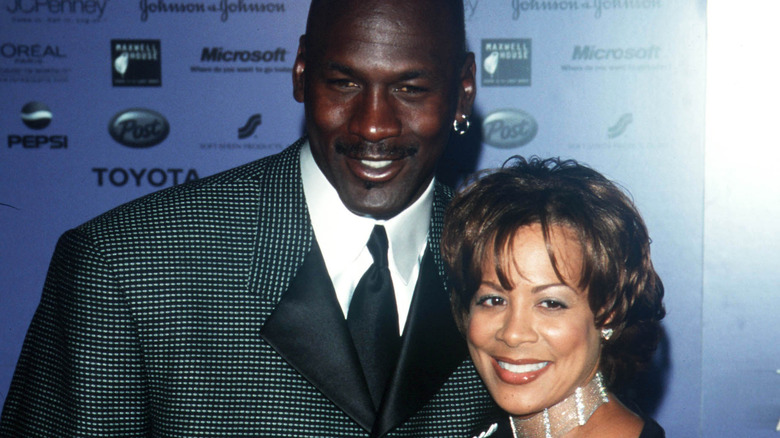 Evan Agostini/Getty Images
Michael Jordan's personal life hasn't been nearly as aspirational as his professional career. Although Jordan's marriage to Vanoy ended with court battles and settlements, their relationship started the same way. Vanoy actually got pregnant with their first child prior to marriage, and had to get a lawyer involved for Jordan to take responsibility. "She told me she was pregnant, unwed, and that the father of the child was Michael Jordan," shared Vanoy's lawyer (via the Washington Post). "She felt she could not get Michael's attention or cooperation or response without the retention of a legal representative."
Fortunately, Jordan and Vanoy eventually got on the same page, later marrying on September 2, 1989. And while they enjoyed many years together, things turned sour once Jordan allegedly started to cheat on Vanoy. Over the years, it's been rumored that Jordan actually engaged in several outside relationships. However, Karla Knafel's name gets thrown around the most when speaking of Jordan's alleged infidelities. In 2013, Knafel even sued Jordan over the paternity of her then-17-year-old son, meaning the alleged affair would have taken place between 1995 and 1996. However, a judge threw the case out after determining that Knafel had already established paternity elsewhere, per TMZ.  
Even so, private attorney Ernie Rizzo alleged to the Washington Post that he'd witnessed Jordan act inappropriately with several women over the years. And while his statements haven't been confirmed, it certainly seems like a lot of potential headache. 
Michael Jordan got a prenup for his second wife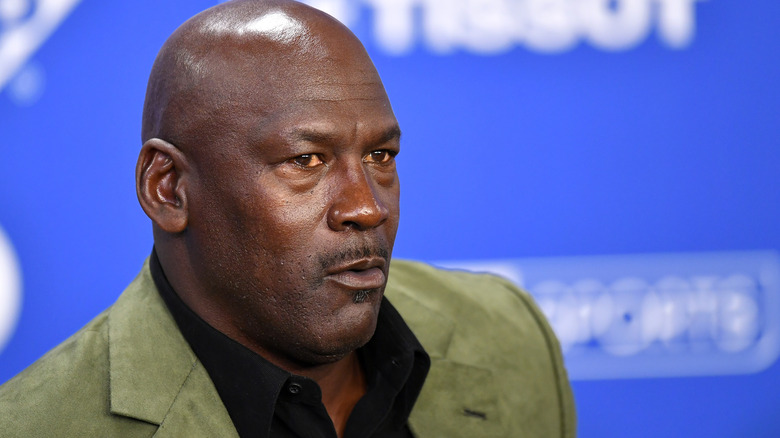 Aurelien Meunier/Getty Images
In the years since the divorce, both Michael Jordan and Juanita Vanoy seem to have forged their own paths. During a rather rare 2013 public appearance, Vanoy spoke on her life post-divorce and appeared to be in good spirits. "I'm in a good place," shared Vanoy with Chicago Business. "I wanted to simplify my life. I got off boards, I downsized the way I lived. I had to because I wasn't going to be in a huge house. I really looked forward to the basic things: my children and my good friends." 
Jordan, on the other hand, has since remarried. That same year, Jordan wed his current wife, Yvette Prieto, a Cuban model who he met in 2008 after his divorce was finalized. After the pair married, they later welcomed twin daughters into the world. Likely due to his expensive first divorce, Jordan went into this marriage with a way to keep his finances safe. While he had a previous prenup in place with his former spouse, the one he presented to Prieto was much stricter and laid out any monies she'd be entitled to. According to the Daily Mail, Prieto will receive $1 million for every successful year of marriage, should they divorce. After ten years, that figure skyrockets to $5 million per year.