Madonna Has Had A Strained Relationship With Her 7 Siblings
It's Madonna's world, we just live in it, and nobody knows that better than her siblings. Per Biography, before embarking on her journey to fame, the singer went by the name her devoutly Catholic Italian immigrant parents christened her. Madonna's real name is Madonna Louise Veronica Ciccone, and she is the third of eight kids. However, besides her brother Christopher Ciccone, who became famous for writing a tell-all about his sister, little to nothing is known about the rest of Madonna's siblings.
The tragic real-life story of Madonna's childhood has much to do with her fractured family relationship. In fact, to borrow from her '80s pop classic, "Like a Prayer," when it comes to the subject of Madonna's brothers and sisters, life is a mystery; everyone must stand alone. Sadly, as far as her family is concerned, Madonna vowed to stand alone at a young age — and she stuck with it.
Madonna was only five when her mom died from breast cancer at age 30, leaving her heartbroken and instilling the burning desire to succeed independently and on her own terms. "You walk around with a big hole inside you, a feeling of emptiness and longing. And I think a lot of times that's why you become an overachiever," she told CNN. After her mom's death, Madonna set her sights on the future. It didn't include anyone from her family — just herself — which is likely why Madonna had a strained relationship with her 7 siblings, dad, and stepmom.
Madonna's brother Christopher Ciccone wrote an explosive tell-all about her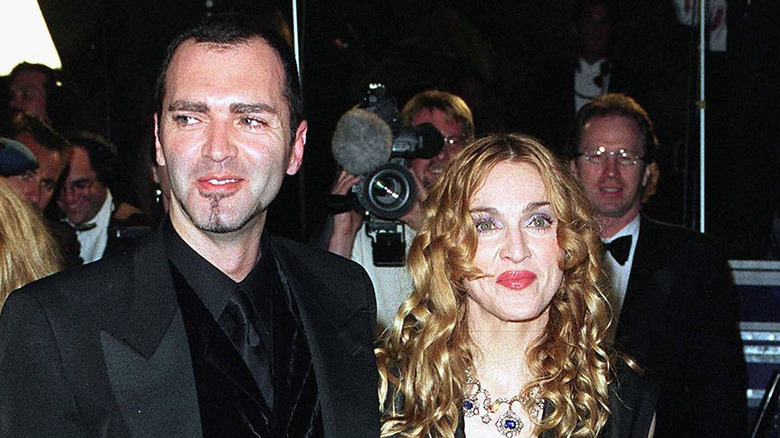 Getty Images/Getty Images
Madonna's oldest brother was Anthony Ciccone, who lived a life of addiction and homelessness. BBC reports that Anthony, who struggled with alcoholism, died at age 66. Madonna's brother-in-law, Joe Henry, broke the news. "Anthony was a complex character, and god knows: we tangled in moments," he wrote on Instagram. At the time of posting, Madonna hadn't acknowledged Anthony's death; but she did "like" Henry's death announcement.
In 2011, Anthony told Daily Mail Madonna couldn't care less about him — despite her offering to pay for his rehab again, which he refused. "Madonna doesn't give a s*** if I'm dead or alive. She lives in her own world," Anthony claimed. Madonna's second oldest brother, Martin Ciccone, also battled alcohol addiction. The Daily Mail reports that Madonna bought her sibling new false teeth to celebrate his first year of sobriety.
Next in line, after Madonna, is Paula Ciccone. She told Oprah Winfrey that Madonna's success had caused her "a lot of emotional trauma." She also blamed Madonna for hampering her modeling career. "It's hard because I'm putting myself in the same place where she is," Paula claimed. For a hot minute, Madonna and her first little bro, Christopher Ciccone were actually really close. Still, Madonna and her brother ceased to get along — and started experiencing a tumultuous relationship — after Christopher penned "Life with my sister Madonna," an explosive best-selling tell-all. "I love my sister more than like [her]," Christopher admitted to "GMA." 
Madonna's relationship with her siblings is complicated
Madonna's closest to her second youngest sister, Melanie Ciccone, a textile designer who lives a low-key life and shuns the spotlight. According to Daily Mail, she was recently part of Madonna's Madame-X pre-concert prayer circle. "Ladies and gentlemen, I'm so happy to have my sister Melanie in this room right now," Madonna said. "No one knows better than her what it's like to survive our toxic and broken family from Michigan. To come out the other end still sane and not an alcoholic, even though I say I am!" Amo Mama reports that Madonna calls her little sis "Smells" and that she was by her side when the performer gave birth to Lourdes Leon.
Madonna's last two siblings, Jennifer and Mario, are from her father's second marriage to Joan Ciccone, the family's former housekeeper. It's safe to say that no love is lost between Madonna and her stepmom. Joan complained to Sunday People (via New York Post) that Madonna refused to help her father when he was on the brink of financial ruin — even though he hadn't asked her for money.
"She knew the position we were in because she had come to stay and even brought her children," Joan claimed. "But we didn't have any help from Madonna, even though it would have been useful." Meanwhile, Madonna once confessed to being "bitterly unhappy" after her father remarried following her mom's death. "I hated my father for a long time," she admitted.