What Jennifer Aniston Said To Angelina Jolie The One And Only Time They Met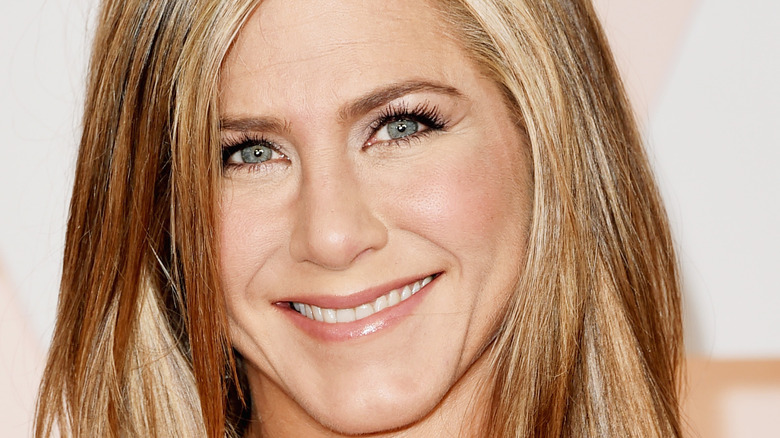 Jason Merritt/Getty Images
Team Aniston and Team Jolie divided the internet when Brad Pitt and Jennifer Aniston split in 2005. Pitt was accused of cheating on his then-wife with Angelina Jolie, whom he'd met on the set of "Mr. and Mrs. Smith." Aniston was thrust into the role of a scorned wife, while Jolie was branded a "homewrecker." Naturally, fans took sides.
As for Aniston, she spoke about being heartbroken and blind-sided in the wake of the affair. "There was stuff printed there that was definitely from a time when I was unaware that it was happening," the actor told Vogue in 2008, speaking on comments that Jolie had previously made about her relationship with Pitt. "I felt those details were a little inappropriate to discuss ... That stuff about how [Angelina] couldn't wait to get to work every day? That was really uncool."
It's been nearly two decades since Aniston and Pitt's divorce, and Pitt has also split from his ex-wife Jolie. Apparently, he and Aniston are on good terms now. People may hope for a rekindled romance (as with Bennifer 2.0), but the "Friends" alum insists that's not in the cards. "Brad and I are buddies, we're friends ... There's no oddness at all," she said on "The Howard Stern Show" in 2021. Still, just because Pitt and Aniston have reconciled, that doesn't mean Aniston and Jolie are going to be close anytime soon. In fact, the two women reportedly only met one time.
Jennifer Aniston and Angelina Jolie once had a friendly interaction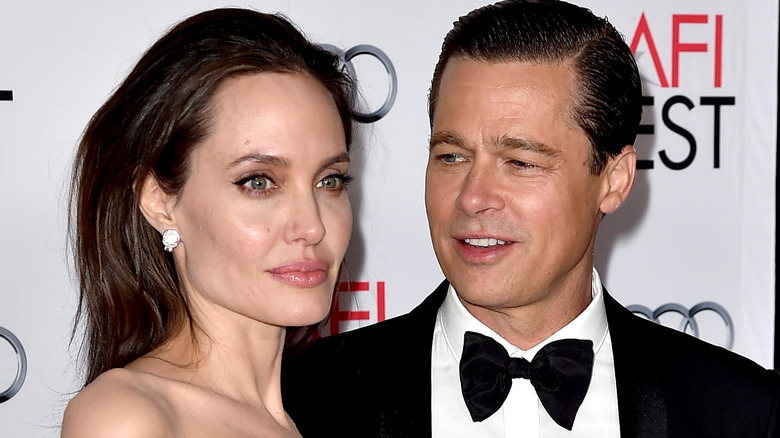 Kevin Winter/Getty Images
Like any supportive partner, Jennifer Aniston recalls being cordial to Angelina Jolie after she learned Jolie would star opposite her husband, Brad Pitt, in "Mr. and Mrs. Smith." Aniston told Vanity Fair, "[We met] on the lot of 'Friends' — I pulled over and introduced myself. I said, 'Brad is so excited about working with you. I hope you guys have a really good time.'" The "Cake" star never meant for Jolie to have quite such a good time with her husband, and she likely never dreamt at the time that she was talking to Pitt's future second wife.
After things went sideways, Aniston took the high road and didn't badmouth Jolie to the media. Seeing pictures of the "Girl, Interrupted" star with her ex-husband in Kenya wasn't "fun," but she focused on herself and sought help from a therapist, as she discussed on "The Ellen Degeneres Show." Likewise, Jolie was polite when she spoke about Aniston to the media. In 2007, she opened up to Vogue about how she met Pitt during his marriage to Aniston. "I didn't know much about exactly where Brad was in his personal life," she explained. "But it was clear he was with his best friend, someone he loves and respects." Unexpectedly, it was Pitt who seemed to shade Aniston by intimating that life with her was "dull," per the New York Post. He's since changed his tune and even had a happy run-in with Aniston backstage at the 2022 SAG Awards.
Fans (mistakenly) thought Jennifer Aniston prioritized her career over having children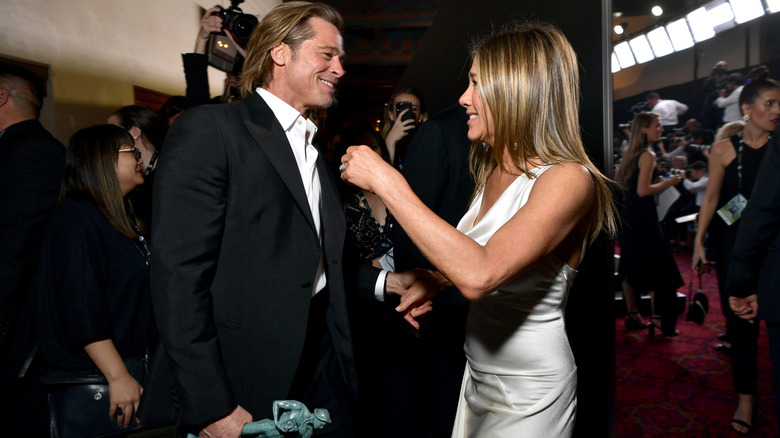 Emma Mcintyre/Getty Images
Throughout Jennifer Aniston and Brad Pitt's divorce, fans believed he had left her for Angelina Jolie because Aniston was unwilling to have children. The narrative the media spun was that she "chose her career over kids," while family-man Pitt ultimately shared six children with Jolie. In a 2022 interview with Allure, Aniston denounced this as a complete fabrication, explaining that she'd struggled to get pregnant. "It was a challenging road for me, the baby-making road," the star said, adding that the pain she felt was amplified by speculation that she "just cared about [her] career. And God forbid a woman is successful and doesn't have a child. And the reason my husband left me, why we broke up and ended our marriage, was because I wouldn't give him a kid. It was absolute lies."
The situation got so bad, Aniston even penned an op-ed for Huff Post to defend her right to do what she pleases with her body. "We are complete with or without a mate, with or without a child," she wrote. Aniston also got real about the relief she feels now that she's past her childbearing years. "There is no more, 'Can I? Maybe. Maybe. Maybe.' I don't have to think about that anymore," she said. It sounds like Aniston is prioritizing herself, and that the shadow cast by Jolie and her children with Pitt has passed.