Wendy Williams Keen On Joining The View In Bizarre Run-In With Paparazzi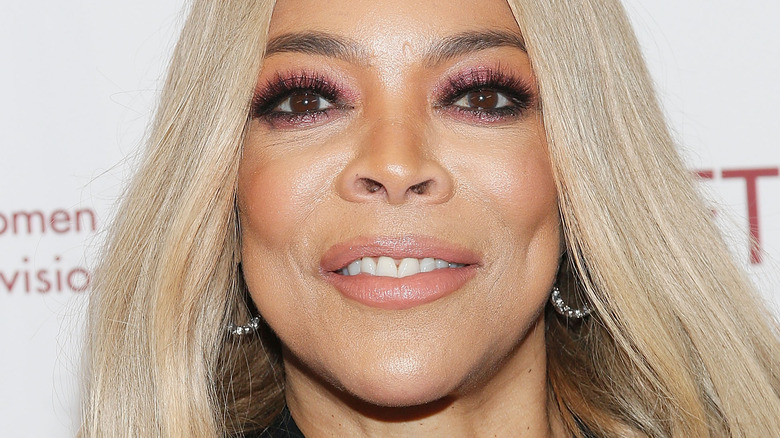 Lars Niki/Getty Images
Wendy Williams was once one of the hottest hosts on daytime television, thanks to her self-titled talk show. According to ET, the star first sat in the chair of the long-running series all the way back in 2008. Then, in 2020, Williams was noticeably absent from the show and she had a slew of guests hosts take over for her in the interim as she dealt with health issues. But in 2022, Williams' show ended as the network announced that Sherri Shepherd would take Williams' time slot. Still, Shepherd insists that she's not replacing Williams.
But Williams did not appear in the show's finale, and instead, Shepherd hosted it. In an interview with the New York Post, the former host expressed her displeasure over how things ended. "There was nothing I liked about the [the final episode of] 'Wendy Williams Show,'" she told the outlet before elaborating on the topic further. "[Production company Debmar-Mercury] didn't ask me to do that, so I didn't. I sat in my apartment, and I watched it. And [I was] like, 'Eek!'" Williams also added that she should have been a part of the show's finale instead of those "other people."
The show also deleted Williams' Instagram account, as it was named after the series. But Williams created a new account titled "The Real Wendy Williams Online," which has amassed over 100,000 followers. Now, the outspoken talk show host is already planning her next move, and it's safe to say that she misses being on TV.
Wendy Williams says she's formerly retired
Could Wendy Williams be poised to make a comeback to television already? It certainly seems so! NYCPAP caught up with the 58-year-old as she left Petco in the Big Apple, were she said she was shopping for kitty litter for her furry friends. Williams explained that she was due to take a trip to Paris and then California before she made another admission about wanting to return to daytime television. "And then I want to be on TV, stuff like Seth Meyers, Joy Behar, Whoopi Goldberg, 'The View,' stuff like that. I am formerly retired," she told the paps.
It may seem like an outlandish idea to some, but many things could align so Williams can join the ladies at the table. In March, Radar Online reported that executives at "The View" gave Williams an "open invitation" to serve as a guest host. "The buzz within ABC is Wendy could well be joining 'The View,'" the insider snitched. "There is an offer for her to appear on the show whenever she wants. The open invitation has made it very clear that when Wendy wants to give her first TV interview since losing her own show, there will always be a seat at the table for her."
Over the years, "The View" has seen a revolving door of co-hosts from Elisabeth Hasselbeck to Rosie O'Donnell and Meghan McCain and everyone else in between. So Williams joining is definitely not out of the question.