Jeremy Renner Commits To Physical And Mental Recovery After Scary Snow Plow Accident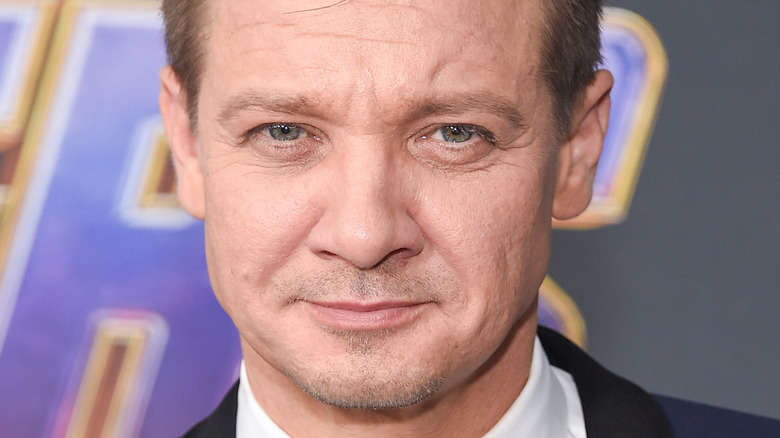 DFree/Shutterstock
Jeremy Renner is thankfully on the mend after his horrific snowplow accident that occurred on January 1 at his Nevada home. The actor was helping his nephew dig his truck out from the snow with his snowcat vehicle but it started sliding, forcing Renner to exit without securing the emergency brake, CNN reported. Renner saw the vehicle heading toward his nephew and attempted to jump inside in order to divert it. The "Hawkeye" star was pulled under by the seven-ton snowplow and suffered blunt chest trauma, with over 30 broken bones. Renner's nephew provided aid until medics came and airlifted him to a nearby hospital, where he had to undergo two surgeries for his injuries.
Two days after the incident, Renner shared a picture of his bruised face on Instagram and gave an update to fans. "Thank you all for your kind words. Im too messed up now to type. But I send love to you all," he wrote. It's been nearly two months after the accident, and Renner is working hard to recover both physically and mentally.
Jeremy Renner is focusing on internal and external healing
Jeremy Renner is committed to making a full recovery after being crushed by a snowplow. The Marvel actor shared an Instagram Story of himself on a stationary bike, helping his leg pedal with a strap. "Whatever it takes," he wrote. In the next Story, he is holding "The Book of Awakening" by Mark Nepo. "Mental recovery too," Renner captioned.
On January 21, Renner shared how his outlook had changed since the accident. "Morning workouts, resolutions all changed this particular new years .... Spawned from tragedy for my entire family, and quickly focused into uniting actionable love," he wrote, while sharing a picture of himself in a hospital bed. He thanked everyone for reaching out to him, adding, "These 30 plus broken bones will mend , grow stronger, just like the love and bond with family and friends deepens . Love and blessings to you all." Renner's fellow actors and Marvel family all sent him their well wishes for a speedy recovery. "That's one tough mf'er. Has anyone even checked on the snowcat??? Sending so much love," Chris Evans wrote.
Renner's "Hurt Locker" co-star Evangeline Lilly paid him a visit after his accident and told Access Hollywood that she was in awe at how fast he was recovering. "I expected to sit at his bedside and hold his hand while he moaned and groaned in pain and wasn't able to move. He was wheeling himself around, laughing with his friends. It's a miracle. A straight-up miracle."