Courteney Cox Didn't Supply Prince Harry With Mushrooms He Recalled Taking At Her House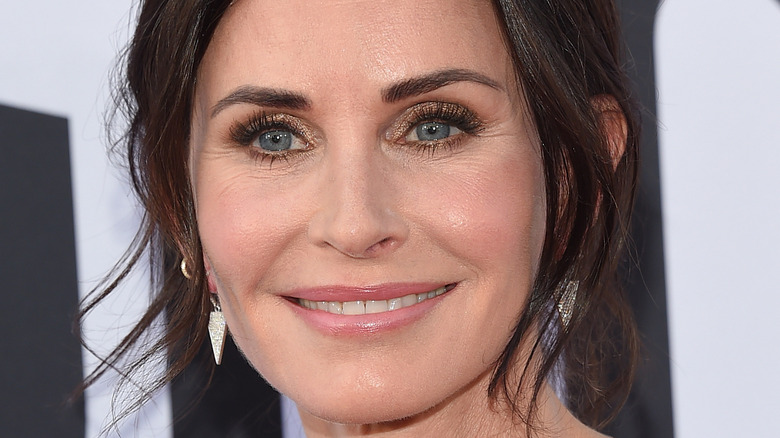 DFree/Shutterstock
The following article includes mentions of mental health issues.
Prince Harry's January memoir, "Spare," certainly delivered on the royal dirt we expected. From detailing Prince William's alleged physical attack to King Charles III's supposed jokes about paternity, the Duke of Sussex spilled all the tea until the cup runneth over. There were many anecdotes in "Spare," however, that showcased Harry's candid humor about himself. For one, there's the story of the other willy in his life — the one that got frostbite during a 2011 expedition to the Arctic. Having lacked the proper protective equipment for his, erm, South Pole, Harry described, "My penis was oscillating between extremely sensitive and borderline traumatized. The last place I wanted to be was Frostnipistan." 
Harry's frozen "todger," inspiring memes aplenty upon "Spare"'s publication, was hardly the only embarrassing tale with which he regaled readers. A longtime "Friends" fan, Harry recalled staying at Courteney Cox's house with a friend. Harboring a crush on the "Cougar Town" alum, Harry gushed, "She was Monica. And I was Chandler. I wondered if I'd ever work up the courage to tell her." (This was prior to Harry meeting wife Meghan Markle.) Then, hallucinogens supposedly entered the picture. At a party hosted by Cox, the prince claimed seeing "a huge box of black diamond mushroom chocolates," to which Harry and his friend helped themselves and "washed them down with tequila." By the end of the night, Harry recalled becoming enthralled with a trash can.
Now, Cox is speaking out on this particular "Spare" tidbit — from her POV.
Courteney Cox did not give Prince Harry mushrooms... directly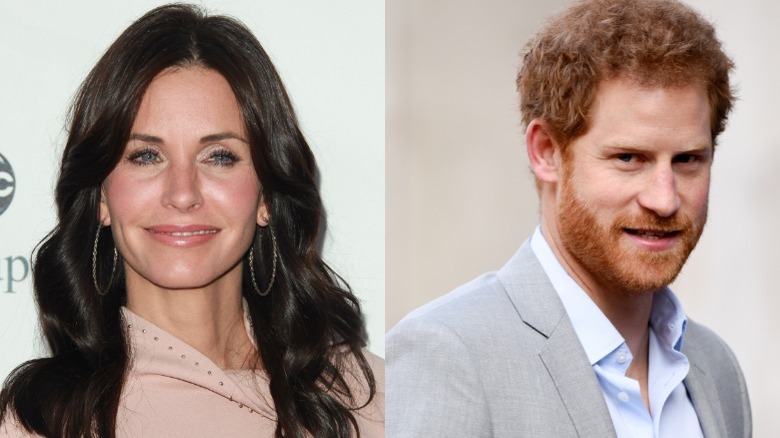 DFree & LINGTREN.COM/Shutterstock & undefined
In a February profile by Variety, Courteney Cox set the record straight on Mushroom-gate. "Yes, it's gotten back to me about it," Cox laughingly said of Prince Harry's claim to have done mushrooms at her house party. "He did stay here for a couple of days — probably two or three," Cox shared. When it came to the hallucinogens, however, the "Friends" alum essentially pled the Fifth. "I'm not saying there were mushrooms! I definitely wasn't passing them out," Cox insisted, adding that the Duke of Sussex is "a really nice person."
The actor, who recently ran into the duke again at a birthday party, expressed her interest in "Spare." Having not yet read it, she told Variety, "I do want to hear it, because I've heard it's really entertaining." 
"Friends" came into Harry's life as a vital coping mechanism for his post-traumatic stress disorder. In "Spare," he describes experiencing "debilitating bouts of lethargy" and "terrifying panic attacks" during the summer of 2013. Suddenly unable to fulfill duties of public speaking, Harry became a homebody that year, staying in "day after day, night after night." Within that summer alone, he estimates he watched every episode of "Friends"' 10-season run, particularly drawn to Matthew Perry's awkwardly charming Chandler Bing.
If you or someone you know needs help with mental health, please contact the Crisis Text Line by texting HOME to 741741, call the National Alliance on Mental Illness helpline at 1-800-950-NAMI (6264), or visit the National Institute of Mental Health website.