Brittany Matthews' Unexpected Beef With Joe Rogan Explained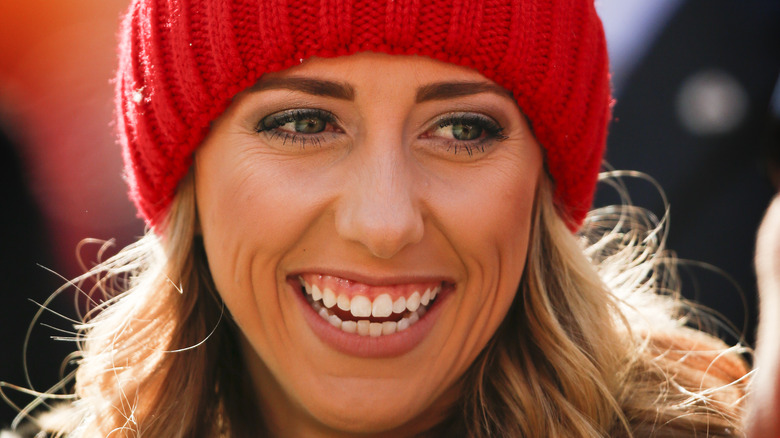 David Eulitt/Getty Images
As the wife of Patrick Mahomes who frequently posts online, Brittany Matthews has earned a sizable social media following, and she received an ample amount of hate. Following a big Kansas City Chiefs win in January 2022, Matthews posted a video of her spraying champagne on the crowd from her box seats to celebrate her husband's victory. She received blowback for the video, and the next day took to Twitter to voice her frustration. "I just wish I could do what I want without getting attacked every week," Matthews tweeted. Months later, the fitness model discussed how she coped with the deluge of criticism. "I would never let people on the Internet destroy my peace or effect my life," she wrote on her Instagram Stories during a Q&A with fans in April 2022, via Today. 
After Mahomes and the Chiefs won Super Bowl LVII in February, multiple detractors of the quarterback's wife took to social media to mention how they did not want to see Matthews posting celebratory videos. In addition to his wife, Mahomes's younger brother — Jackson Mahomes — has also become an online target for his posts. Jackson came under fire as he was filmed dancing immediately after the big Chiefs win.
The online disdain from some people toward Matthews and the younger Mahomes is well-known. "I love how the internet comes together to dislike Brittany and Jackson Mahomes," one Twitter user wrote. Somewhat surprisingly, this anti-Matthews discourse pooled over to her being targeted by Joe Rogan.
Joe Rogan made a joke about Brittany Matthews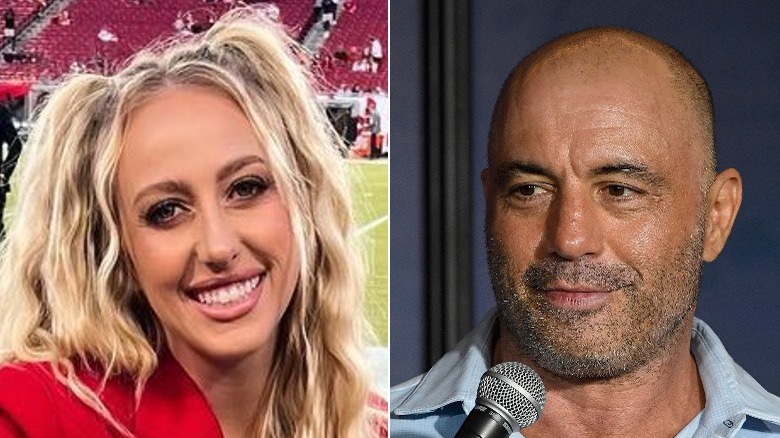 Michael S. Schwartz/Getty
Joe Rogan was joined by fellow comedians Shane Gillis, Mark Normand, and Ari Shaffir on an episode of "The Joe Rogan Experience" on February 23. While discussing Patrick Mahomes and Super Bowl LVII, Gillis took shots at Brittany Matthews and Jackson Mahomes. "Patrick is obviously the man, and then he's got a crazy wife and a brother up in the box, doing all that s***," Gillis said. Rogan took the opportunity to pile on Matthews. "[T]he problem is, they keep that same energy when you get divorced. They come after you with that same energy," the podcast host added to get laughs.
Word of the conversation made its way to Matthews, who decided to fire back shots of her own, although she did so without naming names. "Something about grown men talking s*** about someone's wife is real weird," the influencer tweeted on February 26. "Actually grown a** men hating on women in general is pathetic," she added. The tweets were sent three days after the "JRE" episode aired, and many believed these subtweets were aimed at Rogan and his guests.
A day after letting off some steam on Twitter, Matthews posted a photo of herself and Mahomes sitting courtside at a Dallas Mavericks game to Instagram. Fans showed up in the comment section to offer support. "Ignore the haters, Brittany, they are just trolling bots with no life!" one wrote. Others hinted at Matthews' brewing feud with the well-known podcaster. "Bro Rogan is the man," an Instagram user added.