Brittany Matthews Triples Down On Her Champagne Spraying Controversy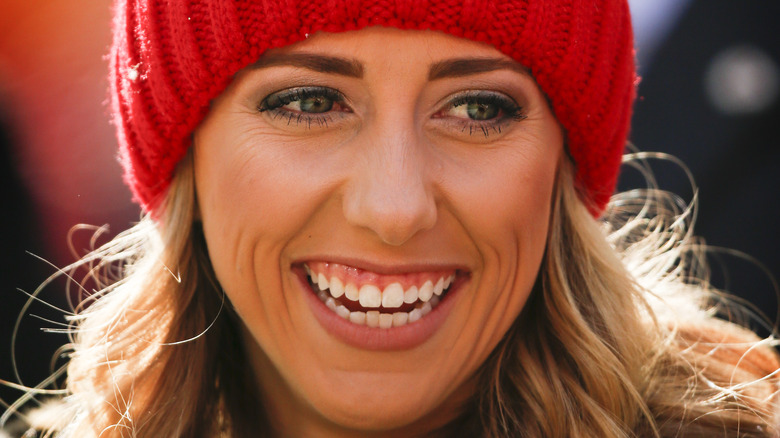 David Eulitt/Getty Images
Patrick Mahomes's fiancee, Brittany Matthews, has always been quick to defend him on social media. In 2021, during Super Bowl LV, Matthews fired off a defensive tweet in response to ESPN who had simply posted a screenshot of the Kansas City Chiefs quarterback's face while his team was down. "Y'all are [trash cans emoji] for this too, but he looks damn good to me," the influencer tweeted while quote-tweeting ESPN.
Matthews's activity on social media brought the ire of fans on January 23. After the Chiefs beat the Buffalo Bills in an epic playoff showdown, the businessperson posted a video on Instagram of her spraying champagne into the crowd at Arrowhead Stadium from her suite. "Why are you dumping stuff on our fans? Cmon," one Instagram user responded. "I wonder who appreciated being sprayed," another added. Barstool Sports took a shot at Matthews while resharing footage of her spraying the crowd. "For societies sake the Bengals need to win next week," the outlet wrote in reference to Kansas City's next opponent.
The online backlash did not go unnoticed by Matthews, as she clapped back at her detractors a day after the champagne video went viral. "I just wish I could do what I want without getting attacked every week," she tweeted on January 24. Days later, Matthews made an announcement pertaining to the "buzz" around her champagne controversy.
Brittany Matthews digs her heels in for a good cause
Brittany Matthews saw the online vitriol surrounding her champagne video as an opportunity. The influencer announced on January 27 that she had partnered with clothing company Charlie Hustle to make "Team Brittany" t-shirts. "It's been a pretty rough week over here, however me and my team have decided to try and turn this buzz into something good," Matthews said in a video posted to her Instagram Stories. In a series of videos taken from within a car, Matthews said "that part of the proceeds from the sales" of the shirt would go to the charity Red Card KC which is an organization centered around the prevention of bullying. While making the announcement, Matthews tried to focus on a positive message. "I hope you guys use this as a daily reminder that words can be powerful, and it costs you nothing to be kind and nice to people," she said in closing.
Charlie Hustle posted the "Team Brittany" shirt to their Instagram page with a cheeky caption. "But seriously ... leave Brittany alone," which was a reference to the classic viral "Leave Britney Alone" video. Multiple fans came to Matthews's defense in the comment section. "I was at the game on Sunday ... The entire crowd was telling her to spray champagne on us," one person wrote. "I was at the game and if I had champagne ... I'd be spraying it too! What a way to celebrate," another added.
Although some might find fault with Matthews for tripling down, at least she's finding some good in the controversy!