Patrick Mahomes' Fiancee Adds Fuel To Her Champagne Controversy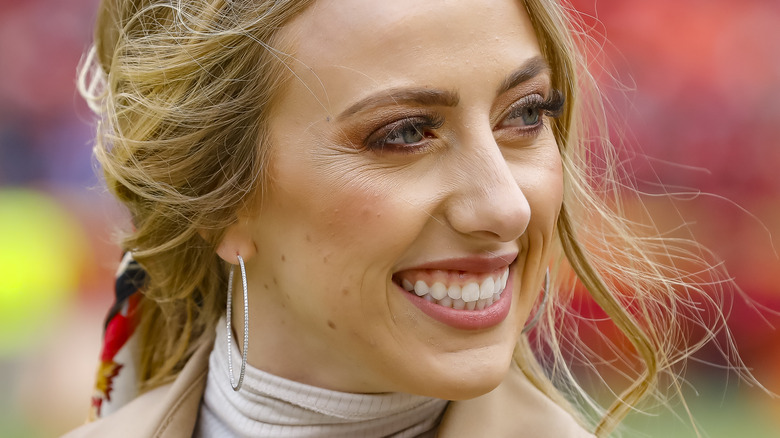 David Eulitt/Getty Images
NFL fans are fed up with Kansas City Chiefs quarterback Patrick Mahomes' fiancée, Brittany Matthews. A constant source of scrutiny, the fitness-trainer-slash-businesswoman has found herself in hot water with football fans time and time again since Mahomes' big splash on the sport. With her unapologetic attitude and penchant for controversy, Matthews is no stranger to polarizing Chiefs fans and spectators of the sport across the board.
In October, after the Chiefs faced a loss to the Buffalo Bills, Matthews tweeted, "Refs are never in our favor." A fan soon clapped back, telling Matthews, "Girl. I need you to stop... It's not giving the org a good look. Chiefs are bigger than you, me or any one player." In typical Matthews fashion, she retorted, "In the nicest way possible...Shut up." She promptly faced swift backlash for her response — with one fan tweeting a meme of Ben Affleck smoking and a caption that reads, "Patrick Mahomes after every game seeing what dumb s**t his fiancé and brother did on social media."
Now, Brittany Matthews has found herself in hot water once more after spraying fans at Arrowhead Stadium with champagne after the Chiefs' big win over the Bills on January 23. Her response, however, is adding even more fuel to the fire.
Brittany Matthews' response to champagne controversy draws stark criticism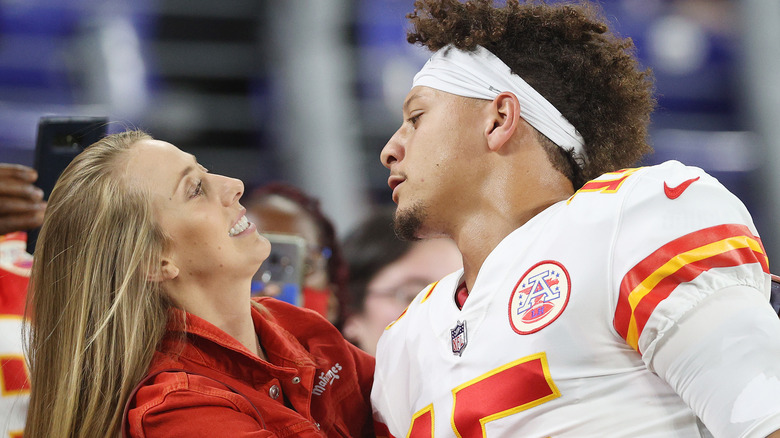 Rob Carr/Getty Images
Newton's third law states that "For every action, there is an equal and opposite reaction." Brittany Matthews, however, wants to be exempt from such. The fiancée of Patrick Mahomes recently celebrated the Kansas City Chiefs' victory at Arrowhead Stadium by spraying down fans below her with champagne and going wild.
Fans lamented about the celebration soon after. "Nothing like drenching your fans with champagne after they sat out in freezing cold weather for 4 hours while you sat in your heated booth," said one fan after the game. Another saliently noted, "I was in that section last night with my dad who is 25 years sober after battling a crippling alcohol addiction for the early part of his life... you can only imagine the horror as a screaming person rained down champagne all over us... do you think this is ok?"
After receiving criticism for her actions, she tweeted, "I just wish I could do what I want without getting attacked every week." Some fans did not take kindly to the response, with one user tweeting, "I would've been p****d if you would've sprayed me with alcohol and then had to drive an hour home." Another user accused her of wanting "to be privileged and do things to others without consequences." Matthews, however, did have some supporters — Rachel Vindman (wife of Lt. Col. Alexander Vindman, who kickstarted Donald Trump's first impeachment hearing) tweeted, "Do what you want whether you get attacked or not. Trust me on this one."