Everything We Know About Patrick Mahomes And Brittany Matthews' New Baby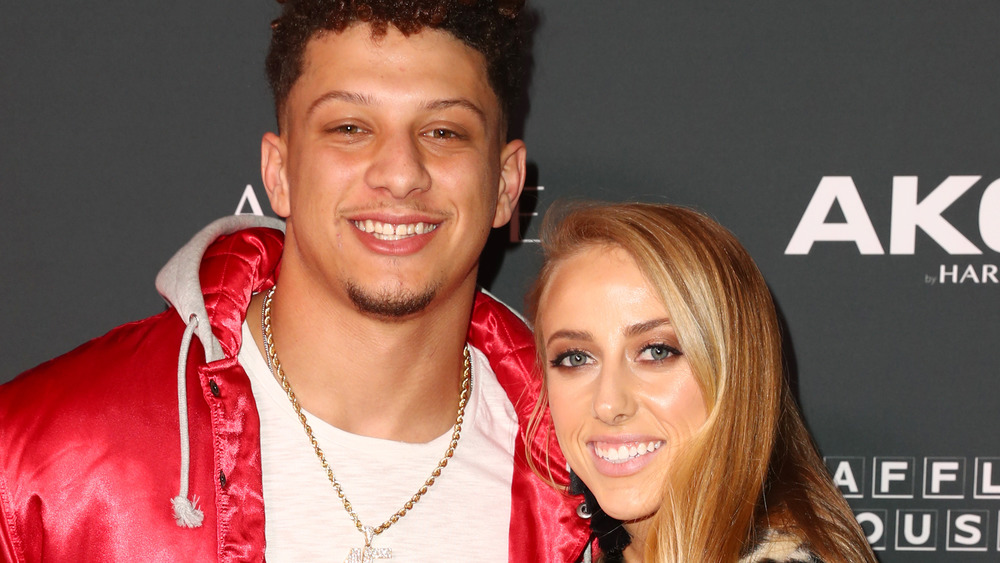 Joe Scarnici/Getty Images
Chiefs quarterback Patrick Mahomes and Brittany Matthews are the parents of a baby girl! The Kansas City Chiefs star told the world about their new baby via Instagram. Mahomes posted a sweet picture of his fiancee holding a tiny little hand and his caption read, "Sterling Skye Mahomes 2/20/21." We're not crying, you're crying!
In Mahomes' Instagram picture, Matthews is wearing a new diamond necklace that spells out "Sterling," and it's so sweet. Baby Sterling Mahomes was born on Feb. 20, 2021, but the Kansas City Chiefs quarterback waited a day to announce the news. New mom Matthews announced her daughter's arrival on Instagram, with a similarly captioned post, writing, "2/20/21 6lbs 11oz."
Mahomes and Matthews have an adorable love story — they've been dating since high school. The couple got engaged in September 2020, then announced on social media a few weeks later that they were expecting. In an Instagram post, the couple held up their ultrasound photo with the caption, "Mom and Dad, taking a small detour to the wedding." Keep reading to learn more about the Mahomes family.
Chiefs QB Patrick Mahomes is now a proud dad
Fans are so happy that Patrick Mahomes and fiancee Brittany Matthews have welcomed their baby girl Sterling Mahomes to the world. The comments section of his Instagram announcement was flooded with congratulatory messages.
When the Kansas City Chiefs QB played in the Super Bowl LV in early February 2021, Matthews shared photos of her baby bump. Mahomes' fiancee always stands by her man, and the feisty fitness trainer cheered on the NFL star at the game and on social media during the Super Bowl. After the Chiefs lost the game, Matthews tweeted, "Not how we wanted it to end, but 15 played his heart out and I'm always and forever proud of him in everything he does! Now let's have a baby."
The two are already dedicated fur parents to their adorable pitbulls, Steel and Silver. The Mahomes family pooches have a legit Instagram account with over 200,000 followers. We are excited to learn more about Sterling, so stay tuned!