How Many Times Has Alec Baldwin Been Arrested?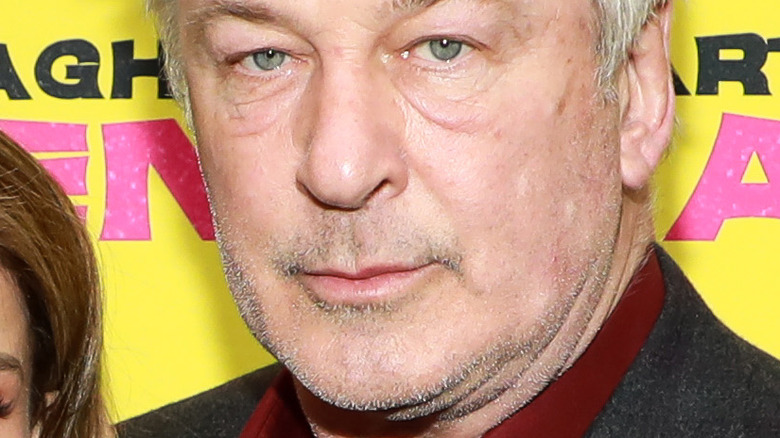 Jason Mendez/Getty Images
Alec Baldwin comes from a family of hotheads. However, somehow he manages to outdo all three of the other Baldwin bros when it comes to temper tantrums, controversies, and cop shop encounters. That's quite an impressive feat when you consider Daniel Baldwin once worked for a shady bookie, was banged up behind bars for driving a stolen car when their father died, and rampaged butt naked through a New York hotel while on drugs, screaming, "Baldwin!" per Slate.
Meanwhile, the Daily Mail reports that born-again Christian and married father-of-two Stephen Baldwin allegedly engaged in a steamy tryst with an LA masseuse for two years; was arrested for not paying $350,000 in taxes; called Barack Obama "the greatest gangster to ever come out of Chicago," and challenged the president to a boxing match. Not to be left out, according to The Blast, Billy Baldwin was investigated for allegedly inciting the public to attack a teenage Trump supporter. "Give this kid the beatdown he deserves...#HitlerYouth," Billy tweeted.
Still, Alec reigns supreme, with countless legal mishaps, infamous arrests, and shady encounters. And, over time, Alec just gets shadier and shadier. The oldest Baldwin bro used to be praised for his acting chops and comedic timing, but these days, he's slammed for his angry outbursts and arrestations. The "SNL" star has made so many trips to the Greybar Hotel it's surprising that he hasn't got his own cell by now. So, how many times has Alec Baldwin been arrested?
Alec Baldwin's arrest record spans back decades
Evan Agostini/Getty Images
How many times has Alec Baldwin been arrested? Let us count the incidents — although it may take a while, as his black-and-white taxi rides date back to 1995. Spoiler alert: he's actually been arrested four times. And the last one looks like it could land him in the big house.
Baldwin's explosive temper is legendary, so it's only fitting that his first collar was for attacking a pap. People reports that Baldwin and Kim Basinger were returning home from the hospital with their newborn, Ireland Baldwin, when the defensive dad allegedly broke a photographer's nose. He was charged with misdemeanor battery but was ultimately acquitted. Then, per the New York Times, in 2014, Baldwin was arrested after becoming "belligerent" when cops stopped him for riding his bike the wrong way down 5th Avenue. The incident resulted in him vowing to New York Magazine that he was retiring from public life.
Baldwin's temper landed him back at the precinct in 2018. Page Six reports that he got into a parking spot spat that ended with Baldwin allegedly punching a man in the face. He was ordered to undergo anger management classes. Finally, per CNN, in February 2023, Baldwin was formally charged with two counts of involuntary manslaughter for his involvement in the 2021 fatal shooting of cinematographer Halyna Hutchins on the set of "Rust." If convicted, he faces a maximum of 18 months behind bars.
Alec Baldwin's had numerous other near-scrapes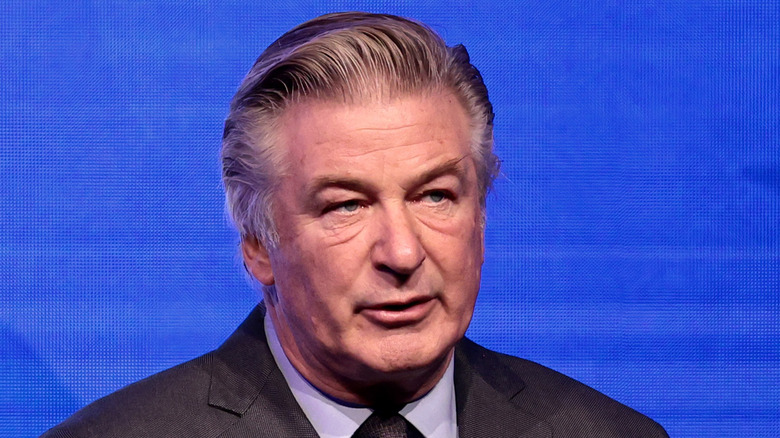 Dimitrios Kambouris/Getty Images
In addition to four arrests, Alec Baldwin has had countless other scrapes and outbursts. In 2011 Alec got kicked off a plane for playing Words with Friends. He was midgame when asked to switch off his phone pre-take-off and exploded at the air steward when she insisted. "I guess the fact that this woman, who had decided to make some example of me while everyone else was left undisturbed, did get the better of me," Alec wrote in a #SorryNotSorry HuffPost piece.
Then there are the multiple pap attacks. Alec's renowned for lashing out if he sees red. According to New York Magazine, in 2012, he launched two attacks within ten days of each other. The first was when Alec applied for his marriage license to Hilaria Baldwin. The second involved cussing, flip-flops, and a fuzzy pink animal. TMZ reports that in 2013, the NYPD was called after Alec grappled with a paparazzo who was snapping Hilaria, who'd just given birth to their daughter, but no charges were filed. "You have been born into one crazy family," Ireland Baldwin wrote to her new sister following the incident (via ABC). "You are both lucky and cursed at the same time."
In 2019, after attending court-mandated anger management classes for attacking a man over a parking space, Alec spoke to Howard Stern about what the experience taught him. "When you go to anger management, you realize you're not that angry," he claimed.