How Much Money Did Annette Roque Get In Her Divorce From Matt Lauer?
Sonia Moskowitz/Getty Images
Matt Lauer and Annette Roque's divorce was hardly a quiet or particularly private one. The former couple notoriously went their separate ways in 2019 amid Lauer's infamous scandal and subsequent firing from "Today" after he was accused of sexual misconduct.
The former couple first sparked rumors of trouble in paradise when People reported in December 2017, the month after his firing, that both had taken off their wedding rings, but were still living together. A source shared at the time, "They're taking it day by day right now. His focus is on his family." Later that month, another source told People that Lauer was supposedly doing all he could do to avoid a divorce ... but it didn't exactly end the way he wanted. Roque was the one who eventually called time on their marriage, officially filing for divorce from the man she married in 1998 in July 2018.
And, with Celebrity Net Worth estimating Lauer's net worth to be around $100 to $150 million at the peak of his career (a figure that's since fallen to $80 million), she certainly had a lot to potentially gain from signing on the dotted line to end things.
Annette Roque reportedly received millions after divorcing Matt Lauer
Kevin Mazur/Getty Images
Annette Roque is thought to have made millions from her divorce. Exactly how many millions? A whopping $20 million, according to Page Six. The outlet claimed that was the figure the former NBC morning show anchor agreed to pay his now former wife, as a source shared they managed to keep things amicable as they sorted through their assets. "Things really have settled down. Matt and Annette are getting on and they're both spending time with their kids. They hope to settle the divorce very soon," they claimed.
It's thought the now exes already had what was described as a postnup in place (think a prenup that's created after you're actually married) after Roque reportedly originally filed for divorce in 2006, though that was later dropped. "Matt agreed to pay Annette a lump sum of millions back in 2006 as an incentive to stay with him to help him maintain his squeaky clean image as 'America's Dad,'" an insider claimed. "She also got an allowance every year, plus it was agreed that she would get a share of the value of all their homes if they did split."
As for what else Roque reportedly walked away with? Page Six also claimed that after the divorce was finalized, she was awarded one of their properties in The Hamptons.
Matt Lauer apparently wasn't too happy about his divorce pay-out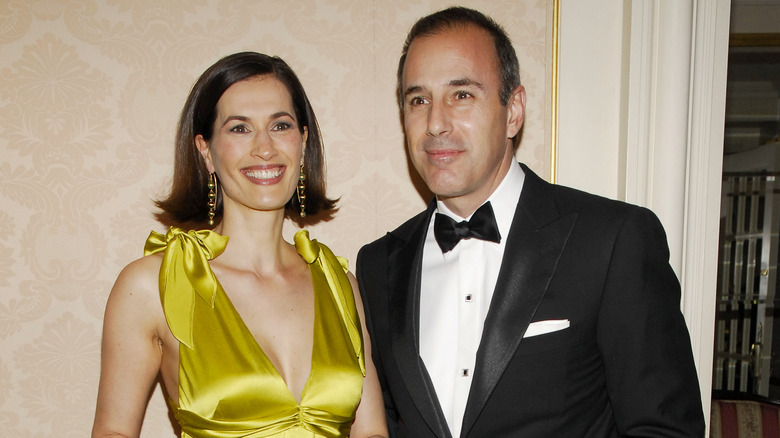 Ray Tamarra/Getty Images
There were some conflicting reports about how amicable Matt Lauer and Annette Roque's divorce really was, though, as a source told Us Weekly at the time the ex-host supposedly wasn't too happy about how much money he lost in the split. Prior to things being finalized, the insider claimed that Roque could have gotten up to $50 million, and alleged she was getting the Hamptons residence, the New York home they lived in the majority of the time, and a one-time of payment of millions of dollars. "There will be no child or spousal support and they will split the costs for the kids," they added. 
The source also noted that the settlement had the former news anchor seeing red, but claimed he settled on the deal because he wanted things over and done with. "He could fight for a better deal in court but that would only result in dragging this out longer and negative headlines. He is ready to move on with his life and truly believes that a television comeback is possible," they said.
TMZ claimed the two reached the settlement together and Roque was the one who submitted the papers to a judge, with Lauer not contesting the terms. The outlet also claimed that she walked away with assets adding up to around $20 million, though the exact terms were kept private.