Keira Knightley Dated (And Split With) Jamie Dornan Before His Fame Took Off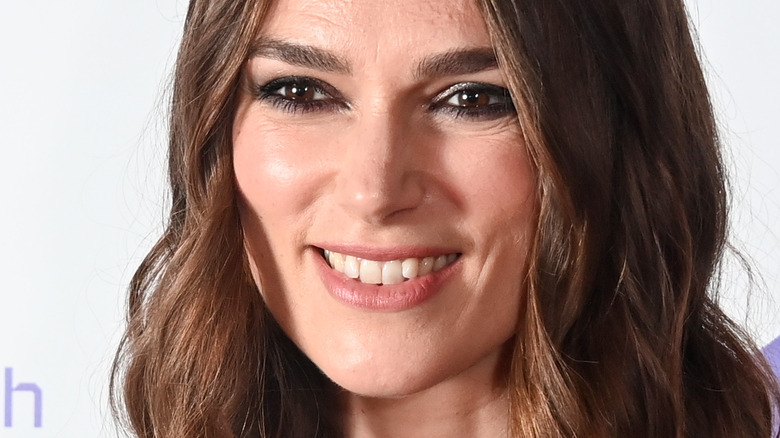 Stuart C. Wilson/Getty Images
Jamie Dornan was a model before he became an actor. "I didn't love it," he told GQ in November 2021, adding that he still doesn't like accepting modeling gigs. He mentioned that he felt like it was "unnatural" to be told how to pose and it made him uncomfortable. "I struggled with, let's say, the energy," he added. "Too much nonsense." He also said that he would lie about his occupation when women asked him what he did for a living, but he's thankful that being a model helped him become more comfortable around a camera when acting.
Meanwhile, Keira Knightley was gaining recognition for her role in the "Pirates of the Caribbean" franchise. In a press interview for the first "Pirates of the Caribbean" movie, Knightley was asked what her character's love life looked like. "She gets to kiss Orlando Bloom, that's what's going on in her life," she answered. She then further explained her character's romance arc in the movie. "I'm a girl who gets stuck on an island with Johnny Depp, I get chased around by Geoffrey Rush, and I get to kiss Orlando Bloom," she added. "What more can I say? Do you feel sorry for me? No, I didn't think so." But what some may not know is that Knightley was in a real-life relationship with Dornan at the time.
Keira Knightley and Jamie Dornan dated from 2003 to 2005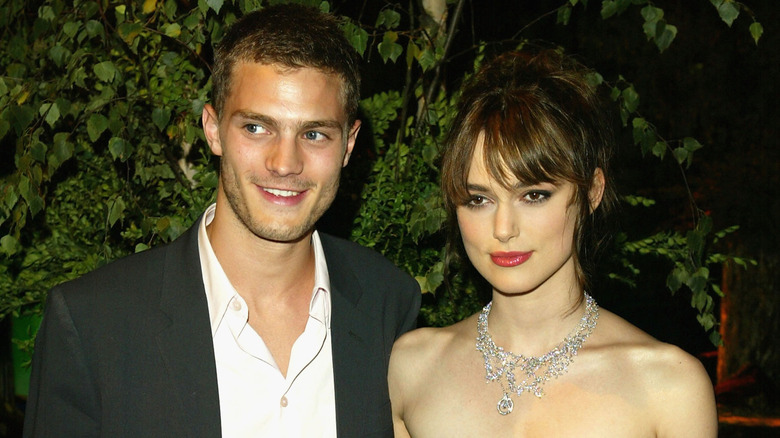 Dave Hogan/Getty Images
Keira Knightley and Jamie Dornan met in 2003 while they were working on an advertisement for Royal Jewelers Asprey. At the time, the "Pirates of the Caribbean" actor was very smitten with Dornan. She reportedly liked how he kept her grounded as she navigated the fame she gained from the Disney blockbuster. She liked the normalcy she experienced when she was with him.
After about two years of dating, Knightley and Dornan went their separate ways. "Keira and Jamie have decided to call a halt to their relationship in its current phase but they remain completely committed to each other as friends and will continue to see each other in this capacity," the "Fifty Shades of Grey" actor's rep told People at the time.
But it seems that Knightley took the breakup pretty hard. "Keira's gutted," a source told the Mirror. "She really thought what she and Jamie had was love but it just wasn't meant to be." They both reportedly tried hard to work things out, but decided it was best to split. "They were having crisis talks on an almost daily basis but the decision was reached to finally call it a day," the insider added. Later on it was rumored that Knightley's fame could have been a reason for the breakup.
Jamie Dornan admitted he couldn't handle the fame while dating Keira Knightley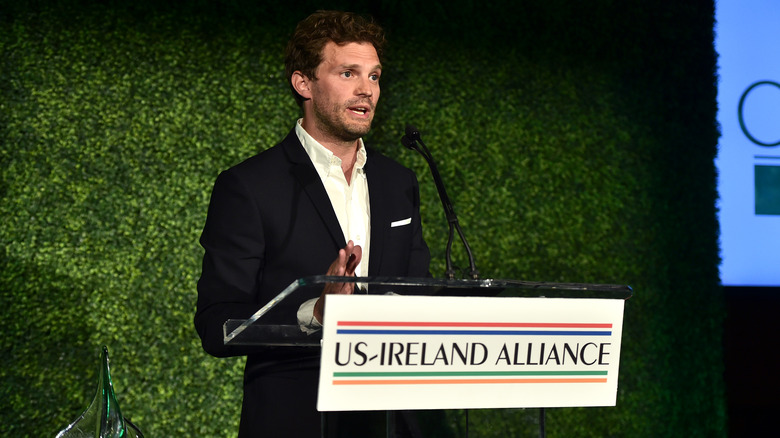 Alberto E. Rodriguez/Getty Images
Years after splitting from Keira Knightley, Jamie Dornan reflected on his relationship with the "Love Actually" actor. "It was a strange environment to find yourself in, being hounded and followed," he told the Evening Standard in 2014. He then discussed his distaste in the paparazzi and the media attention he had. 
Dornan also mentioned that a lot of the overwhelming feelings came from the fact that he was young and wasn't as famous at the time, indicating that he was thankful for the relationship because it helped him deal with the fame he received from the "Fifty Shades" franchise. "That scrutiny when you're older will be easier to take," he added. "And I don't think I'm ever going to be as famous as her."
It doesn't look like Knightley and Dornan are on talking terms, however — or at least aren't friends with each other, even though they have the same job. In 2015, the two actors attended the British Academy of Film and Television Arts (BAFTA) Tea Party with their respective spouses, but seemed to avoid each other during the event. They reportedly chatted with the same people, but were never seen standing or sitting near each other.