The On-Brand Reason Aubrey Plaza Instantly Clicked With Haley Lu Richardson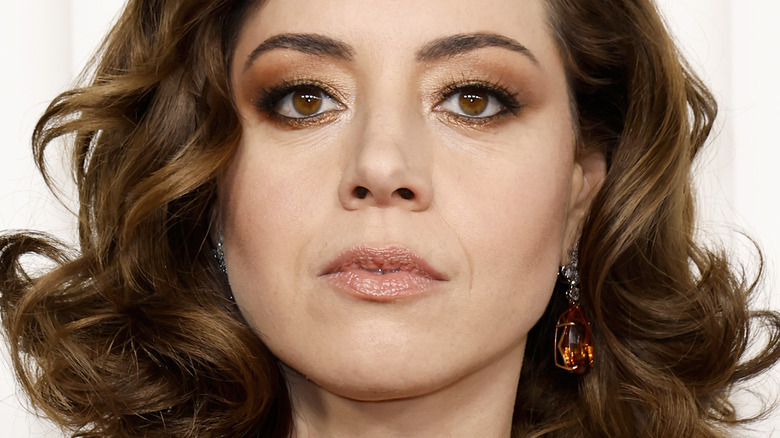 Frazer Harrison/Getty Images
Aubrey Plaza is known for her dry humor and somewhat weird persona on and off-screen. She's a known practical jokester while on set and she was so in-character once while filming "Dirty Grandpa" that she freaked Robert De Niro out. A lot of her characters take on a similar vibe, especially April Ludgate on "Parks & Recreation," which was mostly because it was written for her specifically. But Plaza's co-star from "The White Lotus," Haley Lu Richardson, is giving her a run for her money for quirkiest, silliest cast member. Richardson has gone on a Jonas Brothers' fangirl campaign and also revealed she dresses like her character, Portia, in real life (which is a tad tragic). Not to mention her goofing off while promoting the show has gone viral already.
So yeah, it makes sense that the two got along because their energies seem to really mesh well together. But the way that Plaza and Richardson met, along with their mutual love of stalking each other, really seals the deal on why they clicked.
Haley Lu Richardson stalked Aubrey Plaza before White Lotus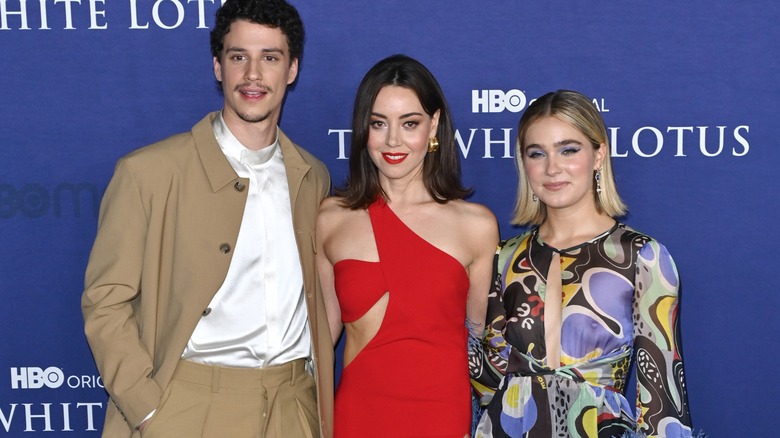 Featureflash Photo Agency/Shutterstock
Other than the fact that they called each other "Aubrelina" and "Halelina" during Aubrey Plaza's Interview Magazine conversation with Haley Lu Richardson, there is actually a very precise reason why these two actors clicked so well on the "The White Lotus" set. If you know Plaza's public persona at all, you'd not be surprised to know stalking is involved — but interestingly, it wasn't the "Parks & Rec" alum doing the stalking this time. "I'm obsessed with you. Well, my life revolves around you," Richardson told Plaza point blank when it came to why she followed Plaza's every move. Richardson revealed that she and Plaza met for the first time at the MTV Movie & TV Awards.
"You just stared at me and looked like you were going to kill me in my sleep," she said, which perfectly describes Plaza. The stalking became more obvious when Richardson showed up to the "Chucky" premiere "uninvited," just to get another shot at being close to Plaza. "I made friends with all of Aubrey's friends at the premiere so that I could get closer to her life," Richardson revealed. "Then Aubrey's friend invited me to Aubrey's birthday without asking Aubrey. So I showed up and I remember we locked eyes at the bar and you just went, 'You.'"
And in case you thought this was an act, don't fret. Richardson herself confirmed that she is a "professional stalker" in an interview on "Today!"
Aubrey Plaza and Haley Lu Richardson are very much alike
With Aubrey Plaza's dry humor and no way to hear how these two are sharing these stories, it's hard to say if Haley Lu Richardson really did play the long-game to befriend Plaza. But, regardless, once they did spend time together, their personalities of course meshed well. And like any good fangirl, Richardson made Plaza a necklace that says, "mommy" on it. And while the "Emily The Criminal" star joked about actually being Richardson's stalker, she was genuinely happy about how similar they are. "I think that was what I loved about spending time with you, that we were both so tortured," she said. "And, honestly, I think that's it." Richardson agreed, adding that "it's because we both care so much."
And after all that stalking, or manifesting through the universe — whatever got these two on a project together — Richardson and Plaza of course were great co-stars and on-set buddies. In "The White Lotus," Richardson played the role of Portia, Tanya's (Jennifer Coolidge) clueless Gen Z personal assistant, and Plaza played Harper, a straight-laced lawyer on vacation with her husband and his insufferable business partner. The Film Updates Twitter account even shared a screenshot from (presumably) Richardson's social media, where she shared a photo of her and Plaza on a bed together, cuddling. "Gonna frame this," she wrote on the photo. Makes sense she had this photo to post; Richardson told Plaza that she has an "Aubrey" album on her phone, for just this moment.