What Jackie Evancho From America's Got Talent Is Doing Today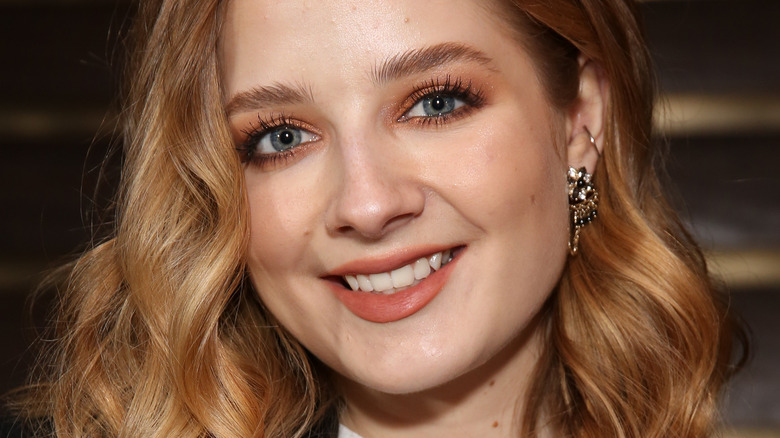 Walter Mcbride/Getty Images
The following article includes mentions of disordered eating.
Jackie Evancho's preternaturally powerful pipes earned the Pennsylvania native a spot on Season 5 of "America's Got Talent" in 2010. But by then, she'd already been discovered by a renowned music producer after finishing as the runner-up in a smaller talent competition.
That contest was the brainchild of David Foster, a music industry heavyweight who has collected more than a dozen Grammy awards and worked with huge stars including Whitney Houston, Celine Dion, and Madonna. Evancho revealed that she decided to enter his singing competition after becoming enthralled with the "Phantom of the Opera" movie soundtrack. "Even at age 8, she was incredible," Foster told the Las Vegas Review-Journal. Opera was Evancho's genre of choice when she first appeared on "AGT" at age 10. She got sent straight through to the quarterfinals after participating in the show's YouTube competition, and the vocal powerhouse proved she was a top contender by nailing her performance of "O mio babbino caro." It had everyone in the auditorium on their feet. "Are you sure you're not 30?" judge Piers Morgan asked Evancho. He then declared, "That is one of the most extraordinary performances I've ever seen on 'America's Got Talent.'"
Evancho ultimately finished second behind soul singer Michael Grimm, but Foster helped further her career by producing her album "Dream with Me," which rocketed to the No. 2 spot on the Billboard 200 in 2011. She seemed primed for superstardom, but when she accepted a certain high-profile gig, she would later regret the move.
Jackie Evancho performed at Donald Trump's inauguration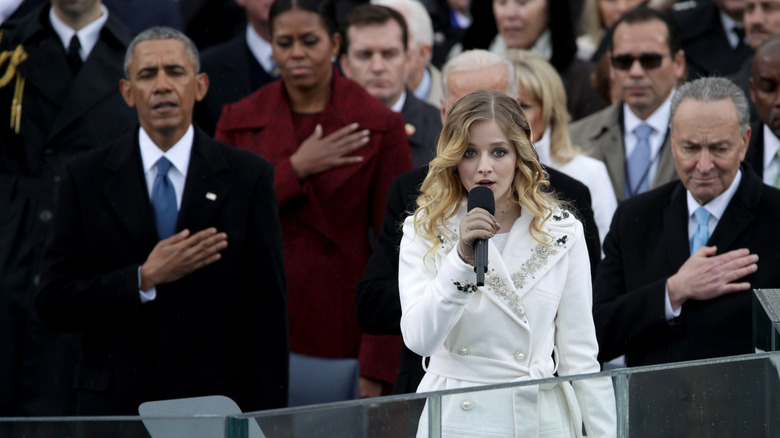 Alex Wong/Getty Images
The exposure Jackie Evancho received on "America's Got Talent" kicked her career into high gear. By 2017, the then-16-year-old had released half a dozen studio albums and experimented with acting, appearing alongside Robert Redford in the 2012 thriller "The Company You Keep." She also showcased her talents at numerous events, including the 2010 National Christmas Tree Lighting at the White House. Barack Obama was president at the time and Jackie was initially excited when she received another invitation from a different president: Donald Trump wanted her to sing the national anthem at his inauguration.
Before Trump was sworn in, there were fears that he would roll back hard-won LGBTQ rights. Jackie's sister, Juliet Evancho, is transgender, so some of the singer's fans couldn't understand why Jackie was willing to participate in the inauguration. But Jackie told USA Today that Juliet supported her decision and dismissed the criticism. "It's an honor to perform for my country and I don't really do politics," she said.
A month later, Jackie tweeted her disappointment when Trump overturned Obama-era guidance that protected transgender students. She also begged Trump to meet with her and Juliet to discuss transgender rights, but Trump never returned the big favor she did for him by being one of the only singers willing to perform at his inauguration. This had Jackie singing a different tune about her performance. "Yeah, I guess there's a little regret," she told the Daily News in 2019.
Jackie Evancho developed osteoporosis caused by anorexia
In a 2020, Jackie Evancho told Entertainment Tonight that she had lofty goals beyond recording covers of classical crossover songs. She'd decided to model her music career on that of Lady Gaga, while she hoped to build a business empire like that of Kim Kardashian. Evancho also returned to the reality TV realm, competing on "America's Got Talent: The Champions" in 2019 and "The Masked Singer" the following year.
But in 2021, a scary discovery threatened to derail Evancho's dreams. After being involved in a car crash, she suffered breaks in two different spots on her back. "They were abnormal breaks, breaks that you see in 80-year-olds," she told People. "That's how I learned that my eating problems created osteoporosis." Evancho, who was 21 at the time, revealed she was 15 when her struggle with anorexia began. She first sought treatment at age 17 but said getting healthy was an ongoing process. While Evancho told Yahoo! Entertainment she worries about her health problems potentially hurting her voice, she was singing sweetly as ever when she released an album of Joni Mitchell covers, "Carousel of Time," in 2022.
Unfortunately, Evancho experienced health setbacks at the start of the pandemic, saying that she became fixated on her eating habits due to a lack of diversions. "I'm still struggling, but I'm fighting," she said, "which is good because a year ago I was giving in to it completely, and that's so dark and painful."
If you need help with an eating disorder, or know someone who is, help is available. Visit the National Eating Disorders Association website or contact NEDA's Live Helpline at 1-800-931-2237. You can also receive 24/7 Crisis Support via text (send NEDA to 741-741).