Travis Kelce Once Had His Own Dating Show (& It Was Incredibly Awkward)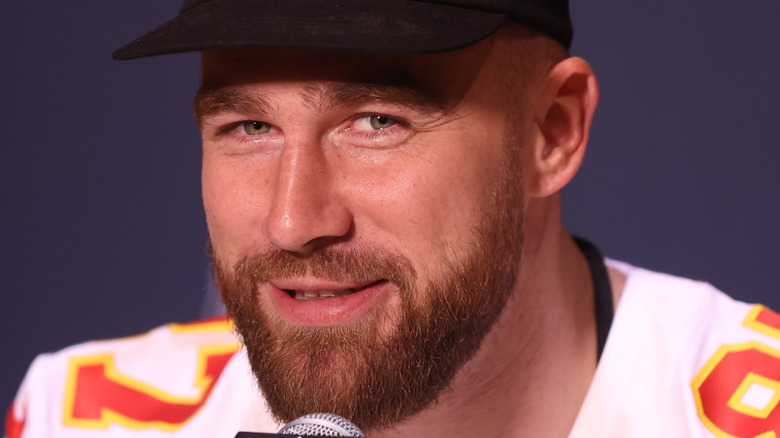 Christian Petersen/Getty Images
Move over, Joe Burrow — Travis Kelce is in the building. He's got a nice smile and blue eyes. He's tall and he's a momma's boy. What's not to love about the Kansas City Chiefs tight end? With his fun personality and his love for partying, he's caught the attention of many female football fans, making him one of the NFL's most eligible bachelors.
Kelce is known for being the life of the party, and he doesn't hide the fact that he loves to have some fun and possibly cause some trouble. He was reportedly suspended from playing on the University of Cincinnati's football team during his sophomore year due to failing a drug test as a redshirt freshman. And he was the first person who popped into everyone's mind when quarterback Patrick Mahomes was late to practice during his rookie year.
Kelce also loves to celebrate his touchdowns with some smooth dance moves in the end zone, which has gotten some attention. "You don't really see tight ends out here doing dances in the end zone," he told Grantland in 2014. "But if you see me at night out on the town, I'm having a good time — I'm always dancing. It's part of how we grew up, how we played the game, and now that I'm in the NFL, why not break it out?" And it seems that his outgoing personality was perfect for reality television, as he once agreed to do a dating show with E!.
Travis Kelce had an uncomfortable experience filming for his reality dating show
In 2016, Travis Kelce starred in "Catching Kelce" where he set out to find love. 50 eligible women, one from each state, were given one minute to make a first impression on him. He would then cut the group down to 30 women, and focus on spending time with them. Much like "The Bachelor," he would eliminate women as time passed by until he found the one to call his girlfriend.
On an episode of the "Pivot" podcast, Kelce described what it was like to film the show. "It was extremely awkward because I really didn't have much to say about what we were doing on the show," he said. He then admitted that he wasn't doing so well financially, and he took the job to earn some fast money. "At the end of the day, I don't think I got portrayed as myself," he revealed, adding, "There were a lot of things that just made me uncomfortable."
By the end of the show, the tight end was in a relationship with the winner, Maya Benberry. They split after about eight months of dating. Kelce then moved on to Kayla Nicole in 2017. The two were on and off for five years, and they officially split in the summer of 2022. Now, the tight end is living the single life and has made it clear that he wants to focus on football.
A single Travis Kelce wants to focus on football for now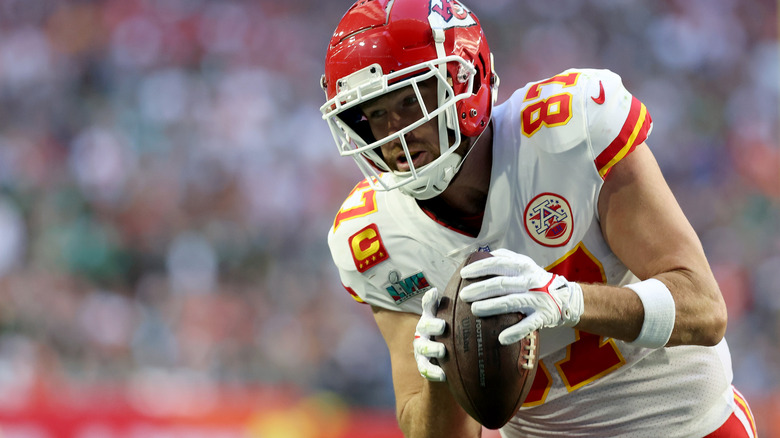 Gregory Shamus/Getty Images
After officially splitting from Kayla Nicole, it was rumored that Travis Kelce was in a relationship with entertainment reporter Zuri Hall. Speculation started when a video of Hall surfaced on social media, and the Kansas City Chiefs tight end is visible in the background. Neither the NFL player nor the reporter has spoken about the relationship rumors, and there is little evidence that the two are romantically linked.
In Travis and Jason Kelce's "New Heights" podcast, Jason jokingly mentioned that Donna — the brothers' mom — usually roots for the Eagles because Jason has given her grandchildren. "I got to start breeding," Travis jokingly said. "I'm going to find a breeder, and I'm going to get kids so that mom can love me again." Donna then gave her son some advice which was to "find the right person."
Travis mentioned on the "The Pivot" podcast in January that because he's knowingly single, he gets an alarming amount of direct messages from girls on his social media accounts. But it seems that the tight end is trying to focus on his career at the moment. "I'm in the free market right now," he said, continuing, "I'm out there just enjoying life, focused on my profession, and got my feet up outside of football."