Patrick Mahomes And Travis Kelce Have A Tight Friendship Off The Field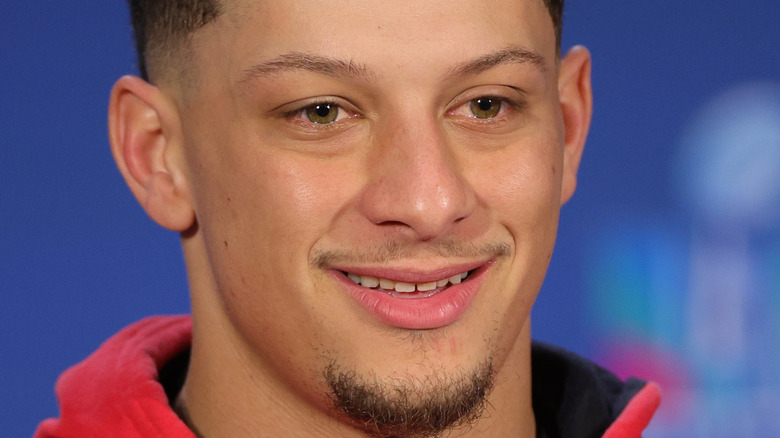 Carmen Mandato/Getty Images
The bromances are real in the NFL. Cincinnati Bengals quarterback Joe Burrow and wide receiver Ja'Marr Chase played college football together at Louisiana State University. Once Chase was drafted to the Bengals, it's rumored that the wide receiver went to the lengths of knocking on each door in the quarterback's neighborhood to make an offer on a house, as he wanted to live near Burrow. The two eventually ended up being neighbors.
Star quarterback Tom Brady couldn't have won all those Super Bowl titles without the help of his best friend, tight end Rob Gronkowski. The former Tampa Bay Buccaneers quarterback called Gronkowski a "teammate," "friend," and "brother" in his sentimental Instagram post after Gronk announced his retirement in 2022. "I'm proud of all that we've accomplished together, and even more excited for all you have ahead of you," he wrote.
Nowadays, the Kansas City Chiefs quarterback and tight end, Patrick Mahomes and Travis Kelce, are getting some recognition for their bromance. Their connection even got Mahomes' wife a little envious. "I'm getting jealous of this love," she tweeted in response to a post-game interview of Mahomes saying, "I love this dude right here, baby, this my dawg," to Kelce. Mahomes and Kelce have great chemistry on the field, and that's all because of the bond they have off the field.
Patrick Mahomes and Travis Kelce bonded over a rookie mistake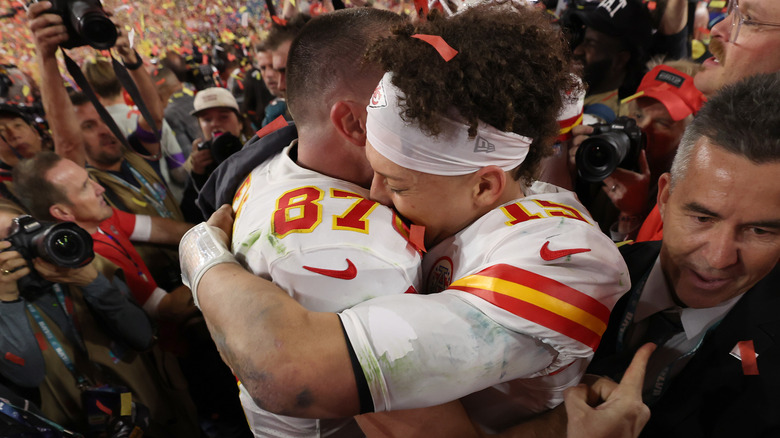 Christian Petersen/Getty Images
Kansas City Chiefs tight end Travis Kelce opened up about his friendship with quarterback Patrick Mahomes on the "Arrowhead Addict" podcast. He started out by saying that he's had an "absolute blast" getting to know Mahomes in the six seasons they've played together. "I can honestly say I'm close enough to where Pat is family now," he said. "I know everyone in his life, and he knows everyone in mine."
Mahomes also reflected on how he and Kelce became best buddies on the "New Heights" podcast. The quarterback recalled that he was out celebrating with some rookie players on the team and accidentally slept in. When he was brought to the office after arriving late to practice, he was confused when they asked him if he was with Kelce. Little did he know that the tight end was also late to practice and was asked if he was with Mahomes. "At that point, I knew we were teammates," Kelce said.
Later in the podcast, the two Chiefs players explained how their friendship has evolved from the first time they met. Kelce mentioned that he likes how genuine and relatable Mahomes is, and the quarterback added that he likes how the tight end always makes him feel welcomed on the team and with his friend group outside of the sport.
Patrick Mahomes and Travis Kelce's friendship is noticed by others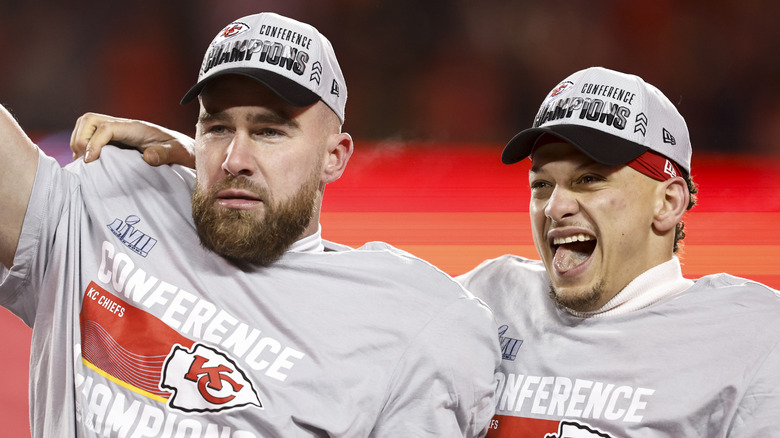 Michael Owens/Getty Images
The love between Patrick Mahomes and Travis Kelce has extended throughout the two's families, as well as across the NFL. Patrick's wife, Brittany Mahomes, often comments on the bromance. "Patrick & Travis really love each other," she once tweeted. After the Kansas City Chiefs won the 2023 Super Bowl, Miami Dolphins wide receiver Tyreek Hill took to Twitter to point out the chemistry between the quarterback and the tight end. "Boy 15 and 87 has to be the greatest duo of all time !!" he tweeted. "Love watching it." Although some NFL fans agreed that Patrick and Kelce are great together, they pointed out another quarterback and tight end duo that is arguably better — Tom Brady and Rob Gronkowski.
The mothers of the two Chiefs players even flexed their friendship on social media. The quarterback and the tight end celebrated their Super Bowl win at a party with The Chainsmokers. Patrick's mother Randi shared a selfie on her Instagram stories with Kelce's mother Donna while they were at the party.