Rob Gronkowski Makes Up His Mind About Staying With Tom Brady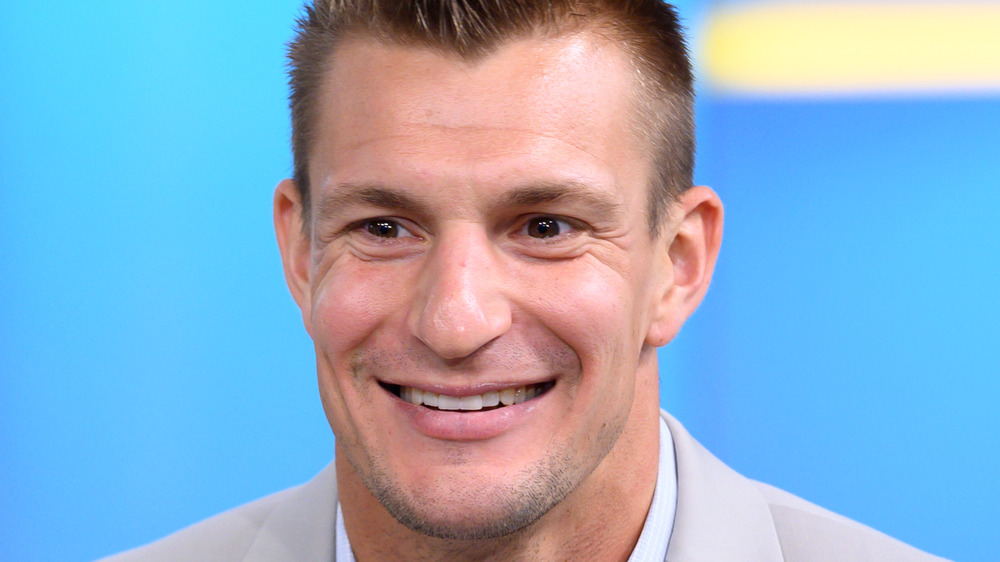 Noam Galai/Getty Images
Rob Gronkowski played a significant role in the Tampa Bay Buccaneers Super Bowl win in 2021. According to CBS Sports, the tight end, who returned to the NFL in 2020 after going into a one-year retirement in 2019, had an amazing season after being traded to the Bucs, catching 45 passes for 623 yards and seven touchdowns.
Before that, he spent the first nine seasons of his NFL career with the New England Patriots, winning three Super Bowls with star quarterback Tom Brady (per ESPN). So you can imagine fans' surprise when Gronkowski revealed he wanted to test out the free agency pool and was considering another team for the 2021 season.
"I definitely want to be back with the Buccaneers. That's where my eyesight is. That's where I'm leaning toward, big time," he said on the 10 Questions with Kyle Brandt podcast March 15, 2021. "But with the free agency process, you just never know what may happen. There's some other teams interested out there, too. I've also never been a part of the free-agency process, so I actually want to dip my toes in, just to see what's out there."
Then later that day, a decision was made. Keep scrolling to find out whether Gronkowski will play another season with Brady and the Bucs.
Rob Gronkowski has signed a new $10 million contract
Mike Ehrmann/Getty Images
Rob Gronkowski and Tom Brady will play at least one more season of football together in 2021, according to ESPN's Adam Schefter, who reported the tight end has agreed a one-year deal worth up to $10 million to return to the Tampa Bay Buccaneers. Gronkowski, who's also known as the Gronks, shared the news with his fans via Twitter, posting a SpongeBob SquarePants GIF that read, "Arrrr You Ready Kids?!?"
Not much is known about the deal or how much longer Gronkowski will continue playing in the NFL, but it looks like his decision will likely depend on Brady who just signed a contract extension that means he'll play in Tampa Bay for another two seasons. "We're keeping the band together," the seven-time Super Bowl champion tweeted on March 12, 2021. So, perhaps Gronkowski will follow in his footsteps. After all, per CNN, he did come out of retirement in April 2020 to reunite with Brady and bring home yet another Super Bowl championship. 
However, Gronkowski also said fans can expect him to sign only one-year deals from now. "I'm planning on being a free agent after every season," he said on the 10 Questions with Kyle Brandt podcast. "I feel like I'm a one-year deal guy for the rest of my career — even if I play 10 more years. I'm going to be a one-year deal guy, a free agent every year, and just control my destiny every year."