Why Derek Jeter And His Wife Hannah Keep Their Relationship Low-Key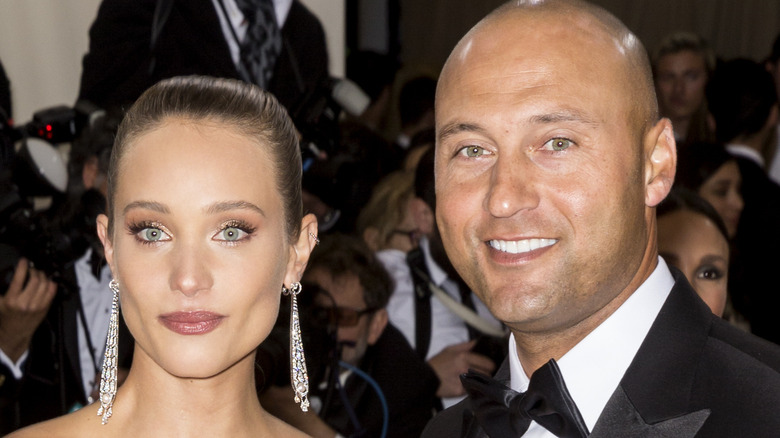 Ovidiu Hrubaru/Shutterstock
Derek Jeter is one of the only high-profile athletes whose love life remains on the down-low. Despite being married to his wife, Hannah Davis, for over half a decade, the couple ensures that their personal business is out of reach from the tabloids.
The two reportedly met back in 2012 through a mutual friend. At the time, Davis had nary an idea that Jeter was a legendary member of the New York Yankees, much less his position in the team. "I thought he was a pitcher. I know it sounds strange that I didn't know he was a shortstop," she wrote in a post for The Players' Tribune. But what Jeter did for a living — and his A-list status — didn't matter to her anyway. "I didn't need much more to go on than this: I had met the nicest guy, and I wanted to get to know him on my own terms. Not Google's," she explained, adding that she never understood how famous her soon-to-be-husband was until she stepped foot into a stadium during game day. "Up to that point, I'd only really known him as Derek, this great guy I was dating. This was the first time that I'd seen him as Derek Jeter: a New York icon, a Yankees hero."
Jeter and Davis ended up being inseparable, and while both of them are public figures, they were both in agreement that their private life should always be kept from the media's prying eyes.
Derek Jeter and Hannah Davis both prioritize their privacy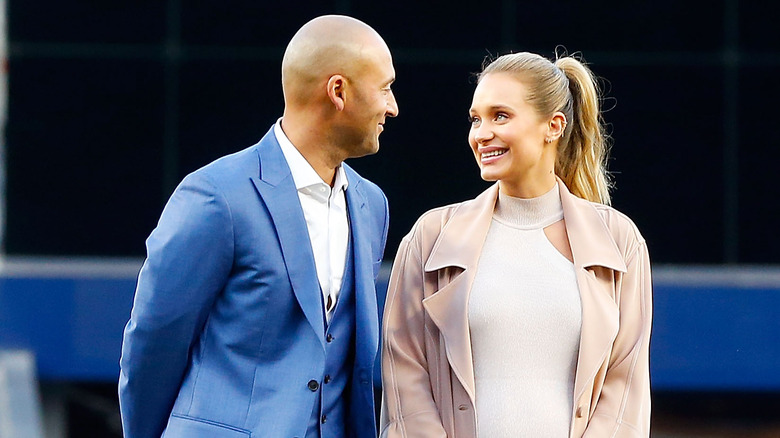 Jim Mcisaac/Getty Images
Derek Jeter and Hannah Davis are no strangers to the constant scrutiny of the public eye and understand the difficulties that come with having others pry into their personal lives. During an interview with Maxim in 2016, David dished that her relationship with Jeter is the one thing she wishes to remain private, and fortunately, they have been successful in doing so . "I feel like I have to share every other part of my life. It's that one part that's a little bit of a mystery to people, but that's the way we want it," the model shared (via Us Weekly). "The only way to protect it is not to talk about it."
Jeter, of course, shares the same stance. In an appearance on "The Eli Manning Show," the Hall of Famer revealed that he has a system to combat tabloids: Never add fuel to the fire. "A lot of times, you've got to bite your tongue on a daily basis," he explained. "With New York, I always felt as though you want to try to limit the distractions, and if you keep adding to a story, it just becomes a distraction for a long period of time." He added that he likes "addressing something once" and ignoring everything else. "I think there's a lot of times people have stories out there you know are untrue, but if you do address it, then it just continues to go," he said.
Derek Jeter and Hannah Davis also keep their kids out of the spotlight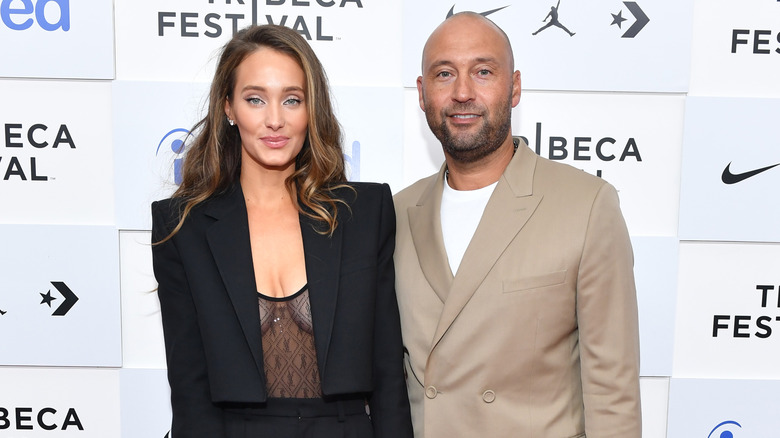 Noam Galai/Getty Images
Derek Jeter and Hanna Davis share three daughters, Bella Raine, Story Grey, and River Rose. And while both are proud parents, they also go out of their way to protect their children. Speaking with the Editorialist, Davis revealed that the two have agreed not to share their kids on social media — perhaps ever.
"I know it's [social media] necessary in my industry, and I absolutely have to when it's part of a contract. But a lot of people post their children and husbands, and for me that will never be the case," she said. "Both my husband and I have been in a place in our careers where we have to share so much. And we can handle it. But when you love something so much, you want to protect it more than anything in the world. And for me, that's my relationship, that's my kids."
If there's one thing Jeter loves more than baseball, it's being a father to his children. "My girls are the absolute best. You know, you hear it before you have kids, people will tell you, 'Oh, wait until you have your own,' but it really is true," he told People. "Every day there's something new, and they learn something new every single day. It's been wonderful. It's been more than I ever could've imagined."