Why Beyoncé And Jay-Z Skipped Out On Kim Kardashian And Kanye West's Wedding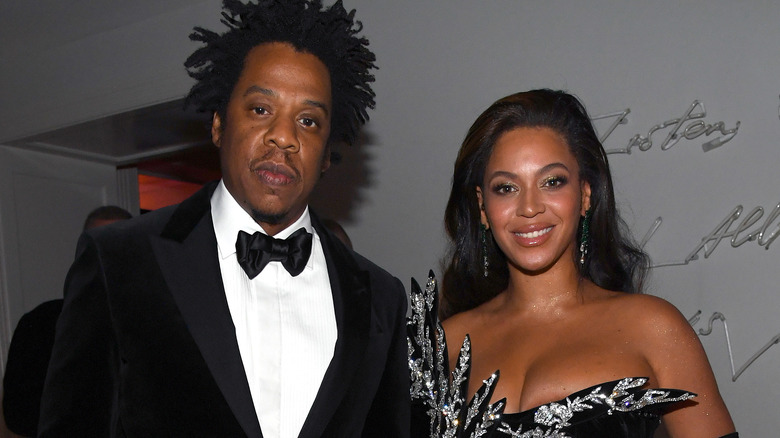 Kevin Mazur/Getty Images
Anticipation was at an all-time high leading up to Kim Kardashian and Kanye "Ye " West's wedding. Fans knew the couple would have one of the most extravagant nuptials of the century, and let's just say they did not disappoint.
According to Vogue, the 2014 festivities kicked off in the beautiful country of France, where the SKIMS founder celebrated her bachelorette party with a close group of friends and family. Kardashian even held her rehearsal dinner at the Palace of Versailles in the Hall of Mirrors with 600 other guests. Many believed that the "Keeping Up with the Kardashians" star would tie the knot in France, but that's not what she had planned. Kardashian surprised everyone by flying them out to Italy on her wedding day. The businesswoman tied the knot with West in Florence and shared the celebration with 200 guests.
Seeing as both Kardashian and West are big names in the industry, people knew the wedding guest list would be packed with A-list celebrities. Those that attended the "Kimye" wedding included John Legend, Andrea Bocelli, Jaden Smith, and more, per a wedding album shared by Vogue. However, one couple was noticeably absent from the nuptials, Beyoncé and Jay-Z. The "Empire State of Mind" rapper and West had been close friends for years, so many were shocked when he wasn't in attendance. Rumors swirled as to why the couple didn't attend, but there seems to be only one real reason Beyoncé and Jay-Z were missing, and it didn't have to do with West or Kardashian.
Beyoncé and Jay-Z were dealing with personal issues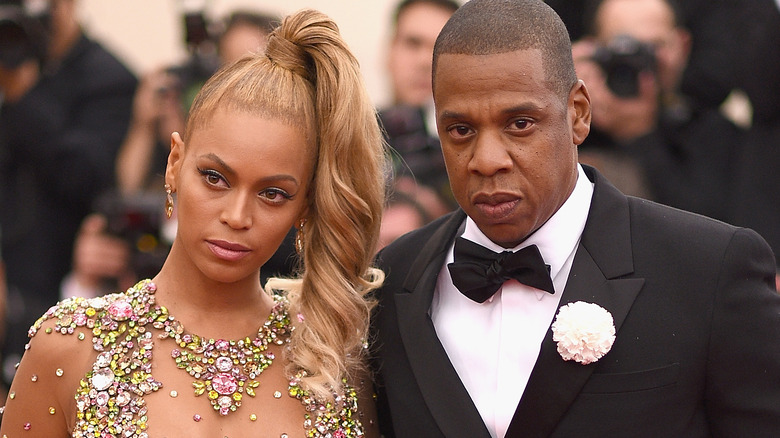 Dimitrios Kambouris/Getty Images
Just before the wedding of Kim Kardashian and Kanye "Ye" West, a celebrity scandal made headlines. Jay-Z, Beyoncé, and Solange were at the center of headlines everywhere after footage leaked showing Solange fighting with her brother-in-law in an elevator.
TMZ reported that the fight occurred at the 2014 Met Gala after-party. Although the clip has no sound, it's evident Solange was upset as she began kicking and hitting Jay-Z in the elevator. At one point, Beyoncé even got in the middle of her husband and sister attempting to separate the two. The family released a statement following the fight, obtained by People. They said, "Jay and Solange each assume their share of responsibility for what has occurred. They both acknowledge their role in this private matter that has played out in the public. They both have apologized to each other, and we have moved forward as a united family."
Apparently, this feud may have prevented Jay-Z and Beyoncé from attending the "Kimye" wedding, as noted by Hollywood Life. When the couple released their joint album "Everything Is Love," the track "Friends" gave fans an insight into their absence. Jay-Z rapped, "I ain't going to nobody for nothin' when me and my wife beefin' / I don't care if the house on fire, I'm dyin', n****, I ain't leavin'." Fans quickly connected this line to why the couple skipped out on the nuptials, although nothing was ever confirmed.
Kanye was upset Jay-Z and Beyoncé skipped the wedding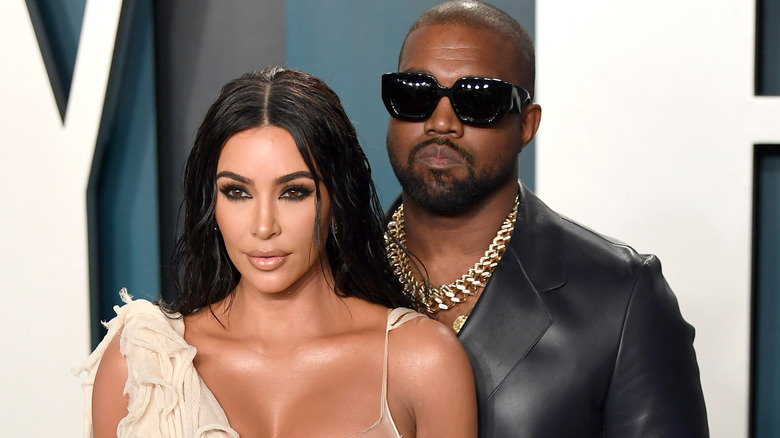 Karwai Tang/Getty Images
Kanye "Ye" West was understandably upset when he tied the knot with Kim Kardashian in 2014, and his longtime friend Jay-Z was a no-show at the wedding. The two had been best friends since the late 90s/early 2000s, and usually, a close pal wouldn't miss out on an event as big as a wedding. Because of this, the "Gold Digger" rapper was understandably bothered that Jay-Z was absent.
West revealed in a 2018 interview with Charlamagne tha God that he was "hurt" that Beyoncé and Jay-Z skipped out on his wedding. He said, "I was hurt about them not coming to the wedding. I understand they were going through some things, but if it's family, you're not going to miss a wedding." The rapper shared that he never directly asked Jay-Z why they missed the nuptials, but he was still bothered that they passed on the event.
Even though the couple was missing from the "Kimye" wedding, Beyoncé still sent well wishes to the couple. The "Cuff It" singer shared a photo of the couple's Vogue photoshoot to her Instagram shortly after they walked down the aisle. She wrote a sweet message to the newlyweds: "Wishing you a lifetime of unconditional love. God bless your beautiful family."