How Jalen Hurts Fractured His Relationship With Carson Wentz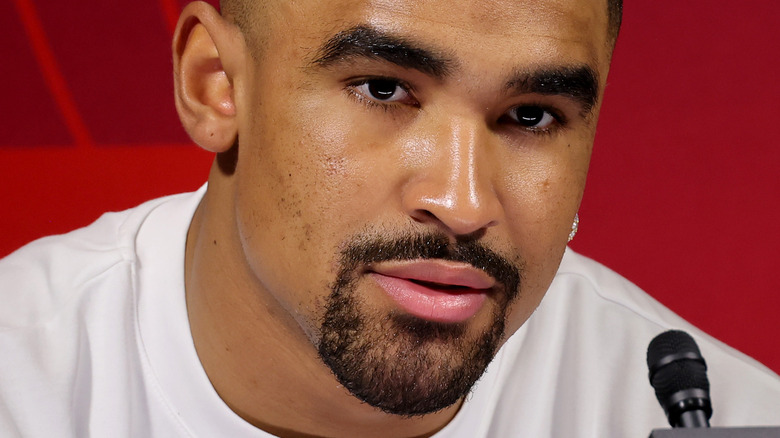 Mike Coppola/Getty Images
The 2022-23 NFL season was Jalen Hurts' big chance to shine. And shine he did! The Philadelphia Eagles quarterback threw for over 3,700 yards and 22 touchdowns in 15 games, which was good enough to get his team into the postseason, and eventually, Super Bowl LVII. According to The Philadelphia Inquirer, Hurts was the franchise's youngest quarterback to start in a Super Bowl. The secret to his success? Patience, and the ability to learn from loss. "I think [Jalen] thrived on it. I don't think the losing was a pitfall. He just pushed himself harder and the people around him harder to be successful," Coach Bo Davis, who recruited Hurts to Alabama, told the outlet. In other words, Hurts and the Eagles may have lost Super Bowl LVII, but don't count them out in the long run. They'll be back.
To many football fans, Hurts seemed to come out of nowhere. He was selected 53rd by the Eagles in the 2020 NFL Draft, and at the time, quarterback Carson Wentz was helming the team. However, Wentz was fresh off a disastrous season, in which he'd been the most sacked quarterback in the league, and thrown the most interceptions — and he was the one who wanted to move on, per CBS Sports. Though the quarterback looks back fondly on his "wild ride" in Philly, he has plenty of regrets about the way things turned out, including how his relationship with Hurts went south.
Carson Wentz faltered and Jalen Hurts stepped up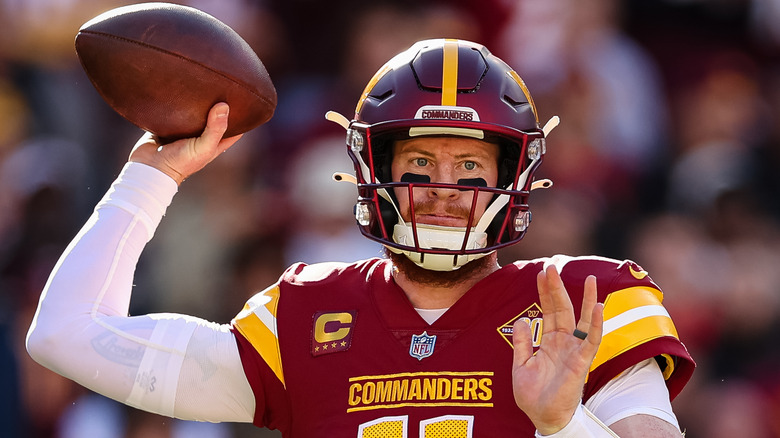 Scott Taetsch/Getty Images
Things started to go wrong before Jalen Hurts officially stepped foot on Lincoln Financial Field. Prior to the 2019 season, NBC Sports reported that Wentz had signed a four-year contract with the Eagles, and was upset to learn the team picked up another QB in the 2020 draft. It's a move that's happened before — think Aaron Rodgers' reaction to Jordan Love, and even further back, Brett Favre's reaction to Rodgers. At the time the Eagles insisted Wentz was still their go-to. "Nobody is going to be looking at a rookie quarterback as somebody who's going to be taking over [for] a Pro Bowl quarterback. ... There's no threat to Carson here," Eagles' GM Howie Roseman told ESPN.
Still, Wentz was threatened. A source close to the situation said (via Bleeding Green Nation), "Carson was the captain of the cool kids' table. He'd treat Jalen, really one of the best guys you would ever want to meet like he wasn't there." Meanwhile, Hurts kept his head down, and focused on his game. "Carson ... was starting — but Jalen would stay after and go through the entire game plan by himself on the field, just going through his reads," running back Boston Scott told ESPN, speaking on Hurts' dedication to the game. Couple that with the fact that Hurts went out of his way to cultivate relationships while Wentz remained aloof, and it was clear that a changing of the guard was right around the corner.
Jalen Hurts and Carson Wentz respect each other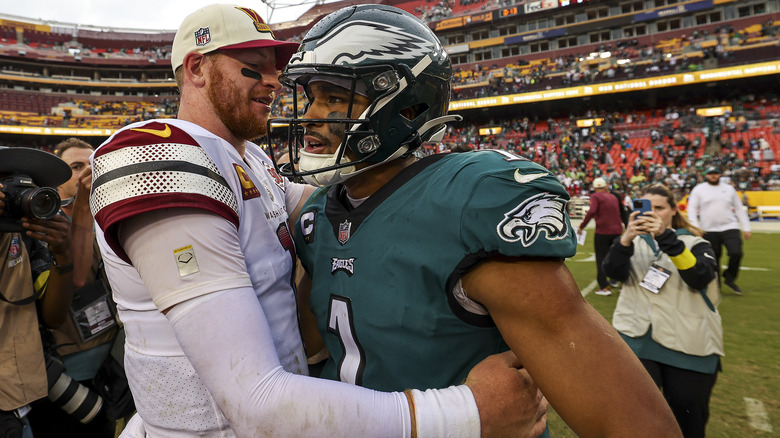 Scott Taetsch/Getty Images
The relationship between Carson Wentz and Jalen Hurts was never as awkward as the relationship between Wentz and the Eagles coaching staff. Per ESPN, Hurts did ruffle feathers by taking on a leadership attitude, but "I don't think it was ever too bad between [Jalen and Carson]," tight end Dallas Goedert said. "Getting benched is never easy. But when he came in here after that, Carson was trying to help Jalen, doing everything that he could from the position he was in." Wentz might not be at the peak of his career anymore, but he bears Hurts no ill will. Likewise, Hurts had kind words for his successor, telling Sports Illustrated that his time with Wentz was a "teachable moment" in which he "learned a lot." "There's definitely a mutual respect between the two of us," Hurts added. "When [Carson] went to Indy and now here, definitely a mutual respect and I wish him nothing but the best."
However, the two aren't close. When asked about what it meant to play against his former team (via Delaware Online), Wentz answered, "I don't put a lot of stock into that. It's a new team. A lot of new faces over there. So yeah, it'll be fun." As of early 2023, Wentz and Hurts' paths have diverged further: Wentz and the Washington Commanders went 8-8 while the Eagles dominated the NFC East. What will the next season bring?