Terrell Owens And Donovan McNabb's Feud Is Alive And Well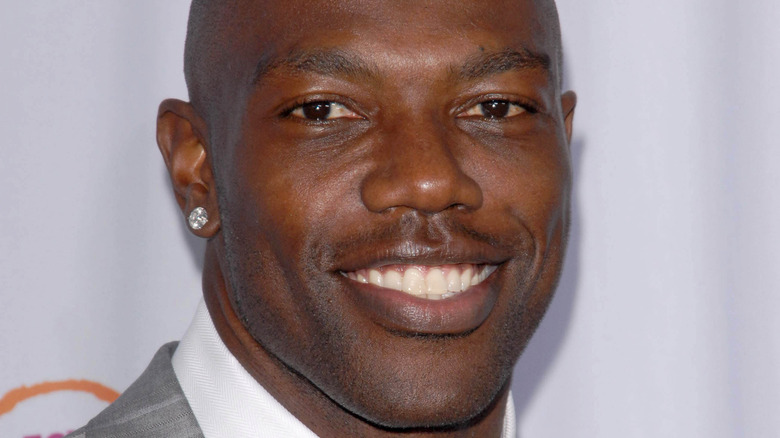 s_bukley/Shutterstock
If we thought that time would heal the animosity between wide receiver Terrell Owens and quarterback Donovan McNabb, we were very wrong. The feud is almost 20 years old at this point and has taken many turns; like all classic feuds, it seems everyone's forgotten (or doesn't care) who's right and who's wrong. It's just a longstanding beef between the two NFL stars.
Both men have taken interesting paths since retiring from the NFL. Owens joined "Dancing With the Stars" in 2017, marking an abrupt change from the rough and tumble of football. Owens also got involved in an awkward altercation outside of a CVS, where he punched a man who was harassing people. Meanwhile, McNabb was hired as an analyst, but he was later fired after a sexual misconduct investigation. Considering the changes in careers, we might assume that Owens and McNabb have mended things, but it appears that their resentments for each other are alive and well.
The two men played together for the Philadelphia Eagles from 2004-2005 in a hugely successful year. They both landed Pro Bowl campaigns and were star players for the Eagles during the Super Bowl XXXIX; despite their performances, the Eagles lost to the New England Patriots. But it was somewhere in here that Owens and McNabb lost the spark.
The chunky soup dig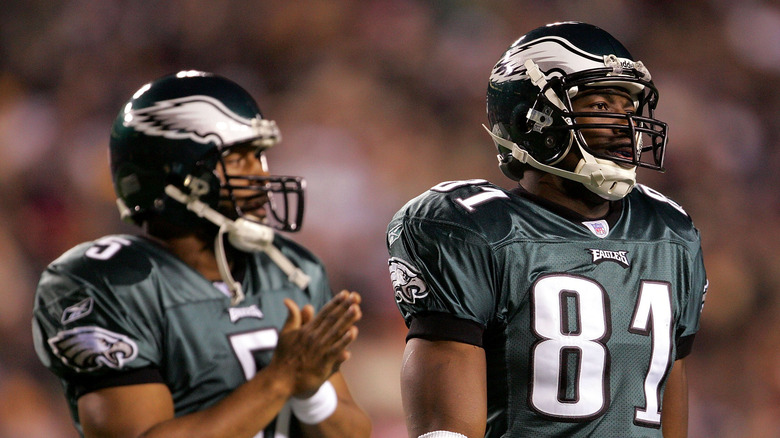 Jamie Squire/Getty Images
A major reason for the conflict between Donovan McNabb and Terrell Owens was over Owens' contract. While McNabb had a multi-million dollar contract with the Philadelphia Eagles that spanned several years, Owens was a free agent and his time with the Eagles lasted only from 2004-2005. A fan spoke about the feud on Twitter in 2022. "McNabb was always jealous of other players getting the spotlight, that's what started the whole thing with [Terrell Owens] the fans fell in love with T.O., Donovan couldn't handle it. When it came time to go to bat for him on a new contract he left him out in the cold," the fan wrote. Owens responded to this tweet with "Facts," and added, "[McNabb] got management not to bring me back but still didn't stop me from producing on the next team."
Even though Owens was done with the Eagles in 2005, it didn't stop him from talking about McNabb for years after. In 2021, on the podcast "Club Shay Shay," he poked fun at McNabb's Campbell's Chunky Soup endorsement from the early 2000s (via USA Today). Owens said he'd pick McNabb as an opponent in a boxing match. "I'll knock him out ... Because there would be so much pent-up [rage]." Owens said that he'd keep his anger controlled. "But there would be a fire burning inside of me," he added. "I'd knock the Chunky Soup from him. From 2004, trust me."
A feud about partying before the Super Bowl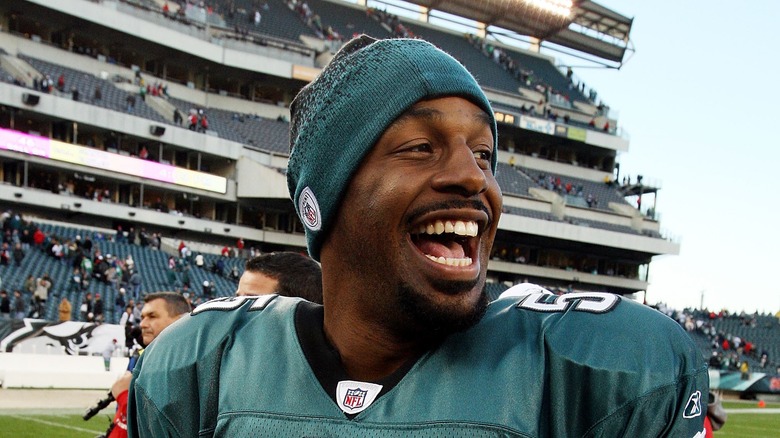 Jim Mcisaac/Getty Images
Another reason for the feud between Terrell Owens and Donovan McNabb had to do with Owens' accusations that McNabb was out drinking and partying the night before the Super Bowl XXXIX in 2004, when the Philadelphia Eagles played the New England Patriots. This, of course, is a huge faux pas in the NFL community. Owens brought it up in 2021 on Twitter, tagging Eagles' wide receiver Freddy Mitchell. "Hey @FMitchell84, can you make sure our QB isn't out drinking? We have a big game tomorrow. #XXXIXmemories," Owens tweeted.
But Owens isn't the only one doing all the talking. McNabb spoke on Bleacher Report's "Untold Stories" in January 2020, and revisited his resentment towards Owens. McNabb called Owens a distraction in 2005, when Owens was holding out for his contract with the Eagles and drawing a lot of attention to himself. "He's doing sit-ups, he's doing push-ups, he's playing basketball, he's ordering pizza for the people out there, and we're sitting there in training camp just like, 'You've got to be kidding me,'" McNabb said. "This is like 'Days Of Our Lives.' It's unbelievable. But that was something that kind of broke us up." McNabb added on "Untold Stories" that he and Owens don't stay in touch, but said, "I give him a nice peace sign and keep it moving." So it seems like that's the best we'll get between Owens and McNabb.