Why Tom Cruise Didn't See His Divorce With Katie Holmes Coming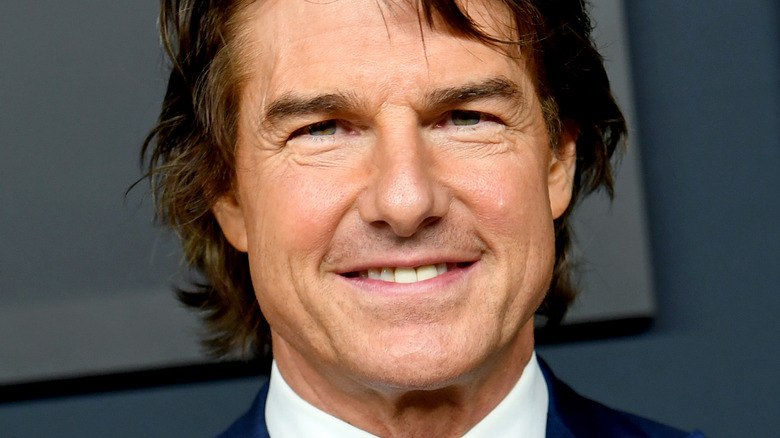 Jc Olivera/Getty Images
Remember TomKat? Yeah, that was the name we really gave Tom Cruise and Katie Holmes back in the day. The once-happy couple fell madly in love back in the mid 2000s, with the former popping the question to the latter in June 2005, mere weeks after they met. Speaking at a press conference shortly after getting down on one knee in front of the Eiffel Tower, the "Mission Impossible" actor told reporters, "I've never felt like this before. She's an extraordinary woman and I love her very much. My family is doing well and I'm just very happy." Clearly, the star was happy. Very, very happy — because why else would have had done that notorious couch jump on "The Oprah Winfrey Show"if he wasn't?
The couple then went on to tie the knot in 2006, the same year they welcomed their only child together, a daughter named Suri, into the world. But the happiness sadly didn't last too long. By the time June 2012 rolled around, it was all over for the couple when Holmes filed for divorce. And it sounds like Cruise wasn't exactly expecting it.
Katie Holmes reportedly got a burner phone to keep her divorce a secret from Tom Cruise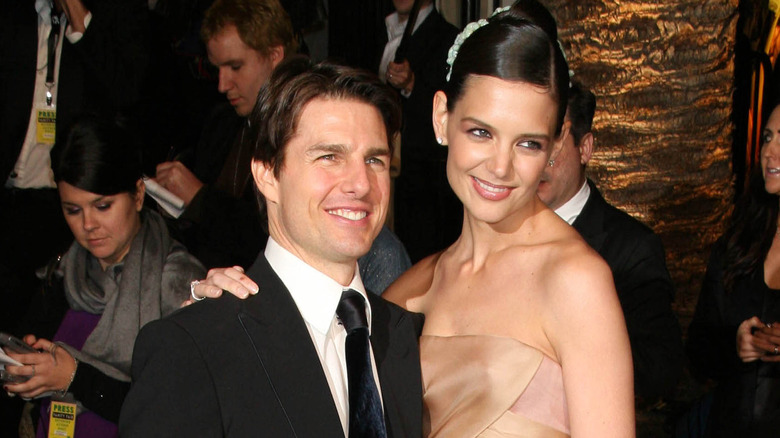 s_bukley/Shutterstock
Katie Holmes reportedly blindsided Tom Cruise when it came to pulling the plug on their marriage. As we know, Holmes was the one who filed for divorce from the father of her daughter, with Cruise's attorney confirming the news in a statement while offering an insight into how Cruise really felt about splitting with the former "Dawson's Creek" star. "Tom is deeply saddened and is concentrating on his three children. Please allow them their privacy," the statement read.
The Los Angeles Times then reported that Holmes had supposedly made some very secretive moves to make sure her decision to end her marriage stayed private — even from Cruise himself — as a source claimed the star supposedly had a friend get her a burner phone so that she could talk to her lawyers about the split in secret. The insider stated that Holmes was able to get her whole plan in order without Cruise or his team knowing a thing, reportedly leaving him totally blindsided when she officially filed. ABC News doubled down on the rumors that Cruise had no idea what was coming his way from his now-former wife, with a source claiming it came as a "complete surprise."
Tom Cruise seemed loved up in the weeks before Katie Holmes filed for divorce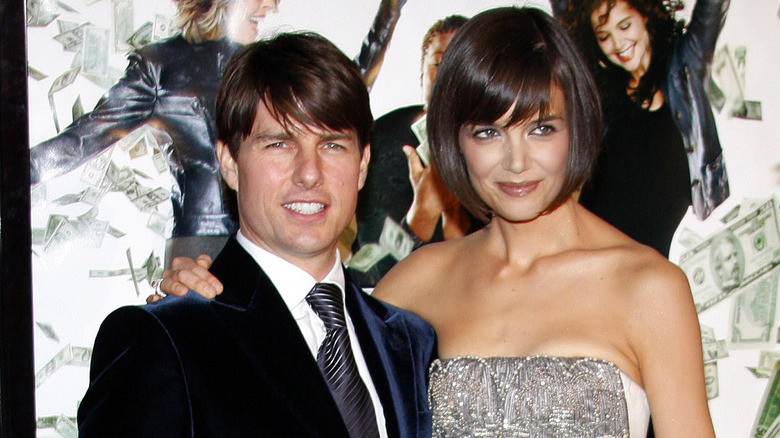 Tinseltown/Shutterstock
Another reason it seemed liked Tom Cruise was totally blindsided by Katie Holmes? Well, he seemed pretty happy in the weeks that preceded her filing and not like a man who was aware of any marriage issues. "Nothing's more important than my wife, my children. She's an amazing woman, and I have amazing kids... I feel very lucky," Cruise said during the premiere of "Rock of Ages" in London in July 2012, with the New York Daily News claiming both were still wearing their wedding rings in the days that came before Holmes' divorce filing.
Someone not so surprised the couple didn't go the distance, though? Cruise's former manager, Eileen Berlin. "I wasn't surprised Katie broke up with him. I was just surprised it lasted as long as it did," she told The Irish Mail on Sunday in July 2012, revealing she was actually shocked his previous two marriages had lasted as long as they did (he was previously married to Mimi Rogers and Nicole Kidman). "Tom was moody and would get angry in a snap of your fingers. It was like something was smoldering and it would boil up and explode," she claimed.