The Messiest Part Of Tom Cruise And Katie Holmes' Divorce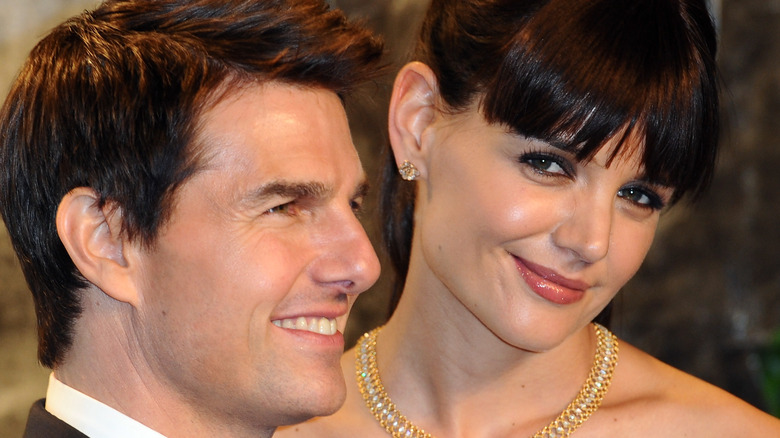 Anthony Harvey/Getty Images
Tom Cruise and Katie Holmes were an enigmatic pairing made in pop culture and tabloid heaven. When they first met in April 2005, he was 42, and she was 26. Cruise reached out and asked to meet with the "Dawson's Creek" star under the guise of her auditioning for "Mission Impossible." Cruise's request was reportedly sparked by a 2004 Seventeen interview where Holmes admitted that as a little girl, she'd dreamed of marrying Cruise one day. Be careful what you wish for.
A whirlwind, paparazzi-fueled, roller-coaster romance followed. There was the inevitable supercouple nickname of "TomKat." Cruise going on a wild PR offensive, gushing about his boundless love for Holmes. Couch-jumping, knee-dropping, and fist-pumping galore. "We've never seen you behave this way before!" Oprah exclaimed. "I can't be cool. I can't be laid back!" Cruise fervently replied. "Something has happened, and I wanna celebrate it."
Within eight weeks of meeting, TomKat was engaged, per Insider. Four months later, Cruise and Holmes announced they were expecting a baby. Their daughter, Suri, was born in April 2006. In November 2006, they married in a 15th century Italian castle. Victoria Beckham, David Beckham, Jennifer Lopez, Will Smith, and Jada Pinkett Smith were among the star-studded wedding guests, reported People. Then, Holmes stunned the tabloids – and her husband — by filing for divorce in 2012. The terms were negotiated and settled in less than two weeks, which is impressive given the messiest part of Cruise and Holmes' divorce.
Katie Holmes refused to lose Suri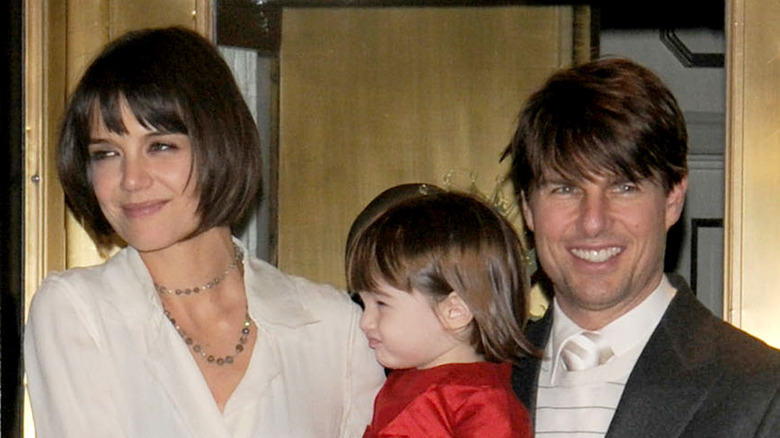 Arnaldo Magnani/Getty Images
Tom Cruise and Katie Holmes' divorce was settled in 10 days, making it one of the quickest in Hollywood history. It was also one of the sneakiest and most surprising — proof that having a pit bull attorney for a dad can be a big plus. "[Marty Holmes] believes there are only two sets of rules: the rules of the court and his rules, and he carries himself that way," a Toledo lawyer told People.
Their iron-clad prenup also helped. Per TMZ, it was "long, tight and stacked in Tom's favor," resulting in no fighting over money and property. However, there was still the messiest part of the divorce agreement — the custody of their child, Suri. In a separate report, TMZ claimed the only sticking point in the divorce settlement had been Cruise's insistence on maintaining a "meaningful, significant" relationship with Suri.
Holmes had demanded sole legal custody and primary physical custody. Sources told The Hollywood Reporter it was a clear sign she wouldn't let Scientology separate her from her child. Despite Nicole Kidman being granted joint custody in her divorce from Cruise, she'd been allowed limited access to their two children, who were engrained in Scientology. Immediately after Kidman and Cruise broke up, their children, Isabella and Connor, reportedly started distancing themselves from their mom — until eventually losing pretty much all contact. Holmes was determined to prevent that from occurring with Suri, no matter how messy it got.
Katie Holmes lost Tom Cruise and won their daughter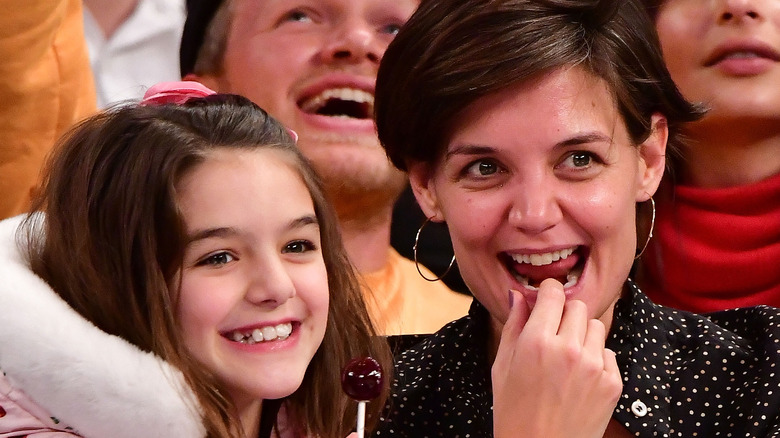 James Devaney/Getty Images
Suri Cruise's close relationship with Katie Holmes grew even closer after her parents divorced. Vanity Fair reported that Marty Holmes was eager to loosen his then-pregnant daughter's ties with Scientology before she gave birth. It seems Katie also became keen to distance herself and Suri. According to reports, in 2009, she'd insisted the 3-year-old attend Catholic pre-school, strictly going against Scientology rules. 
During a deposition for his lawsuit against Bauer Media, per HuffPost, Tom was asked if Katie had divorced him "[partly] to protect Suri" from Scientology. "Did she say that? That was one of the assertions, yes," he admitted grudgingly. Tom also confirmed Suri was no longer a church member. Screenwriter Paul Haggis slammed Scientology for demanding members "disconnect" from non-Scientologists, including relatives. "Although it caused her terrible personal pain, my wife broke off all contact with [her parents]," he wrote in a public letter (via The New Yorker).
Meanwhile, Tom's relationship with Suri appears to be fractured these days, to say the least. According to TMZ, he pays over $33,000 a month in child support, but the last time Tom was publicly spotted with Suri was in 2013 –- a year after he and Katie divorced. Tony Ortega, an outspoken critic of Scientology, speculated that Katie struck a deal with Scientology, agreeing never to speak against the church in return for her daughter. "She wanted to get away, and she wanted to get Suri," Ortega alleged to Us Weekly.