Katie Holmes And Jamie Foxx: Who Ended Their Under-The-Radar Romance?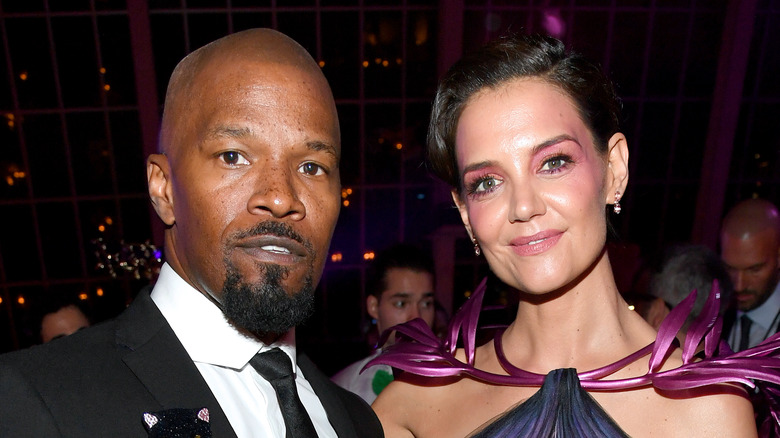 Kevin Mazur/mg19/Getty Images
Jamie Foxx and Katie Holmes dated for over half a decade. And while the A-listers managed to go most of that time without actually confirming their relationship, rumors of their supposed courtship swirled for the majority of their time together — news that shocked many. Why? Well, Foxx and Holmes' relationship reportedly kicked off in 2013, one year after Holmes' tumultuous divorce from Tom Cruise was finalized. But what's more interesting is that Foxx and Cruise were former co-stars and also good friends. 
After first appearing together in 2004s "Collateral," the two A-Listers struck up a friendship that spanned several years. Naturally, things appear to have gotten fuzzy once Foxx and Holmes became romantically involved. "Tom has known about Katie and Jamie's secret relationship since the beginning and it has always bothered him that they were hooking up," shared a source with Hollywood Life. "While Katie and Jamie did their best to keep things a secret from the world, Tom is too well-connected and found out about them shortly after their romance began." 
Despite reportedly not having Cruises' blessing, Foxx and Holmes powered forward for several more years. However, their unexpected romance eventually came to an end. 
Katie Holmes pulled the plug on her relationship with Jamie Foxx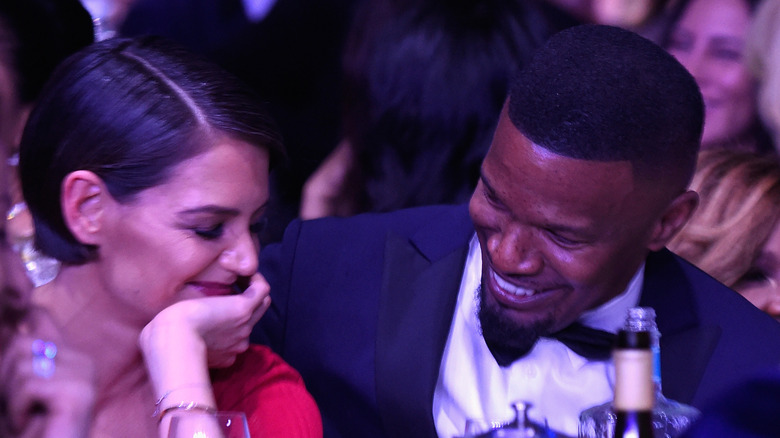 Kevin Mazur/Getty Images
Unlike most celebrity couples, Jamie Foxx and Katie Holmes' relationship has been shrouded in a thick layer of secrecy. This is due to both parties' refusal to speak on the record about the other. Okay, so that's not totally true. Foxx did address their relationship in 2013, but he used the opportunity to deny that they were together. "[The rumors] are one hundred percent not true," shared Foxx with Entertainment Tonight. For the next few years, it appears that rumors between the pair died down before ramping back up after Holmes attended Foxx's 50th birthday party and other public events. 
Finally, after years of being one of the most secretive celebrity couples, Katie Holmes and Jamie Foxx finally went public with their romance at the 2018 Clive Davis pre-Grammy party. The gorgeous couple was all smiles. wearing contrasting red and black ensembles as they engaged in mild levels of PDA. Unfortunately, their first official public outing would be the beginning of the end. Even though the couple also flaunted their love at the Met Gala the following year, they were broken up a few months later. Unfortunately, alleged infidelity on Foxx's part caused Holmes to end things. "It has been many years of him stepping out with other women," shared an insider with Us Weekly. "He's disrespectful and their lives were different. His partying ways don't fit with hers as she's focused on raising her daughter and working."
Where Jamie Foxx and Tom Cruise stand today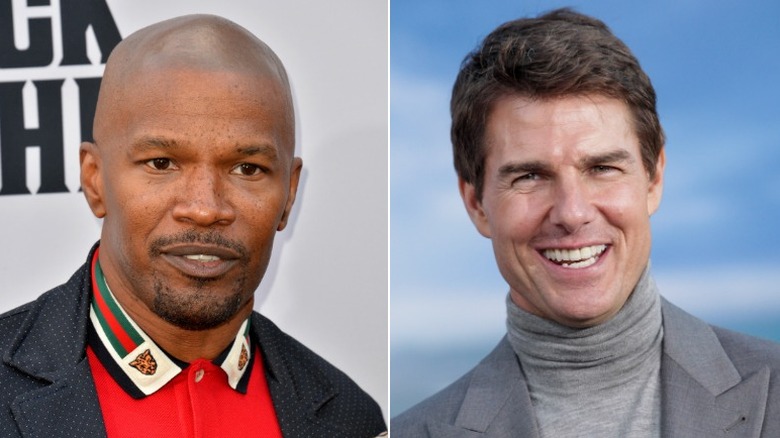 Featureflash Photo Agency & DFree/Shutterstock
Years before Jamie Foxx dated Tom Cruise's ex-wife, they were co-stars who worked together on "Collateral." However, Cruise was more well-known at the time, and he used his star power to help Foxx out. "I don't see him for years and then 'Collateral' came up and everyone was searching for this person to be next to Tom Cruise," shared Foxx with Female First. "He remembered this personality test that I did and we ended up working together."
"In actuality, he changed the projection of my career because he allowed 'Collateral' to come out first, and then let 'Ray [Charles]' come out, so there would be heat (interest) for Ray Charles." Foxx continued, "Cause if 'Ray [Charles]' had come out before 'Collateral,' I wouldn't have had that look, so I always take my hat off (to Cruise)."
Years after working alongside Cruise and entering a relationship with Katie Holmes, Foxx reportedly sought to earn Cruise's goodwill back. "Jamie wants Tom's forgiveness ... They got along great while working together years ago, and Jamie has always thought very highly of Tom," a source told Radar. Unfortunately, as of this writing, it doesn't appear as if Foxx and Cruise have much of a relationship anymore. But that's better than a full-on feud — especially since there's a long list of celebs who can't stand Cruise.