Meghan Markle's First Wedding Was Nothing Like Her Next One With Prince Harry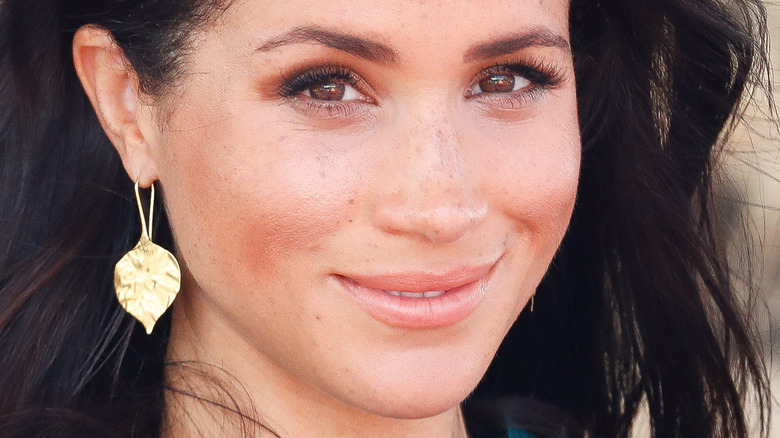 Chris Jackson/Getty Images
Do you remember Meghan Markle's wedding? Of course, you do – how could anyone forget? The wedding of the decade took place in May 2018 and has been a topic of conversation ever since. First, there was the discourse about whether or not Meghan's dress needed another fitting. Then there was the debacle with her father, Thomas Markle, not attending the wedding.
Thomas and Meghan had a huge falling out around the time of the wedding because Thomas staged paparazzi photos, and they have not spoken since. Then, there was the issue of Princess Charlotte's dress. For months after the wedding, there were rumors that Meghan made Kate Middleton cry over a disagreement regarding the fit of the dress. Meghan spent years denying that was the case. She claimed it was the other way around. Meghan was finally proven correct nearly five years later when Prince Harry published his memoir, which included reported text messages between Kate and Meghan.
This is all to say that Meghan's wedding to Prince Harry was a big deal, and the formal royal couple – and the rest of the world — are still recovering. You may not know that this wasn't Meghan's first wedding. According to Metro, the one-time actor married Trevor Engelson in 2011. The ceremony could not have been more different from the one at Windsor Castle, sealing her fate as the most controversial royal family member in decades.
Meghan wanted something low-key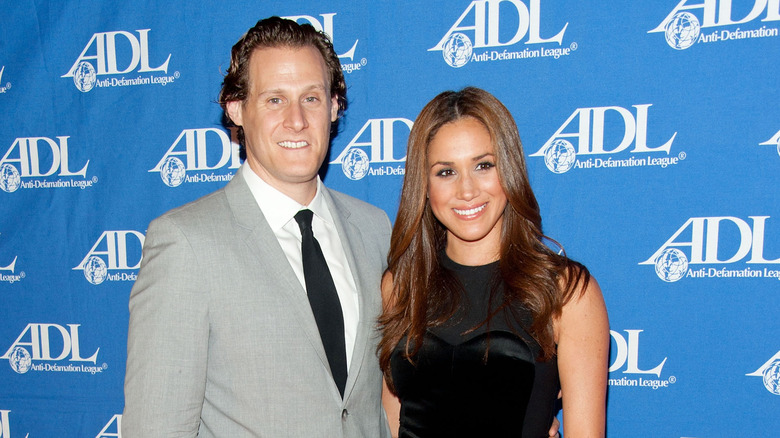 Amanda Edwards/Getty Images
Mercifully, Meghan Markle's ex-husband Trevor Engelson doesn't talk about her a lot — which is surely something the embattled royal appreciates. Like their low-key marriage and divorce, Their wedding was chill too. The couple said "I do" in front of a gathering of 107 guests, and rather than a palace, they married on a beach in Jamaica. Despite taking place at a luxurious resort, the wedding was reportedly very casual, with only close friends and family in attendance.
To go with the chill vibe of the day, Meghan chose a "bohemian" style wedding dress — a far cry from the custom-made Givenchy dress she wore to marry Prince Harry. Since it was 2011, the strapless white dress also came with a sparkly belt making it very on-trend for the time. Though the wedding was super low-key, the couple spared no expense celebrating their nuptials. Guests reportedly stayed for up to four days partying and dancing the night away at the beachside resort.
The wedding may have been one big party, but the marriage certainly wasn't. Meghan and Engleson split a little over two years later, reportedly because of their complicated schedules taking them to different countries for extended periods.Still, we're guessing that even if the marriage failed, based on the drama that surrounded Meghan's second wedding, she may have preferred the quieter "bohemian" vibes of her first.
Meghan found her one and only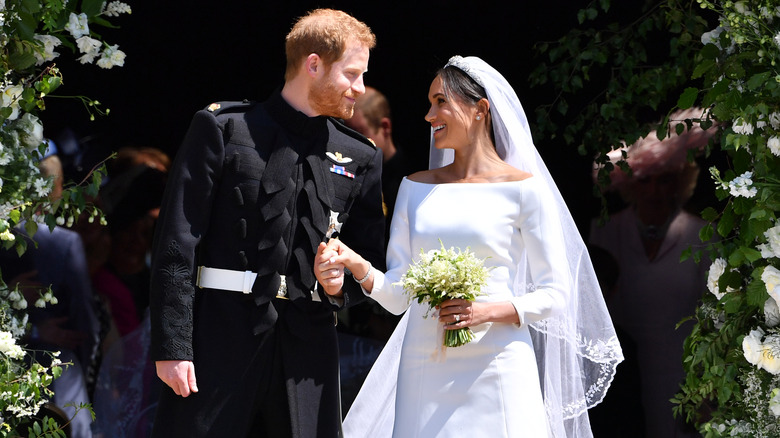 Wpa Pool/Getty Images
Meghan Markle's wedding to Prince Harry could not have been more different from her first. For starters, Meghan and Harry said their vows in front of nearly 2,000 people — not to mention the hundreds of cameras broadcasting the spectacle around the globe. Besides the press, the fallings out, and the designer apparel that defined Harry and Meghan's nuptials, the most startling difference between Meghan's second and first weddings is the cost. It has been widely reported that the royal wedding cost nearly $40 million.
Meghan's dress alone was valued at a whopping $390,000, although most expenses were for security and not the lavish tidbits. Compare that price tag to Meghan's first wedding, which exemplifies how different the two ceremonies were. While we don't know how much Meghan spent on her first wedding, we're guessing it was much less than her walk down the aisle with Prince Harry. As of 2023, a wedding package at Ocho Rios costs $4999, which is likely more than it would have cost when Meghan tied the knot over a decade ago.
Sure, Meghan's first marriage seems much calmer, but that doesn't mean it was better. While things certainly haven't been easy for Meghan and Harry, they have somehow remained together through all the chaos. As Tyler Perry said on the "Today" show, "These two people love each other. They found each other."