The Saddest Details About Christina Applegate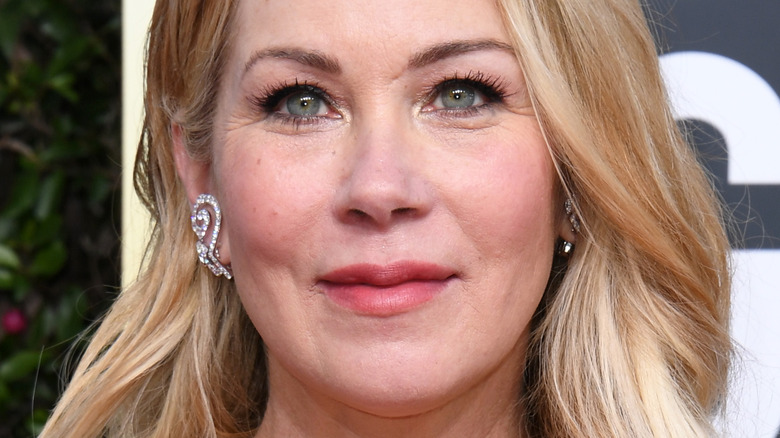 Jon Kopaloff/Getty Images
If you're at the younger end of the Gen X or older end of the millennial spectrums, you may well feel that you've grown up with Christina Applegate. The actor became a weekly screen regular at the age of 16 in 1987 after landing the role of Kelly Bundy in classic sitcom "Married... with Children" and then parlayed her early teen success into the film world with the much-loved comedy "Don't Tell Mom the Babysitter's Dead." 
Applegate's career only continued to take off from there, and she's never once rested on her laurels. "You should always be challenging yourself; if it gets too complacent or easy, then you're not doing it right. This shouldn't feel easy; you shouldn't be comfortable," she once told Backstage. "Being comfortable, that stagnation is where you die—you can't be stagnant."
Challenging yourself can be easier said than done, especially when the world throws one hardship after another your way. From parental breakups and missed opportunities to marriage woes and health issues, here's a look at the saddest aspects of Applegate's life and career.
Christina Applegate's parents split when she was a baby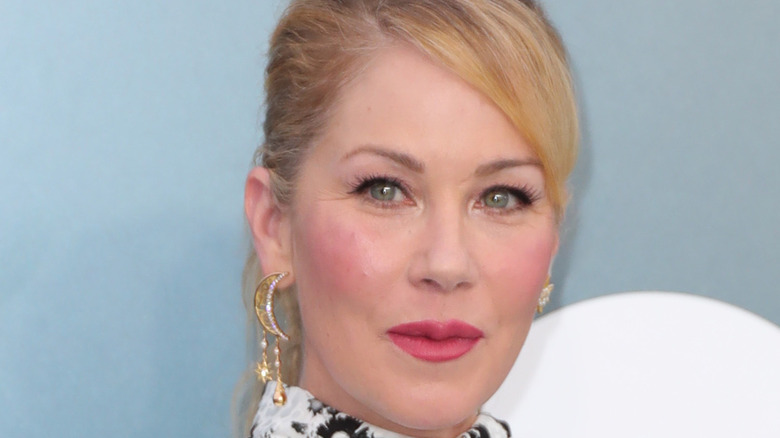 Leon Bennett/Getty Images
Christina Applegate never got the chance to share a home with her mother and father. Well, not one that she would ever remember, anyway. For the "Employee of the Month" star's parents split up shortly after she was welcomed into the world in 1972. After separating, record executive/producer father Bob Applegate went on to remarry. Christina was raised by her mother, singer/actor Nancy Priddy.
Years down the line, the "Dead to Me" star would reconnect with her father. As she said on an episode of "Who Do You Think You Are," "I didn't get to spend the kind of time with him that I think either he or I would've liked."
You might not know that Christina made her TV debut alongside her mom pretty much the moment she came out of the womb: She appeared in the iconic soap opera "Days of Our Lives" in the same year she was born. After that, Christina continued to pick up acting work. "My mom, you know, that was how we made our money, me doing radio commercials or commercials or whatever. It's how we were fed. It's all I've ever known," she told Backstage. The pair would later share the screen together on several other occasions, and when both could walk and talk, too, in the likes of "Married... with Children" and bawdy early '00s comedy "The Sweetest Thing." 
Her mother was twice diagnosed with breast cancer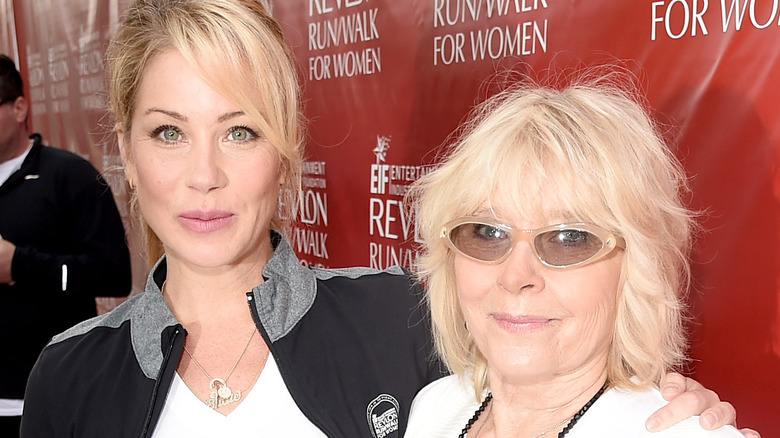 Jason Merritt/Getty Images
Christina Applegate's eventful early family life took another sad turn in the late 1970s when her mother, Nancy Priddy, was diagnosed with breast cancer. "The Anchorman: The Legend of Ron Burgundy" star, then already a child of divorce, was aged only seven at the time.
Thankfully, Priddy, who by this point had already appeared on screen with her daughter in soap opera institution "Days of Our Lives," was later given the all-clear. In fact, she's now a two-time survivor of the disease: She also made a full recovery after it returned in the 1990s.
In a 2016 interview with People to promote her role as Gwendolyn James in the hit raunchy comedy "Bad Moms," Applegate acknowledged that she hadn't always been appreciative of her own mother. "I feel bad. There were times I didn't treat my mom all that great," she said. "I had no idea how much she loved me."
Christina Applegate missed out on two iconic roles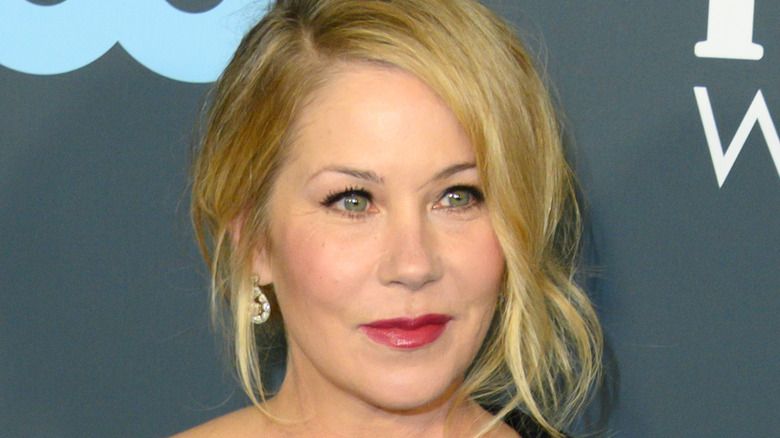 Silvia Elizabeth Pangaro/Shutterstock
It's hard to imagine anyone other than Reese Witherspoon playing the deceptively intelligent Elle Woods in the comedy classic "Legally Blonde" (and its less classic sequel). But the role could have gone to another former child star had she not been afraid of typecasting.
During an interview with ET in 2015, Christina Applegate revealed that she'd been in the frame to do the famous Bend and Snap: "The script came along my way and it was right after I had just finished 'Married... with Children,' and it was a blonde who in that first script didn't win it but ends up going to Yale, or Harvard, I don't remember. I got scared of kind of repeating myself."
And if industry rumors are true, "Legally Blonde" isn't the only turn of the century hit that Applegate missed out on. According to the Tinseltown grapevine, she apparently also auditioned to play floating door hogger Rose DeWitt Bukater in "Titanic," a role that famously went to the Oscar-nominated Kate Winslet.
Christina Applegate broke her foot on stage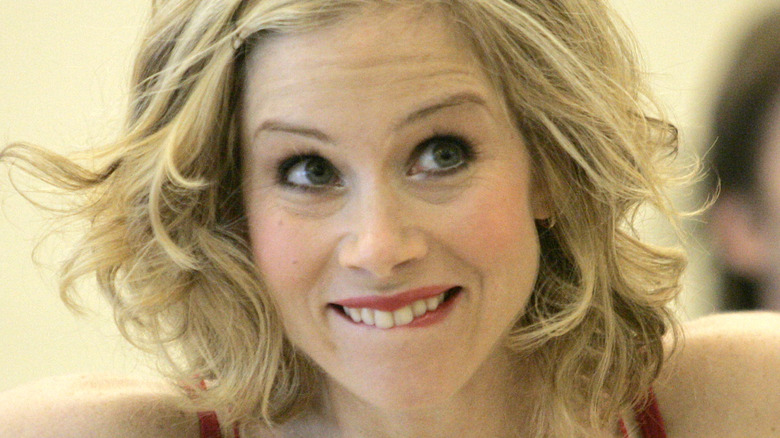 Peter Kramer/Getty Images
In 2004, Christina Applegate got the chance to show off her singing and dancing skills when she bagged the lead in a Broadway revival of "Sweet Charity." It was something of a dream role for her but it turned into a bit of a nightmare.
While playing Charity Hope Valentine in a Chicago preview of the musical, Applegate agonizingly broke her foot on stage. And the situation got worse when producers announced they'd be closing its curtains as a result. Luckily, the Hollywood star managed to persuade them that the show must go on and armed with a special pair of shoes, she delivered a performance that would receive a Best Actress in a Musical Tony Award nomination.
Applegate's perseverance came at a cost, though, as she explained to The Insider (via TV Tabloid) in 2013, "[Broadway]'s the best thing that ever happened to me. But I actually can't dance anymore. And that is sad for me because I always wanted to go back." She has, however, dipped her toes back in the dancing world, guesting as a judge on eight episodes of "So You Think You Can Dance."
Christina Applegate's family's sad past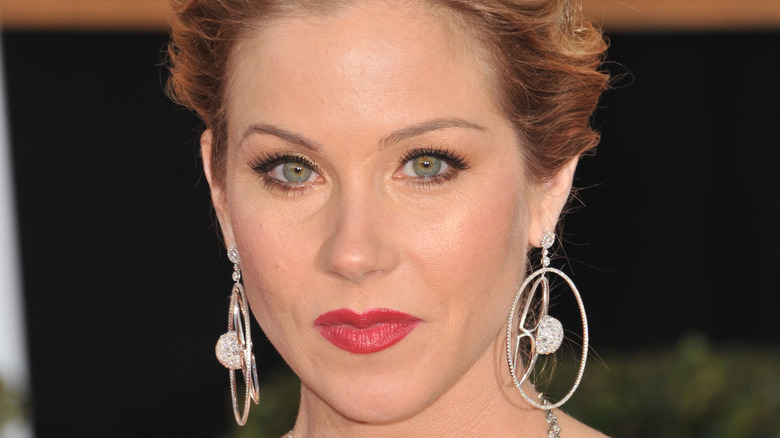 Jaguar PS/Shutterstock
"It's so personal, but it's a good episode, so you'll see," Christina Applegate told Yahoo! OMG about her appearance on one of TV's most tear-jerking shows, "Who Do You Think You Are." "You'll cry a lot." And the "Samantha Who?" star sure wasn't wrong.
In the fourth season of the TLC hit, the Laurel Canyon native set out on a quest to discover exactly what had happened to her paternal grandmother. Father Bob Applegate had been told as a youngster that his mom had been beaten to death outside a bar. But the exact details of her untimely passing had never been confirmed, and on further investigation, the Hollywood star discovered that the grandma she never knew had actually died from alcohol-related cirrhosis and tuberculosis.
After informing Bob of the news, Christina was asked whether any good could come from such information. She replied, "Yeah, you want me to tell you what the good is? Here's the good, Dad. The beauty of this is that you can be incredibly proud that you broke the pattern and that you raised all of us with giving us strength and intelligence and talent. This is the good part of the story."
Christina Applegate's first marriage didn't work out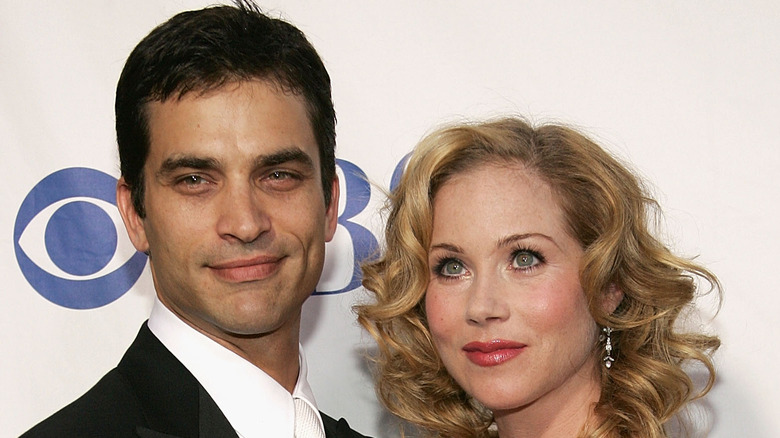 Evan Agostini/Getty Images
After dating stars like Hollywood pin-up Brad Pitt and Skid Row frontman Sebastian Bach, Christina Applegate appeared to have settled down in 2001 when she wed Jonathan Schaech, a fellow actor, in Palm Springs. Sadly, within four years, the pair had decided to call it a day.
Things appeared to have ended amicably between Schaech and Applegate, whose divorce was eventually finalized in 2007. Although the latter has kept schtum about their relationship since, the former has had nothing but good things to say about his ex-wife. However, the "That Thing You Do!" star has regularly admitted that the split hit him hard at the time.
In a 2020 Reddit AMA, Schaech said, "[B]eing raised Catholic and having parents that are still together over 50 years, I felt I failed everyone. I thought God had given up on me. Sex, drugs, alcohol and dark nights became who I was. I knew I needed to find someone who loved me as much as I loved them." Both parties have since found happiness, with Schaech walking down the aisle with Julie Solomon in 2013 (following an even briefer marriage to Jana Kramer) and Applegate saying "I do" to Porno for Pyros founder Martyn LeNoble in 2010.
Christina Applegate's ex-boyfriend died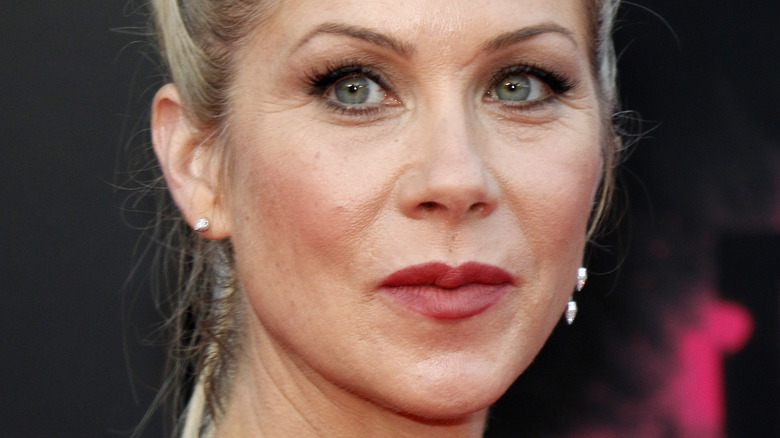 Tinseltown/Shutterstock
After splitting from first husband Jonathan Schaech, Christina Applegate entered into a relationship with fisherman Lee Grivas. According to reports, the unlikely couple was very much of the on/off kind — and was in off mode when tragedy struck.
In 2008, Grivas was discovered dead in his Hollywood apartment after suffering a fatal drug overdose. Per People, Lt. Fred Corral of the Los Angeles coroner's office acknowledged in a statement that Grivas had a history of substance misuse. 
Applegate, who began dating Grivas during her Tony Award-nominated run in Broadway musical "Sweet Charity," spoke of his sudden death in a statement: "I am profoundly saddened. Lee was an incredible human being who was an extremely important and beautiful part of my life. He is missed beyond words. He touched so many and I feel much sadness for his mother, brother and all of his family and friends."
If you or anyone you know needs help with addiction issues, help is available. Visit the Substance Abuse and Mental Health Services Administration website or contact SAMHSA's National Helpline at 1-800-662-HELP (4357).
Christina Applegate has struggled with insomnia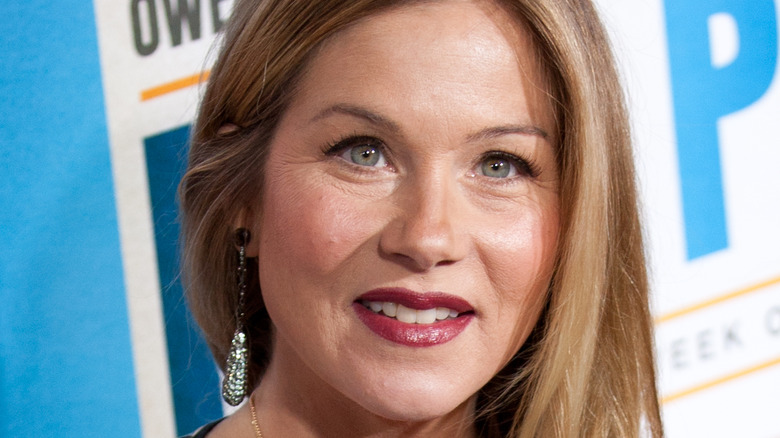 Photo Works/Shutterstock
Having given birth to daughter Sadie Grace in 2011, Christina Applegate had to spend the next decade juggling parenthood with the demands of a Hollywood career, most notably recurring roles in "Up All Night" and "Dead to Me," and leading lady film parts in the likes of "Vacation" and "Bad Moms." And she also had to do this on just three hours of sleep a night.
In 2016, Applegate told People that she'd been something of an insomniac for two decades. "But when my daughter was born," she continued, "I got into a three-hour feeding cycle. Now she sleeps 10 hours a night, but my body still wakes up every few hours. I'll also be up from 2 a.m. to 6 a.m. and finally fall asleep. And then [Sadie Grace] comes in and is ready for breakfast!"
The Tony Award nominee went on to disclose that the condition had a negative impact on several aspects of her well-being: "It's something a lot of people don't talk about. It affects your spiritual self, emotional self and physical self." She also advised those who suffer from insomnia to keep the room temperature in the 60s, ignore your phone at least an hour before bedtime and, perhaps most controversially, bar pets from the bedroom. In a 2017 chat with Self, she also advised against checking in on the news after 7 p.m. "It's an uneasy time, so we have to give ourselves a break and try to take care of ourselves," she said.
Christina Applegate was diagnosed with breast cancer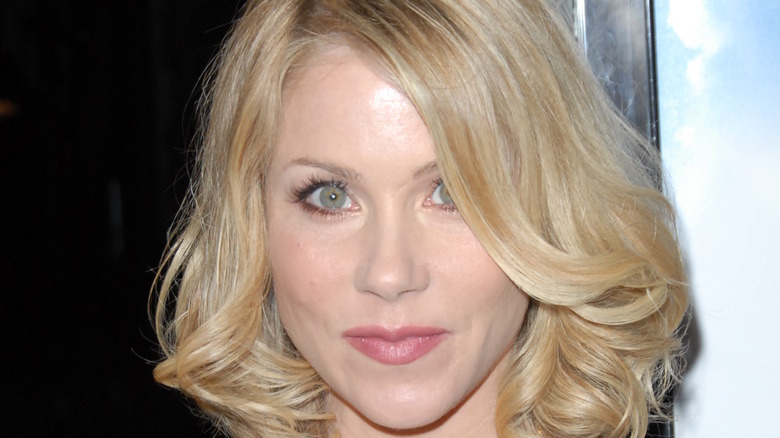 Entertainment Press/Shutterstock
In 2008, Christina Applegate underwent a doctor-recommended MRI which revealed an abnormality in her left breast, something a biopsy later confirmed was cancer. The "Jesse" star's mother, Nancy Priddy, had survived the disease twice, once in her 30s and then again in her 50s, but the diagnosis still came as a surprise, as she recalled to Women's Health.
"Even though it ran in my family, I never in a million years thought it would happen to me," Applegate said. "I was scared s***less." The TV star also revealed that she'd demanded to learn about the test results on the phone in the comfort of her own home rather than at the office as "you can fall on the floor and cry." 
After doing just that on hearing the bad news, the star lay in her mom's arms and "screamed and screamed." But as Applegate told Us Weekly (via Now to Love), she soon managed to pick herself up: "I was just shaking and then, also immediately, I had to go into 'take-care-of-business mode.'"
Christina Applegate underwent a double mastectomy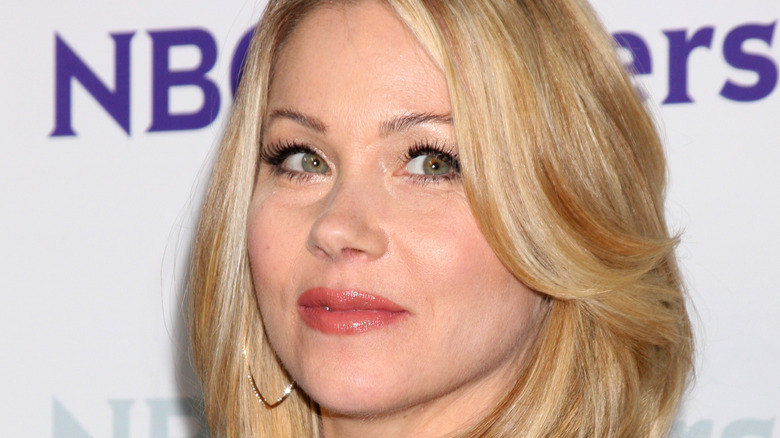 Joe Seer/Shutterstock
After being diagnosed with breast cancer in 2008, Christina Applegate underwent a lumpectomy, a lymph node biopsy to ensure that the condition hadn't spread and then a BRCA gene test. And when the latter came back positive, the actor decided that instead of continuing with her radiation treatments, she'd have both breasts removed. In an interview with Oprah Winfrey, Applegate shared that it did not take her too long to figure out what she was going to do. "It just seemed like, 'I don't want to have to deal with this again. I don't want to keep putting that stuff in my body. I just want to be done with this.' And I was just going to let them go," she said. 
Applegate had the surgery done in the summer that same year, and although she has no regrets, the star admits that she went through a grieving process at the time. "It doesn't feel the same, and it's hard to carry your purse," she said. "I cry at least once a day about it because it's hard to overlook it when you're standing there in the mirror. When you look down, it's the first thing you see ... So you're reminded constantly of this thing — this cancer thing that you had."
Months after her double mastectomy, Applegate attended the 2008 Emmys as a nominee and presenter. At the event, she told Access, "[B}eing here and being in a dress and feeling good, it's such a victory."
She relived her cancer experience on Dead to Me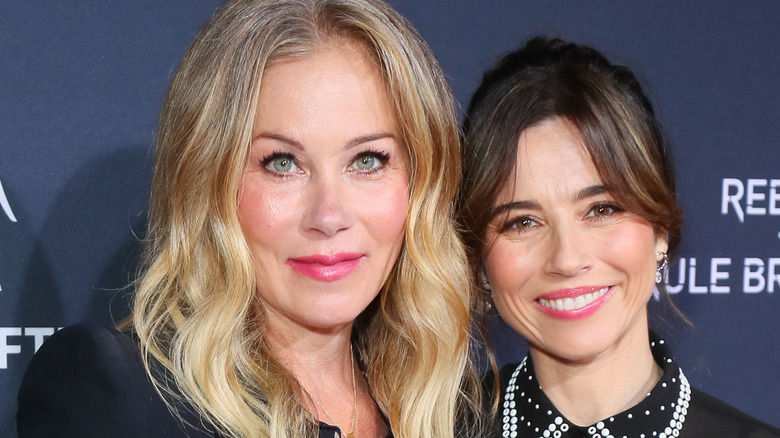 Leon Bennett/Getty Images
In the fourth episode of Netflix dramedy "Dead To Me," Christina Applegate's Jen tells Linda Cardellini's Judy that she had a preemptive double mastectomy after losing her mom to breast cancer. Of course, this was a case of art imitating life as the actor had also undergone the same procedure a decade earlier.
Speaking to USA Today, Applegate admitted that she still thinks about the experience every day. "Girls who go through this, we say to each other, 'Yep, it's been 10 years,' but you're never not aware that that's something you've been through," she shared. "Everything looks different. You have to shower and you're like, 'Oh, there they are. That happened.'"
However, Applegate believes that by bringing the subject out into the open, she can help those in a similar position feel less alone. In a Vulture interview, she noted that while the procedure still has its detractors, she hoped to shine a light on the emotionally complicated process. "I don't think there's a lot of characters out there with double mastectomies," she said in the aforementioned USA Today chat. "I thought this was my chance to tell a little bit about me, but also all the women that have gone through that."
Christina Applegate was diagnosed with multiple sclerosis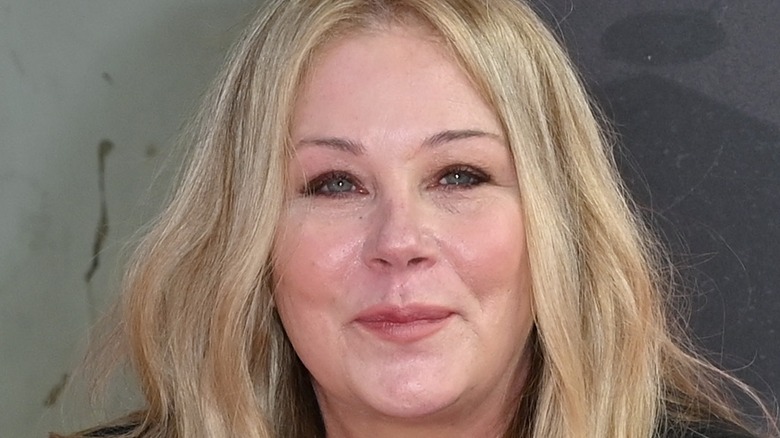 Featureflash Photo Agency/Shutterstock
In August 2021, over a decade after she underwent a double mastectomy on discovering she had breast cancer, Christina Applegate took to Twitter to disclose further news about her health: she'd been diagnosed with the autoimmune condition known as multiple sclerosis.
The "Grand Theft Parsons" star told her followers that she'd known for several months, going on to add, "It's been a strange journey. It's been a tough road. But as we all know, the road keeps going. Unless some a**hole blocks it ... As one of my friends that has MS said, 'We wake up and take the indicated action.' And that's what I do. So now I ask for privacy. As I go through this thing. Thank you."
Applegate didn't reveal which friend she was referring to. But in the many well-wishes she received in response, there was a tweet from Selma Blair, her longtime pal and "The Sweetest Thing" costar who was diagnosed with MS in 2018. It read, "Loving you always. Always here. As are our kids. Beating us up with love."
Christina Applegate struggled while filming Dead To Me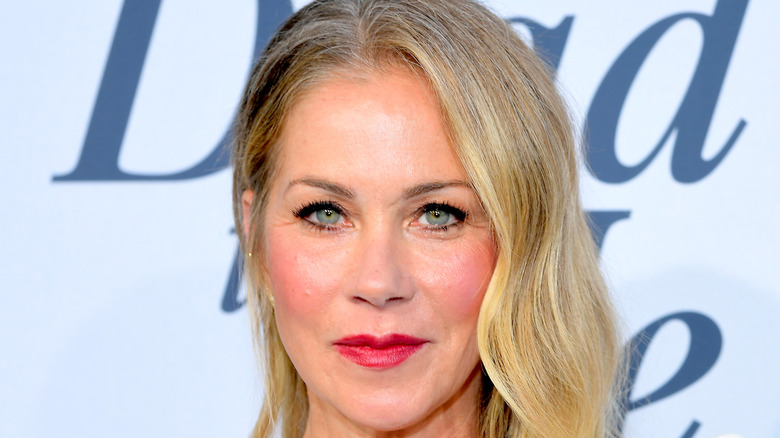 Charley Gallay/Getty Images
After Christina Applegate was diagnosed with multiple sclerosis in 2021, she spent much of the following year filming the third and final season of Netflix dramedy "Dead To Me." But as you would expect, the experience wasn't an easy one.
As Applegate recalled to the Los Angeles Times, she would often retire to her trailer when things got too much, and the cast and crew supported her at every turn. "[E]veryone was so loving that it was OK," she said. At one point, Netflix hit pause on the whole production so Applegate could figure out treatment and what was best for her. "They actually were looking at the dailies, going, 'OK, we need we need to let her go, and take care of this right now.' Because you can see the struggle, and you can see it through the whole season. You can see that I'm in pain," she recalled in Variety.
Applegate also admitted that the struggles didn't end when the cameras stopped rolling. She also found it hard to watch herself on TV once the series dropped in late 2022: "I gained 40 pounds because of inactivity and medications, and I didn't look like myself, and I didn't feel like myself." However, the showbiz veteran eventually managed to watch how everything unfolded on screen. She added, "All the scenes I wasn't in were so much fun to see and experience for the very first time."
Christina Applegate believes she may have to quit acting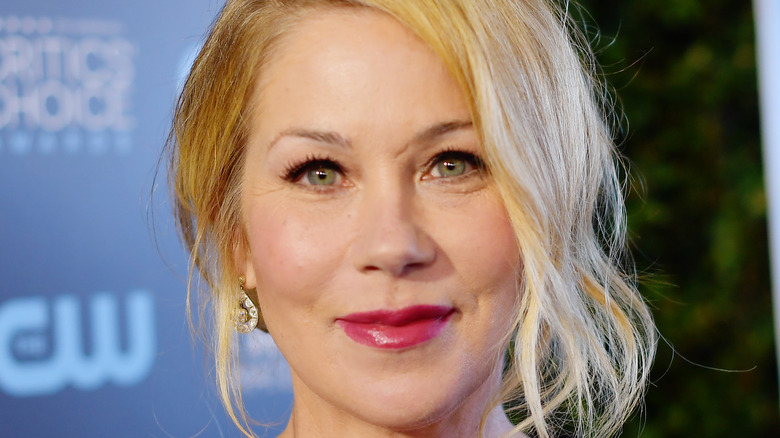 Matt Winkelmeyer/Getty Images
Christina Applegate has been a regular on our screens ever since she took the role of Kelly Bundy in the late '80s sitcom "Married... with Children." In fact, she's racked up more than 80 film and TV credits during the past four decades. Sadly, having been diagnosed with multiple sclerosis, she believes that her impressive resume is unlikely to be significantly added to in the future.
In an interview with the Los Angeles Times, Applegate hinted that the role of Jen in Netflix dramedy "Dead to Me" may well be one of her last. "Right now, I couldn't imagine getting up at 5 a.m. and spending 12 to 14 hours on a set," she said. "I don't have that in me at this moment." In a separate chat with Variety, she suspected that it wouldn't be so easy to find another acting job that was as flexible and accommodating as "Dead to Me." "I'm pretty convinced that this was it, you know? But who knows — I'm probably gonna get real bored of being in my room," she said.
But while we might not be seeing Applegate as much from now on, we may still be hearing her. The Tony Award nominee revealed that she plans to take on a whole host of voiceover gigs and explore the world of producing.