How Halle Berry Felt About Her Awkward Oscars Kiss With Adrien Brody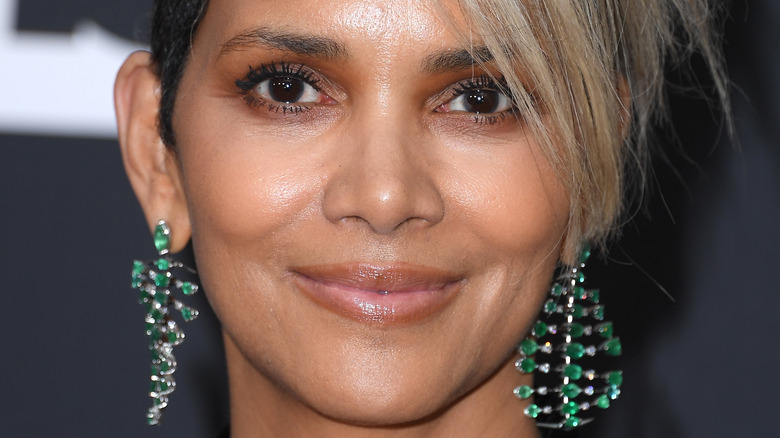 Steve Granitz/Getty Images
In 2003, Adrien Brody won the best actor Oscar for his role in "The Pianist," a film based on the life of Jewish composer Wladyslaw Szpilman in a post-World War II era. Brody was 29 that year, making him the youngest man to win the best actor category — a record no actor has surpassed. Brody's obvious elation was apparent in his acceptance speech. "I haven't really written a speech because every time I wrote a speech for the past one of these things, I didn't win," Brody began. "What I do know, though, is that I've never felt this much love and encouragement from my peers and from — from people I admire and from complete strangers, and it means a great deal to me." 
Unfortunately, Brody's 2003 Oscar win is also memorable for a totally entirely different reason — one that would never fly today. Upon arriving on stage, Brody embraced Berry, then swiftly locked lips with the actor. Afterward, Berry looked visibly shocked and quickly descended into awkward laughter. The kiss was met with enthusiastic applause from the celebrity-filled audience; however, the disastrous Oscars moment obviously hasn't aged well. Needless to say, Brody's controversial Oscars moment has inspired countless think pieces over the years. Here's what Berry thinks about it.
Halle Berry was confused
Halle Berry has some strong thoughts about Adrien Brody's decision to kiss her. During an August 2017 appearance on "Watch What Happens Live," a fan asked Berry if the kiss with Brody was planned. "No, that was not planned," Berry swiftly responded. "I knew nothing about it. I was like, 'what the f**k is happening right now?' That is what was going through my mind." She continued, "Because I was there the year before, I know that feeling of being out of your body, I just f***ing went with it," referencing her 2002 Oscar win for best actress— the first win for a Black female actor. "But I was like, 'what the f**k is going on right now?" After Andy Cohen inquired how the kiss was, Berry again replied, "I don't know, I was too focused on what the f**k was going on. I don't even know."
Ironically, the infamous Oscar moment almost never happened. During a 2022 interview with The Times, Brody revealed that Jack Nicholson petitioned him and the other 2003 best actor nominees to boycott the show as an act of protest against the Iraq war. However, Brody declined. "I said, 'I don't know about you guys, but I'm going,'" shared Brody. "I said, 'I kind of have to show up. My parents are coming. This doesn't come around too often. I know you guys are all winners. You can sit it out. But I can't.'" 
Adrien Brody thinks his Oscar's kiss was 'memorable'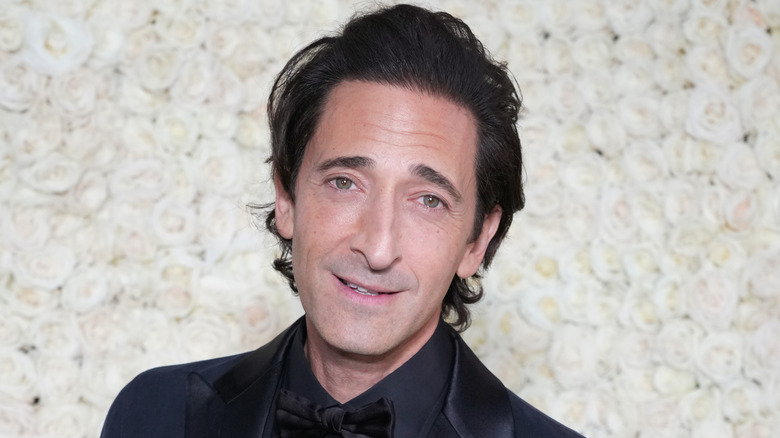 Kevin Mazur/Getty Images
Adrien Brody doesn't seem to regret kissing Halle Berry. In 2015, Brody spoke with Vanity Fair and reflected on the infamous moment. "That was probably one of the most memorable moments ever," said Brody. "You could say time slowed down ... that was that moment where I really felt it slow down. In fact, it must have because, by the time I got finished kissing [Halle], and people kind of settled in, they were already flashing the sign to say 'get off the stage, your time is up.'" Brody continued, "It's amazing to have the presence of mind to be able to convey the things I wanted to share because it is an enormous amount of pressure."
Despite Brody's fond remembrance of the moment, recent years have seen him come under fire not just for his decision to kiss Berry without her permission but also for his response to the various assault allegations surrounding Woody Allen and Roman Polanski. "Life is very complicated," said Brody on the "Dirty, Sexy, Funny" podcast. "I look to collaborate with artistic people and to go into an endeavor without judgment and to hopefully be treated with the same. It's an artistic pursuit, and Polanski, for instance, had a very complicated and difficult life. It would be unfair of me to delve into something as complicated as the past that was brought up in the media."