Cara Delevingne Feared The Worst Before Confronting Her Addiction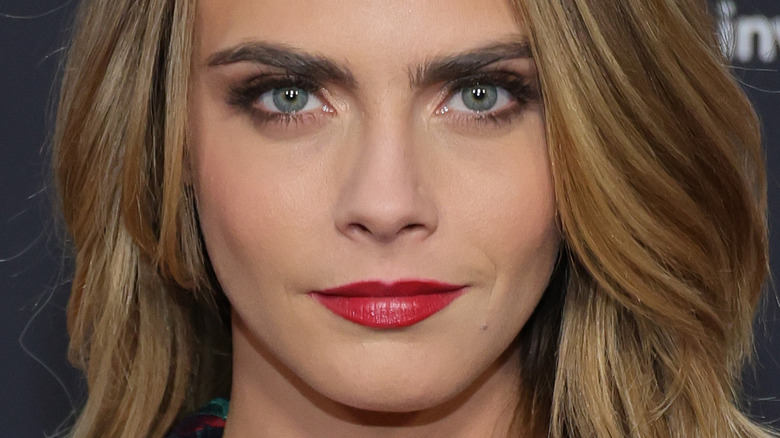 Ethan Miller/Getty Images
Since signing with Storm Model Management in 2009, model and actor Cara Delevingne has graced the cover of countless magazines, starred in movies, and accrued a $50 million net worth. Delevingne's career has also afforded her the opportunity to rub elbows with Hollywood's elite. She was even one of the ladies of Taylor Swift's infamous girl squad. Before the fame, Delevingne had a tragic story. Delevingne has spoken openly about her battle with her mental health. "I hated myself for being depressed, I hated feeling depressed, I hated feeling," shared Delevingne with W Magazine. She went on to say, "I was very good at disassociating from emotion completely."
Delevingne also has a long history of substance use. In 2015, Delevingne coyly confirmed her past substance use to the New York Times, though she stated that, at the time, "I'm so far away from drugs that I couldn't possibly be further away, and whatever happened in the past is in the past, it just doesn't exist anymore."  Unfortunately, it appears that wasn't the end for Delevingne. During a recent sit-down with Vogue, Delevingne — April's cover star — dives deep into her long history of substance use and the unfortunate event that prompted her to finally confront her addiction.
Cara Delevingne had a frightening wake up call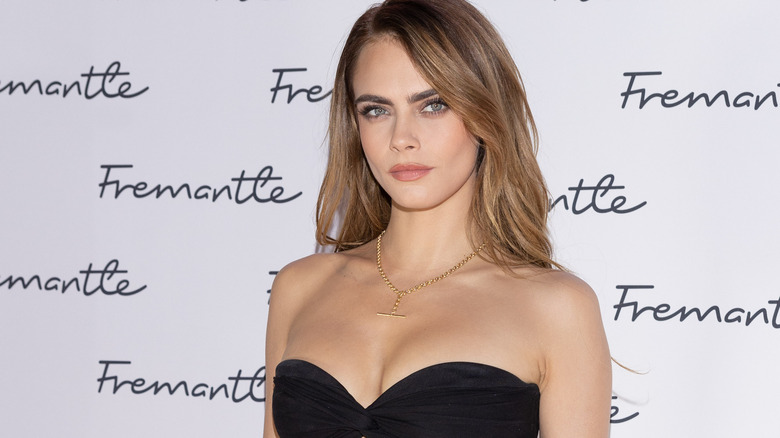 Arnold Jerocki/Getty Images
During her Vogue cover story, Cara Delevingne opened up about her difficult, yet wealthy childhood and her family history of addiction. The model's own battle with substance use started when she was only 7 years old. After attending a wedding, and "nailing glasses of champagne," Delevingne "woke up in my granny's house in my bedroom with a hangover, in a bridesmaid's dress." Over the next few years, she weathered dyspraxia, a "developmental coordination disorder," per Cleveland Clinic.
"This was the beginning of mental health issues and inadvertent self-harm," the model told Vogue. Delevingne also addressed the viral airport photos of herself from last Fall, where she looked visibly out of it. "I hadn't slept. I was not okay," shared Delevingne. "It's heartbreaking because I thought I was having fun, but at some point it was like, Okay, I don't look well ... You know, sometimes you need a reality check, so in a way, those pictures were something to be grateful for," she added. 
Shortly after, Delevingne enrolled in a 12-step program, which appears to have been a big help for her sobriety. "This time I realized that 12-step treatment was the best thing, and it was about not being ashamed of that," said Delevingne. "The community made a huge difference. The opposite of addiction is connection, and I really found that in 12-step," she said.