Vanessa Bryant Honors Pau Gasol's Jersey Retirement With Touching Clip Of Kobe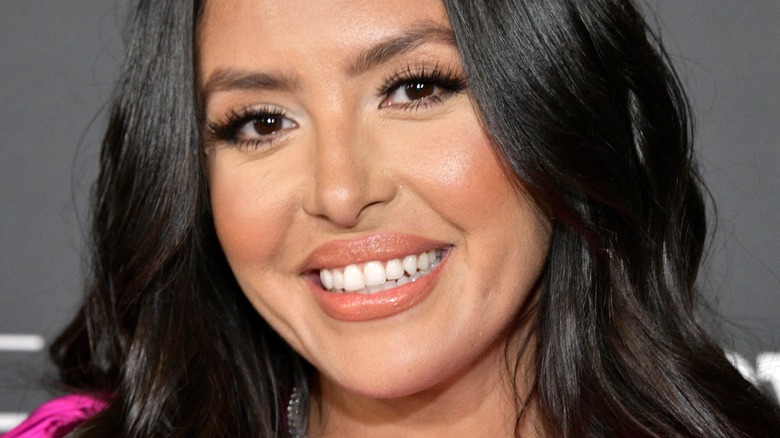 Araya Doheny/Getty Images
Vanessa Bryant has been holding her head up, despite the unimaginable losses she has suffered. Earlier in March 2023, Vanessa was awarded a $28.85 million settlement against the Los Angeles County whom she sued for indiscriminately sharing photos from the scene of the January 2020 helicopter crash that killed her husband Kobe Bryant, daughter Gianna Bryant and seven others. "She fought for her husband, her daughter, and all those in the community whose deceased family were treated with similar disrespect. We hope her victory at trial and this settlement will put an end to this practice," Vanessa's lawyer Luis Li said about the settlement, according to The New York Times. 
She often remembers her family that was taken far too soon. In honor of Valentine's Day this year, Vanessa commemorated her almost 20-year marriage to Kobe when she shared a picture of them snuggled up with each other in a garden. "Happy Valentine's Day Boo-Boo @kobebryant Forever & Always," she wrote in the caption. Vanessa is also busy raising their children: Natalia, Capri, and Bianka Bryant.
Between all of these, however, Vanessa also remembers to honor her friends and her husband's former teammates. One of these is the legendary Pau Gasol, Kobe's longtime friend, and teammate.
Vanessa Bryant move Pau Gasol to tears with a touching tribute
Pau Gasol's No. 16 jersey was officially retired by the Los Angeles Lakers in the Crypto.com Arena on March 7. Introducing Gasol at the event, Vanessa Bryant paid a touching tribute to the NBA star whom she described as a special friend and teammate to Kobe. She then threw it back to an old video that showed Kobe predicting that Gasol's jersey would be next to his on the rafters. "There's no debating how when he retires, he will have his number in the rafters next to mine," Kobe said in the clip. "The reality is, I don't win those championships without Pau. And I really look forward to the day when he's there giving his speech at center court." 
True to the prediction, Gasol's jersey was unveiled right next to Kobe's — something that had the 7-foot center fighting tears. In his appreciation speech, Gasol thanked Vanessa for the touching tribute and for making it down to the arena for his retirement ceremony. The former Laker then went on to acknowledge Kobe as the audience chanted the late NBA star's name. "I miss him so much like many of us do...I really do, but I think he'll be proud," he said. 
According to People, Gasol's retirement ceremony comes only a few weeks after winning the Kobe & Gigi Bryant WNBA Advocacy Award where he was lauded for his "significant contributions to the advancement of girls' and women's basketball." Gasol is also an ambassador for FIBA, the International Basketball Federation.
Pau Gasol credits Kobe Bryant for his career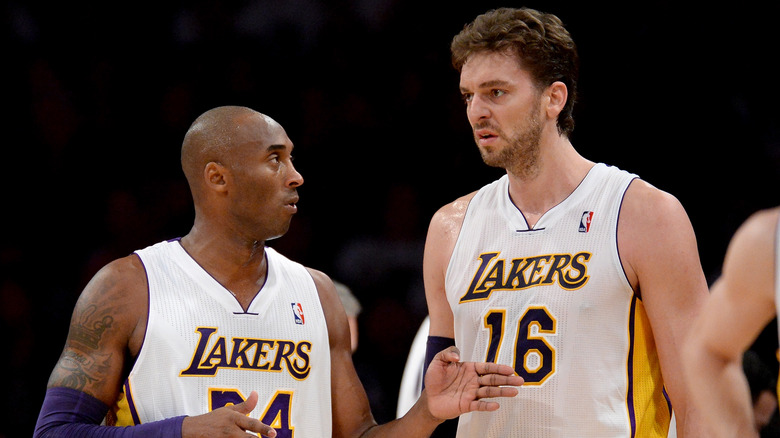 Harry How/Getty Images
Kobe Bryant was a big part of Pau Gasol's retirement ceremony. In a recent interview, Gasol credited the late NBA star for some of his achievements in the league, adding that they will always be linked together. "It's inevitable. I don't know how. My number goes up there, in big reason, because of him," Gasol explained to ESPN. Not only that, but the former Laker will also forever remember Kobe for his commitment to success. "And also how he made me better, how he made us better, how he led us in those runs, and the effect that he had. And then obviously not having him here with us, it's tough," Gasol added. Gasol has also been made a finalist for the Hall of Fame, Class of 2023. Kobe was inducted into the Hall of Fame in 2021, and Vanessa accepted the honor at an emotional ceremony.
Gasol told reporters at the ceremony how significant it was to have Kobe as a teammate. "He definitely inspired me and showed me what it took to be the best player that you could be," he shared, continuing, "The work ethic, the dedication, the mindset going into it. He challenged me to be better with his actions and with his work."
Beyond their relationship on-court though, Bryant and Gasol had a bond between them that they extended to their families. So much so that when eight months after the helicopter crash, Gasol welcomed his first child, he named her after Gianna. "It's just a way to honor Gianna, how much she means to us and our family, my wife and I," he said, per NBA. "To me, she will always be a presence to my daughter."