The Piece Of Advice Peyton Manning Gave Travis Kelce Before Hosting SNL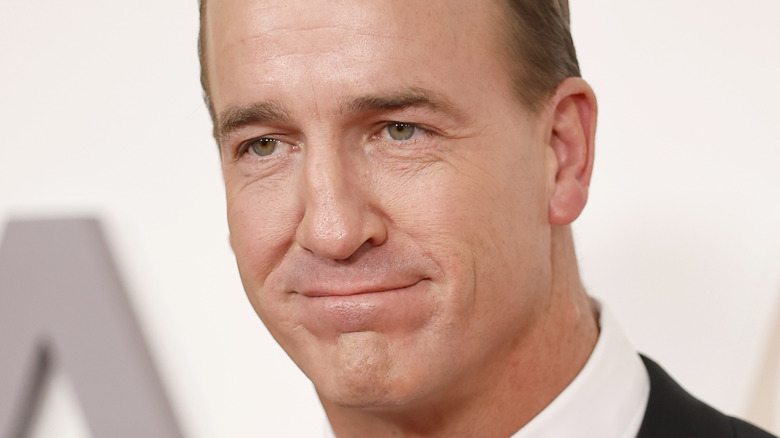 Jason Kempin/Getty Images
Believe it or not, less than 40 athletes have hosted "Saturday Night Live" in the 48 seasons the show has been on television. Sometimes, fans of the comedy sketch show get skeptical when an athlete is hosting, as they're not known to have the acting chops for it. But Travis Kelce proved those people wrong, as it's reported that the episode received good reviews from both fans and critics.
Kelce's monologue in particular was received well, as it included his mother Donna, his father Ed, and his brother Jason who were all sitting in the audience. The Kansas City Chiefs tight end talked about how "awkward" it was in the household after the Chiefs beat the Philadelphia Eagles (Jason's team) in the Super Bowl. He also made fun of his experience in filming for his own reality television dating show, "Catching Kelce."
During an interview on "The Tonight Show Starring Jimmy Fallon," Kelce announced that he was hosting SNL, mentioning that he was excited because he used to watch it with his mother when he was younger. He then added that he was really nervous about the hosting gig, but some advice from Peyton Manning seemed to have calmed those nerves down a bit.
Peyton Manning told Travis Kelce to 'be open minded' when hosting SNL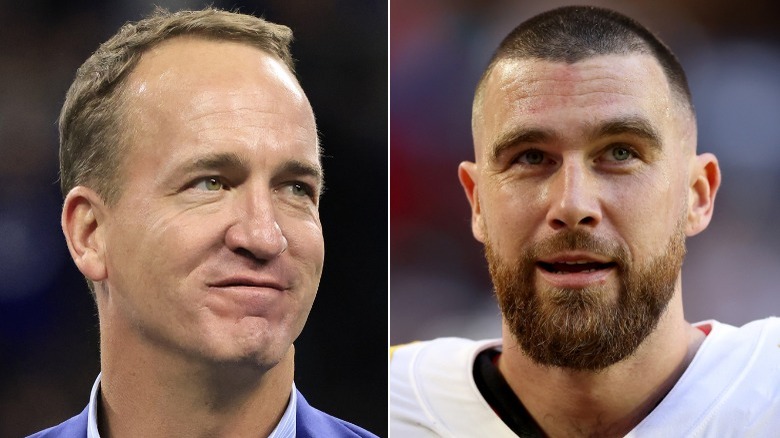 Justin Casterline & Christian Petersen/Getty
Hosting "Saturday Night Live" for the first time and doing it as an athlete with little to no acting experience must be nerve-wracking. But Travis Kelce admitted that he got some helpful advice from Peyton Manning, who hosted the show in 2007. "He said, 'Dude, just go all in,'" Kelce said on the "New Heights" podcast. "'Just be open-minded.'" The Kansas City Chiefs tight end then explained how Manning's advice helped him during the week leading up to the show and helped him interact better with the writers and actors.
"The show is meant to be absolutely hysterical," Kelce added. "The people that don't have great shows are probably the ones that go up guarded." He then mentioned that he understood that he wasn't the expert in the room, and he let the writers decide what sketches would be best for him to be in. "I told every one of the writers, 'I'm here to make this thing the best show possible,'" he continued. "'Whatever skits you guys feel best for me, I'm here for it.'"
Manning also gave another piece of advice to Kelce on Instagram. Alongside a video of one of his past SNL skits, he wished the tight end good luck on the upcoming gig. "One piece of advice," he wrote in the caption. "Don't peg kids in the face with a football. You're a tight end. You should stiff arm and run them over instead."