A Look Inside Davante Adams' Marriage To Devanne Villarreal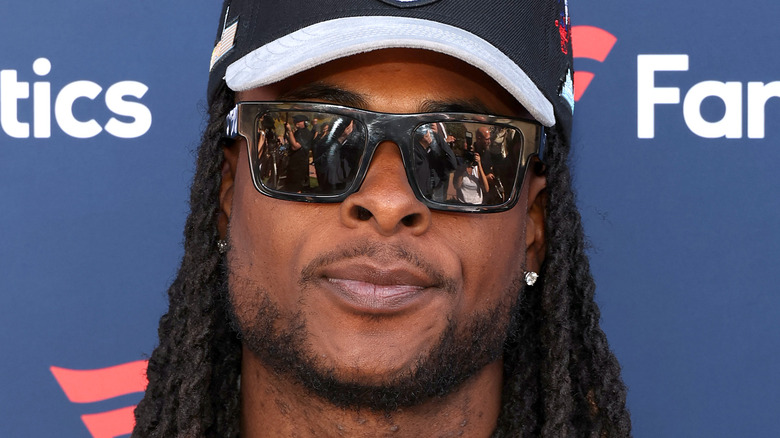 Jesse Grant/Getty Images
After a successful two-year college career, Davante Adams was announced the 53rd overall pick by the Green Bay Packers in the 2014 NFL draft. With the Packers, Adams made a name for himself and became one of the hottest NFL players in the game, recording many feats including five touchdowns in six games during the 2016 season and an NFC Offensive Player of the Week title in that same season. In March 2022, after eight seasons with the Packers, Adams was traded to the Los Angeles Raiders where he signed a five-year, $141.25 million deal, the biggest deal for a wide receiver in the NFL at the time.
Outside of his success on the field, however, Adams enjoys just as much bliss in his personal life. The NFL wide receiver is happily married to his longtime partner Devanne Villarreal who has commented on her husband's humility despite the fame. "He doesn't act like a celebrity. He's the same old Davante," Villarreal told Bleacher Report in a 2018 interview. And while we might have seen a fierce competitor on the field, Villarreal says that's not all he is. "He has a strong, intimidating presence. But when you get to know him, there's a lot more to him," she explained to The Ringer in 2021.
From their first meeting to navigating life as a married couple, here's a look into Adams and Villarreal's life together.
Davante Adams and Devanne Villarreal were college sweethearts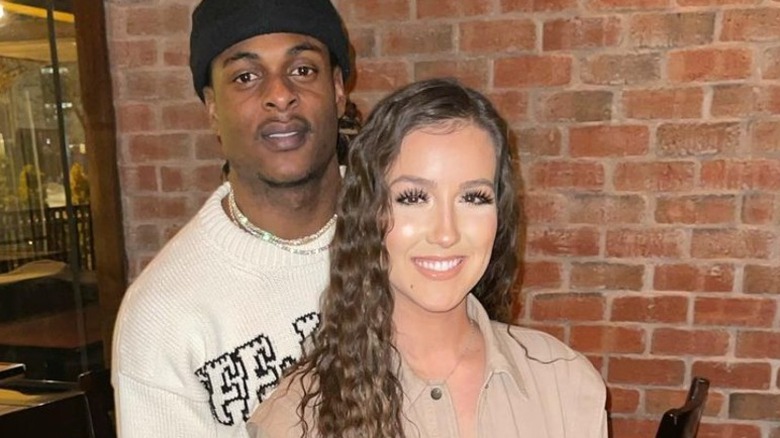 A love story seemingly written in the stars, Devanne Villarreal first met her future husband as a college student in 2012 at Fresno State University. Though it is uncertain when they started dating, Villarreal and Adams got engaged in 2017 during a trip to the Bahamas. Taking to Instagram, Villarreal shared a carousel of photos from the special moment which took place at the beach. "Thought we were just doing a casual photoshoot. Little did I know he had a bigger plan. Davante thought out the most perfect, creative, heartfelt, breathtaking proposal. Still can't believe it," she wrote in an accompanying caption. A year later, on June 23, 2018, Villarreal and Adams got married in an intimate California ceremony with some of their closest family members and other loved ones. For their big day, the bride looked stunning in a Vera Wang dress while Adams opted for a black suit. 
Since getting married, Villarreal and Adams have continued to enjoy a blissful marriage, as evident in their numerous tributes to each other on social media. "Help me wish my beautiful wife & the mother of all 10 kids we bout to have a happy 28th birthday," Adams quipped in a January 2021 post. "Thank u for making life easier...Love you." In celebration of Adam's 27th birthday back in 2019, Villarreal took to Instagram with a heartwarming birthday note to the NFL receiver. "Happy 27th Birthday to the best husband and daddy I know.." she wrote.
The couple shares two daughters
One year after getting married, Devanne Villarreal and Davante Adams announced that they were expecting their first child together. "#TheAdamsFamily is getting a little bigger this September! Can't wait to meet our baby girl," the expectant mom captioned a video from their gender reveal party. In a separate post, Davante also shared the exciting news. "My life been full of blessings ... happy to announce the biggest one yet. Baby girl Adams will be joining us in September," he wrote. On September 20, 2019, they officially became a family of three when their daughter Daija Leigh Adams was born. Two years later, in December 2021, Villarreal and Davante revealed their little family would be expanding with another new addition. "The best gifts don't come from a store. Merry Christmas from our soon to be family of four," Villarreal sweetly announced. In April 2022, the couple welcomed their second daughter Dezi Lynn Adams. 
And while they navigate their life as a married couple, Davante and Villarreal have seamlessly warmed up to their new roles as parents. "I'll be doing the most parent, dad-like stuff, and won't even realize I'm in the middle of it," the NFL star said in an interview with The Ringer. "Like, elbow deep in the diaper. It's just a thing in your brain. You just know." In September 2021, while celebrating Daija's second birthday, Villarreal also admitted that the last two years had been the best of her life.