The Biggest Vanderpump Rules Cheating Scandals Ever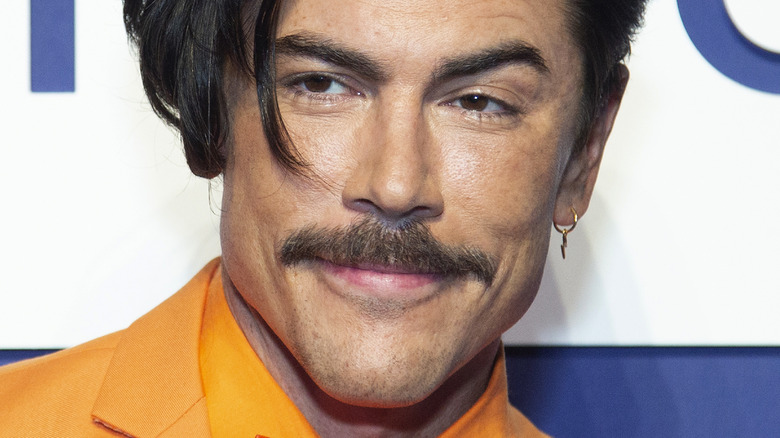 Santiago Felipe/Getty Images
No one knows drama better than anyone who's worked at Lisa Vanderpump's SUR Restaurant & Lounge, where debauchery is served up along with the cocktails. Bravo's "Vanderpump Rules" has been a network staple since 2013, with no signs of stopping anytime soon. Combine liquor and a group of attractive co-workers, and you have the perfect recipe for reality TV mayhem. While many of the cast members started out as wannabe actors or models, they've since become full-on Bravolebrities who use their platform to build their own businesses and create a name for themselves.
The stars of "Pump Rules" may have gotten richer and more famous since they got their start at SUR, but they haven't gotten less messy. The brawls, breakups, and steamy hookups have yet to peter out, and the cast still manages to surprise us with their antics. They say it's best to separate work and play, but in the "VPR" universe, one doesn't exist without another. Salacious affairs have become the norm within the group, and though many cast members have been able to bury the hatchet in the past — others have ended friendships — and marriages — over sketchy behavior. As far as "Vanderpump Rules" shadiness and controversy goes, it doesn't get much bigger than the show's cheating scandals.
Kristen Doute and Jax Taylor's scandalous hookup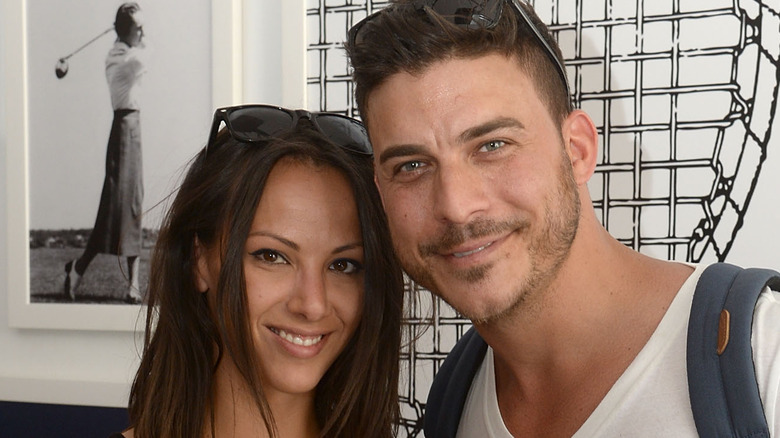 Chris Weeks/Getty Images
In "Vanderpump Rules" Season 2, rumor got out that Kristen Doute and Jax Taylor slept together. At the time, Doute was not only in a relationship with Taylor's longtime bestie Tom Sandoval, but was best friends with Taylor's ex-girlfriend Stassi Schroeder. After trying to play it cool for a while, Taylor eventually admitted to Schroeder that he hooked up with Doute while Sandoval was sleeping in the next room. When Schroeder confronted Doute with this information, Doute continued to deny it. Schroeder then smacked Doute across the face. In the season finale, Sandoval physically attacked Taylor.
Though the involved parties were able to move past the jaw-dropping debacle to some degree, it was a pivotal "Vanderpump" moment. What's more, Doute grappled with the fallout for years. As she wrote in "He's Making You Crazy: How to Get the Guy, Get Even, and Get Over It" (via Us Weekly), "I felt so much guilt about my mistake that I didn't feel that I really deserved any sort of platform to speak my mind about it or say my piece."
As far as Schroeder is concerned, this scandal can't hold a candle to the Sandoval and Raquel Leviss cheating drama that surfaced in 2023. "You can't even compare it to the whole Kristen and Jax situation because this is four trillion times worse," she said on an episode of "Straight Up With Stassi." "A 10-year relationship where you own a home together — they are married."
Jax Taylor cheated again with Faith Stowers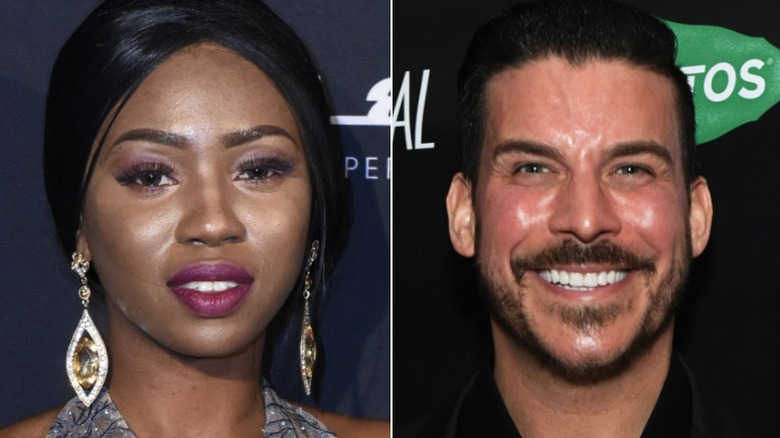 Desiree Stone & Chelsea Guglielmino/Getty
Season 6 of "Vanderpump Rules" started off with a bang. In the premiere episode, word got out that Jay Taylor cheated on his future wife, Brittany Cartwright, with their coworker Faith Stowers. As Stowers told ET, Taylor had been sliding into her DMs for a while before anything happened. "I mean, at one point he did proposition a threesome with him and Brittany, that was when they were dating, and I literally laughed that off 'cause I would never... It was just interesting to see how far he went when he had a new girlfriend who was fresh; Brittany was fresh at this time," Stowers said. 
According to Stowers, after Taylor continued to reach out for a while, the two finally met during the day and hooked up. Things got even messier when the rest of the cast obtained an audio recording of Taylor insisting to Stowers that he was no longer into Cartwright. Though the show didn't play the recording, Cartwright's costars summarized what was said in the shocking clip. "[He said] he doesn't want to marry Brittany, he's never going to have children with her, and he's not even attracted to her anymore," Kristen Doute recapped.
Taylor apologized for his actions, telling Us Weekly, "I wasn't thinking, I really really really really regret what I did and it was just a huge mistake," he confessed. Taylor and Cartwright worked things out, got married in 2019, and welcomed a baby boy in 2021.
Jax Taylor and Stassi Schroeder cheated on each other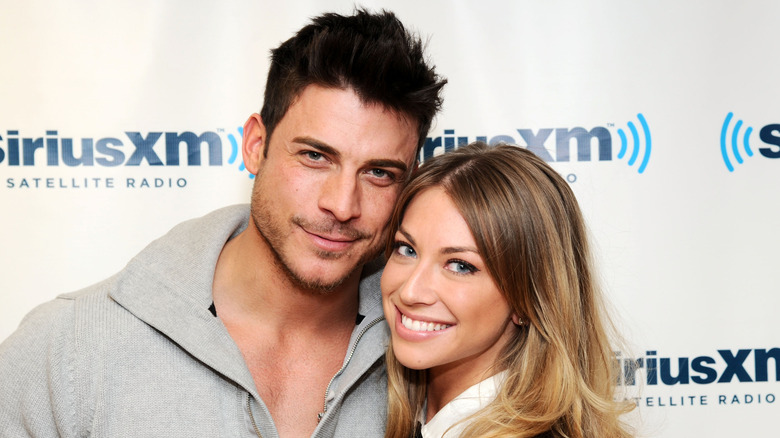 Ilya S. Savenok/Getty Images
In what seems like a millennium ago in the reality television world, Jax Taylor and Stassi Schroeder ruled the "Vanderpump Rules" world together. May we never forget Taylor tattooed Schroeder's name on his arm in a show of undying love for his former off-and-on girlfriend, only to have it covered up.  In Season 2, their relationship ended once and for all.. 
Before the two called it quits, however, their rollercoaster romance saw its fair share of scandals. The pair briefly broke up in Season 1 over constant fighting and jealousy. Schroeder rebounded with fellow SUR employee Frank Herlihy only to reconcile with Taylor again after he continued to profess his love for her. During their time together throughout Season 1, rumors swirled about Taylor being unfaithful to Schroeder on a trip to Las Vegas. In the season finale, he finally fessed up to not only cheating but getting another woman pregnant, which proved to be the nail in the coffin for the pair.
Years after their breakup, however, the "Next Level Basic" author came out to reveal that Taylor wasn't the only one unfaithful in their relationship. On a special "Uncensored" episode of the show, she revealed she had hooked up with Herlihy before she cut things off with Taylor. "This is so awful — I lied to Andy Cohen," Schroeder divulged. "I just had to say no and fight to the death."
Scheana Shay had a relationship with a married man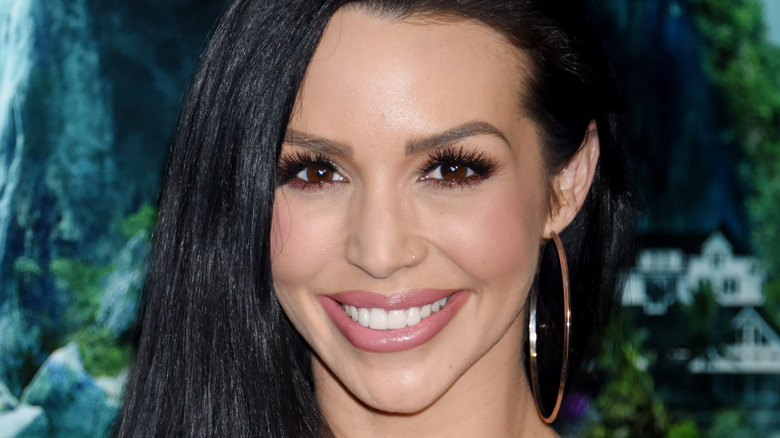 Ga Fullner/Shutterstock
"Vanderpump Rules" kicked off with a Bravo crossover. In the first episode of the series, "The Real Housewives of Beverly Hills" star Brandi Glanville sat down at SUR to talk to Scheana Shay about their messy connection. When Glanville was still married to actor Eddie Cibrian, he had multiple affairs — including one with Shay. In the "RHOBH" spinoff's premiere, Shay got emotional as she apologized to Glanville for getting involved with Cibrian. Though Glanville did not blame Shay for her ex's behavior, she wasn't having the tears. "Don't cry, because I lost my family," the Real Housewife said. "So if anyone is going to cry here it's not going to be you."
In a "RHOBH" after show clip, Glanville shared that Cibrian's affair with Shay ended up being a blessing in disguise. "I thought LeAnn [Rimes] was a one-time thing," she said. "But when I found out about her, she saved me because I left him." 
While the two Bravolebrities didn't necessarily become the best of friends after that legendary conversation, they have made a point to leave the past in the past. On a January 2023 episode of "Scheananigans," Shay shared that she and Glanville are in a good place. "So crazy how things come full-circle and then, you know, I'm hanging out with Brandi at BravoCon and we're trying to plan doing each other's podcasts."
Tom Sandoval was with Kristen Doute when he kissed Ariana Madix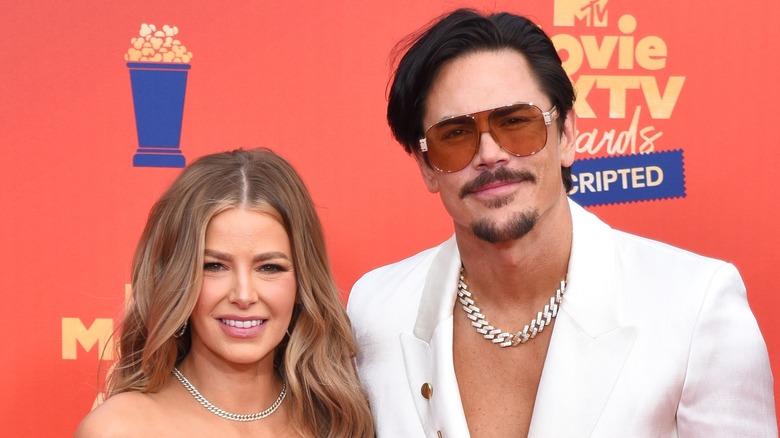 Michael Mattes/Shutterstock
Ariana Madix joined the "Vanderpump Rules" cast in Season 2, but her debut was rocky, to say the least. After she began working at SUR alongside Tom Sandoval, viewers learned that they'd become friends while bartending together at Villa Blanca, Lisa Vanderpump's now-defunct Beverly Hills restaurant. At the time, Sandoval was still dating Kristen Doute, and she was less than thrilled about his obvious bond with Madix. 
The Schwartz & Sandy's owner went on to break up with Doute and eventually went public with Madix not long after. Doute had a number of suspicions about the timeline, even going so far as to accuse her ex-boyfriend of cheating with Madix. Eventually, Sandoval came clean, admitting he had kissed Madix in Las Vegas before he broke things off with Doute. Is there anything that doesn't go wrong in Vegas with this crew? 
Though Doute and Madix are friends nowadays, it wasn't always that way. In a Bravo blog post from November 2013, Doute wrote, "Ariana is a home wrecking w**** and doesn't deserve to be spoken of." Yikes. 
Tom Schwartz's sloppy drunk kiss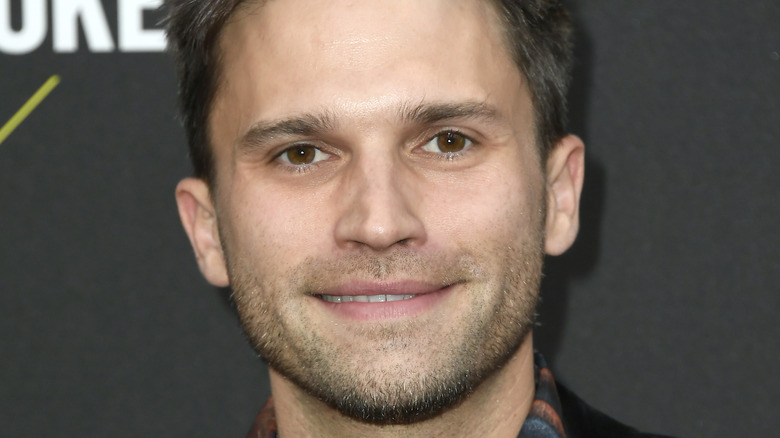 Frazer Harrison/Getty Images
Tom Schwartz had some serious explaining to do to Katie Maloney during Season 6 of "Vanderpump Rules" when he revealed he cheated on his future ex-wife, Katie Maloney. The details are foggy, however, since Schwartz apparently got too drunk the night of the incident and has no memory of what happened. According to Lala Kent, Schwartz made out with one of her friends while he was very much married to Maloney. It wasn't long before the story got back to Maloney, and Schwartz had to 'fess up to his misdeed.
"First of all, I don't even know how that happened and it's so regrettable, I'm so embarrassed," Schwartz told Us Weekly. "I think it's not that big of a deal in the big scope of things, but it's still completely unacceptable and really douchey."
One sloppy New York make-out wasn't the only time Schwartz stepped out on Maloney. The Schwartz & Sandy's co-owner admitted on an episode of "Watch What Happens Live With Andy Cohen" that it wasn't a one-off incident. "I strayed a few times. There were times where I thought the relationship was gonna come to an end and I was a sloppy douchebag," he confessed. Schwartz and Maloney broke off their marriage in 2022 after 12 years together. "I love Tom, we built a life together, and he was my person and I wanted to be with him forever," Maloney said on an episode of "You're Gonna Love Me." "But ultimately, I just wasn't happy."
James Kennedy cheated on Kristen Doute with a coworker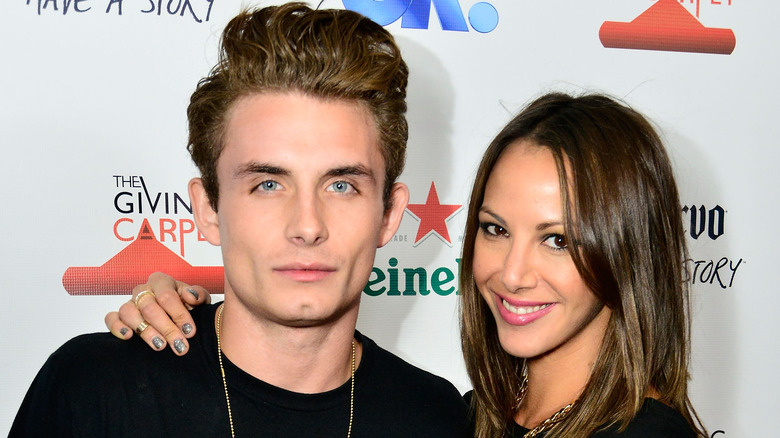 Jerod Harris/Getty Images
James Kennedy and Kristen Doute's relationship was explosive. The two got together during "Vanderpump Rules" Season 3 after Doute's breakup with her long-time boyfriend Tom Sandoval. Alas, Doute's time with the DJ was full of fights and accusations. The former SUR waitress even ended up punching Kennedy in the mouth at Scheana Shay's first wedding.
Tensions reached a high between the pair in Season 4 when it was revealed that Kennedy had cheated on Doute with her friend behind her back. This information came to light while Doute happened to be scrolling through his Uber receipts. "'I've never had sex with anybody but you in the whole relationship. I still want you to be my girlfriend," Kennedy insisted in the episode. In his confessional, however, he gave a different story: "At this point, I'm just lying to Kristen for her own good because I know if I tell her the entire truth it's just going to devastate her. The truth is, Jenna and I were definitely boning." 
The two went on to call it quits in 2015. At the time, Doute suspected he used her to get on the show. "He just did his homework and he knew exactly what he was doing. And he played me right until the point that he got through one whole season, became a primary and then dropped me," she told Bravo TV.
Randall Emmett cheats on Lala Kent with multiple women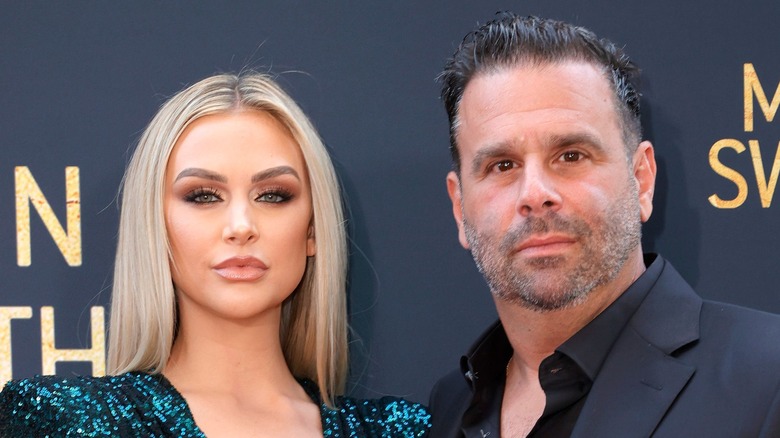 Frazer Harrison/Getty Images
Lala Kent was introduced to viewers in Season 4 of "Vanderpump Rules." Though she started her "VPR" journey as a single gal, that soon changed — but she kept her beau's identity under wraps for a while. But in 2018, she and film producer Randall Emmett finally went public with their relationship. Kent didn't know at the time, but Emmett had not totally separated from his ex-wife Ambyr Childers when they started dating. "I got a screenshot message that was dated January 2017 that he was working on his marriage," Kent said on "Jeff Lewis Live" in 2023. 
Kent and Emmett got engaged in 2018 and welcomed a daughter in 2021. Just months after giving birth, Kent discovered Emmett allegedly cheated on her with multiple women while on a trip in Nashville. She revealed more scandalous details in an Instagram post: "He started a relationship with a 23-year-old in march of 2021- the same month I gave birth."
On an episode of the "Genuinely GG" podcast, Emmett was relatively tight-lipped about what he did or didn't do. "I just have to always look at the big picture ... I just can't talk badly about the mother of my child," he said. "I just can't do it. No matter what is said about me."
The Lala Kent and James Kennedy hookup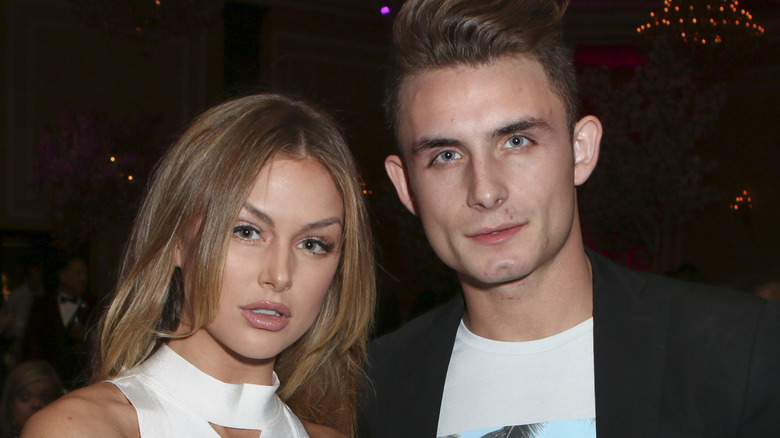 Tasia Wells/Getty Images
James Kennedy hooked up with "Vanderpump Rules" costar Lala Kent while they were both in relationships at the time — and they managed to keep it under wraps for years. At the time of their dalliance, the Give Them Lala Beauty Founder was seeing film producer Randall Emmett and James Kennedy was seeing Raquel Leviss. Kent took to her Instagram Stories to defend the hookup. "Since so many wanna point out James and I hooking up. Let's not forget that reunion where R*quel said 'We really started our relationship after I moved in with him,'" Kent said in the post. "And we now know R*ndall was indeed married at the time (& lied about it), and you can't cheat on a married person — so as far as I'm concerned, James and I were two single people having a goooood time."
Kent also said that she and the DJ were drunk at the time and had taken a trip to Chicago together. Andy Cohen confronted the issue during a 2023 episode of "Watch What Happens Live," asking Kennedy's current girlfriend Ally Lewder if she had any doubts about whether or not the DJ could remain faithful to her in the wake of the revelation. Lewber replied, "I didn't enjoy hearing the news. But we've worked through that. We've come a long way, and I trust him."
Raquel Leviss smooches Oliver Saunders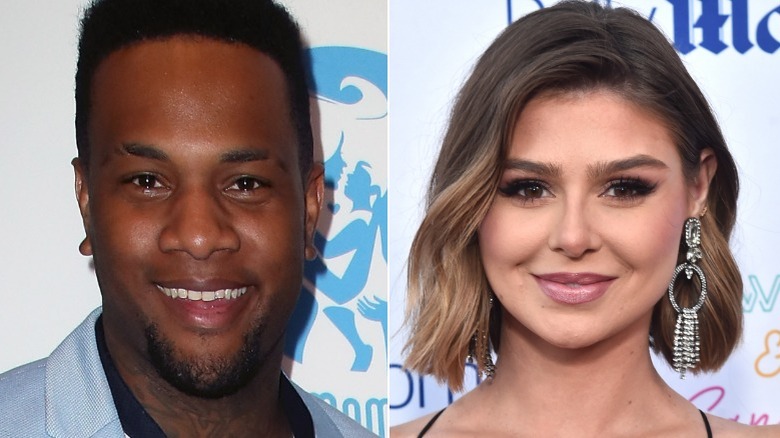 David Livingston & Alberto E. Rodriguez/Getty & undefined
Though he did say he and his wife were separated at the time, Oliver Saunders was technically a married man when he locked lips with Raquel Leviss. Oliver is the eldest son of "The Real Housewives of Beverly Hills" star Garcelle Beauvais and an employee at Vanderpump à Paris in Las Vegas.
In Season 10 of "Vanderpump Rules," Leviss and Oliver made out at a nightclub in Las Vegas. After the episode aired, Oliver's wife, Samantha Saunders, shared her side with ET. "We were together. He was the married man. He chose to lie and cheat," she said. "Of course, I'm not happy with Raquel, but no, it's his fault all this happened! It's very traumatic for me. We had an amazing marriage and were best friends. He was a great stepdad and dad." Samantha also shared that Raquel reached out to her and they spoke about the incident over the phone. The episode filmed in August 2022; Oliver filed for divorce in January 2023. 
Oliver, on the other hand, has a different take. "I was separated from Samantha when the show shot," he told ET, "I had my own place and I'm trying to get divorced ASAP. The only thing that matters to me is taking care of my son. Everything else is irrelevant." When asked about the kiss at BravoCon 2022, Leviss said to Page Six, "I would like to clarify that I did not know Oliver had a wife. He misled me."
Tom Sandoval's bombshell affair with Raquel Leviss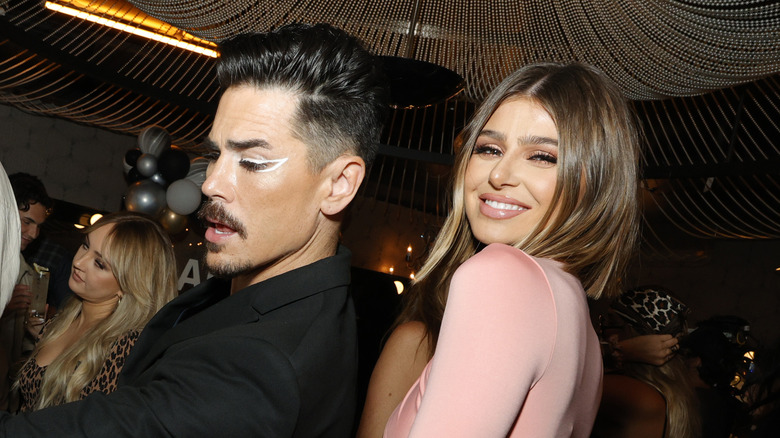 Amy Sussman/Getty Images
Just when we thought we'd seen it all in the "Vanderpump Rules" universe, the Tom Sandoval and Raquel Leviss scandal happened. For over nine years, Sandoval was in a serious relationship with Ariana Madix. However, in March 2023, word got out that Sandoval had been cheating on Madix with Leviss, their friend and costar, for months.
On an episode of "Sex, Love, and What Else Matters," Kristen Doute shared that she was there the night Madix found out about the infidelity. "We were watching the band play at TomTom," Doute recounted, adding that Sandoval's phone fell out of his pocket while he was performing and Madix held onto it. According to Doute, Madix then saw a screen recording of an inappropriate FaceTime call with Raquel on Sandoval's phone. In the wake of the drama, current and former members of the "VPR" cast rallied around Madix.
Sandoval has since addressed his actions, writing in a statement on Instagram, "I want to apologize to Ariana. I made mistakes, I was selfish, and made reckless decisions that hurt somebody I love. No one deserves to feel that pain so traumatically and publicly." Leviss also issued her own statement via Instagram, writing, "There is no excuse, I am not a victim and I must own my actions and I deeply regret hurting Ariana." The former pageant queen added, "I am learning things about myself such as my patterns of codependency and addiction to being and feeling loved."