Lily Aldridge Didn't Always Want To Model (So How Did She Get Discovered?)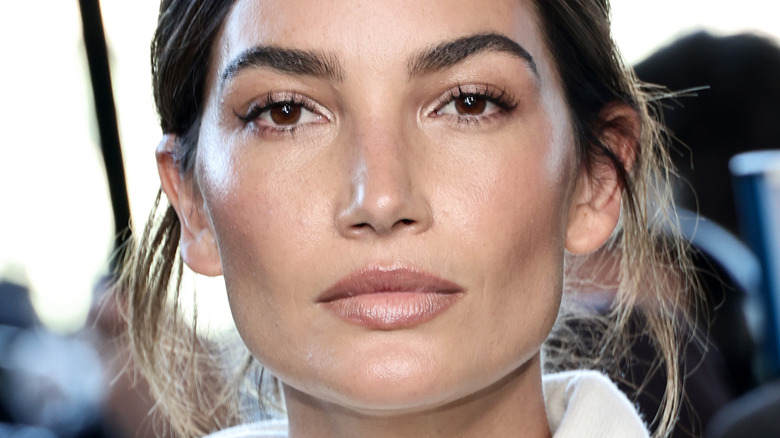 Jamie Mccarthy/Getty Images
Lily Aldridge is primarily known for her successes as a supermodel. Besides being one of Victoria's Secret Angels, she's been in campaigns for high-profile brands like Gap, Coach, and Tommy Hilfiger. In addition, she's appeared on the covers of notable magazines such as Vogue, Elle, and Glamour. Aldridge was also a key member of Taylor Swift's famous squad.
Aldridge has clearly enjoyed her thriving career as a supermodel. In a 2021 interview with Wardrobe Icons, she shared, "Shooting Vogue for the first time was obviously such an exciting moment. I was on page 40 and I still have a copy." She's not jaded from her job either, as she added, "I still get excited any time I'm in a magazine that I love, shooting editorials and getting to create with creative people." As Aldridge loves to strut down the catwalk and pose in front of the camera, it may be hard to believe that she didn't always want to model. So, how did she get involved in the fashion world?
Lily Aldridge had her sights set on professional soccer
Dimitrios Kambouris/Getty Images
As it turns out, Lily Aldridge didn't initially seek a career as a model. Yup, the supermodel had another pursuit in mind. In 2021, she told Wardrobe Icons, "I kind of fell into it. I actually thought I was going to be a professional soccer player, but I was model-scouted in my teenage years." And it came as a surprise to those close to her. She added, "When I told my friends I was a model, they were in disbelief – nobody would have guessed that was the direction I was going to go in. I moved to New York when I was 18 and took it seriously, and it all fell into place."
Aldridge actually was scouted at a school carnival as a teenager, per Insider. She once told Tatler, "I was a tomboy for years and suddenly everyone thought I was hot." Her first job was modeling for Abercrombie and Fitch. In an interview with Fashionista Dot Com, Aldridge reflected on the early stages of her modeling career. She said, "All my friends were going to college and I wasn't going to college. I was modeling and I just felt like I would love to just go to New York and really try and see what happens." The rest is history, as Aldridge soon booked her first Victoria's Secret show.
Lily Aldridge still uses her athletic skills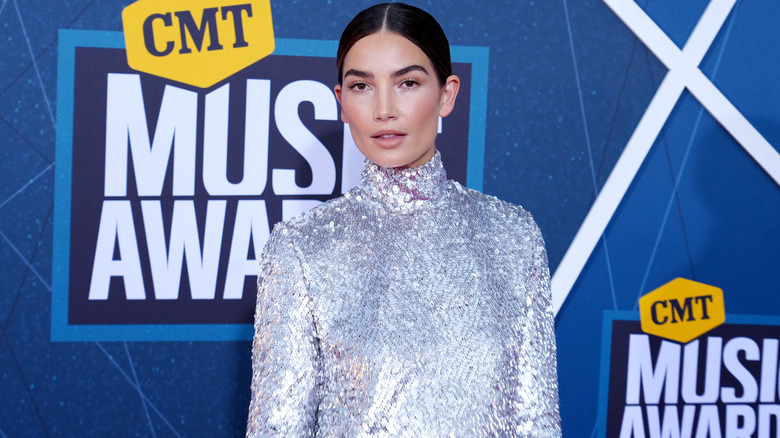 Jeff Kravitz/Getty Images
Lily Aldridge may not have become a professional athlete, but she once got to play the role of one. In 2015, Aldridge had the opportunity to fulfill her sporty dreams in a photo shoot for Self Magazine. She passed a football to New York Giants star Odell Beckham Jr. and kicked around a soccer ball to players from the LA Galaxy. She said, "This was one of the most fun shoots I've had. It's different for me to get to be athletic and look like the strong woman I am." And Aldridge felt right at home. She remarked, "It felt great to be on the field. Being around athletes makes me feel very comfortable."
Since models have to be in tip-top shape for runway shows, Aldridge has put her athletic skills to good use. In 2014, Vogue uploaded a video called "Watch Lily Aldridge Train for the Victoria's Secret Fashion Show." In the clip, she does a variety of exercises including yoga, running, and boxing. In 2015, she told Cosmopolitan that she was doing workouts twice a day to get ready for the Victoria's Secret show. She revealed, "I love working out, and I love when I have the time and I can really focus on it. It feels good. You have a goal and you accomplish it."