The Serious Heart Condition Miley Cyrus Lives With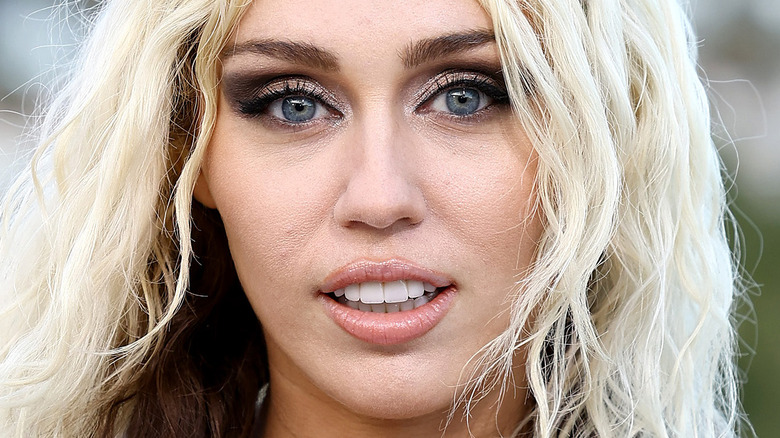 Arturo Holmes/Getty Images
Over the years, Miley Cyrus has been committed to leading a healthy lifestyle. She's experimented with eliminating gluten, dairy, and meat, as well as doing workouts such as Pilates. In a 2013 People article, her instructor Mari Winsor shared details about the star's approach to exercise. She shared, "She wants to be healthy, she wants to have good abs. It always makes her feel better and clearer when she works out."
In a 2020 episode of "The Joe Rogan Experience," Cyrus described the evolution of her diet. She explained how she grew up eating unhealthy foods. Then, she noted, "I mark a lot of my grounding and the weight that I have to my diet, to my supplementing, to my maintenance, to the diligence, to the sport that being an entertainer is." While fans are well aware of Cyrus' eating and exercise habits, there's one aspect of her health that some people may not know about. As it turns out, Cyrus actually lives with a serious heart condition.
Miley Cyrus has tachycardia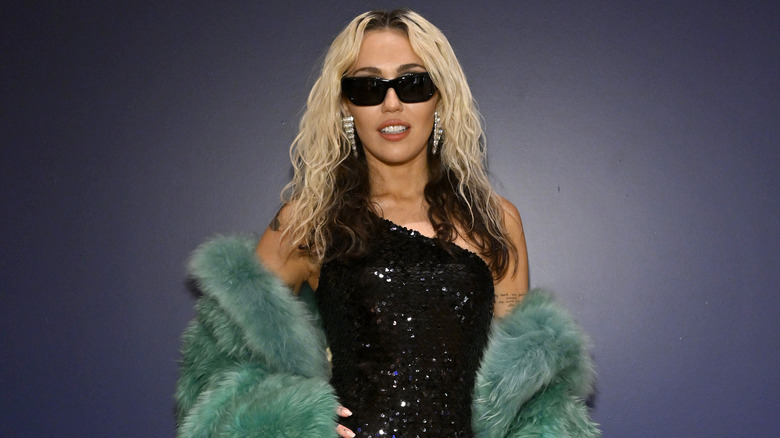 John Sciulli/Getty Images
According to the Daily Mail, Miley Cyrus has a heart condition called tachycardia, which occurs when one's heartbeat is faster than normal. In her 2009 memoir called "Miles To Go," Cyrus wrote, "My heart rate increases a lot just from going up a flight of stairs. There is never a time onstage when I'm not thinking about my heart." Fortunately, Cyrus' condition isn't fatal. In her book (via The Things), she wrote, "The type of tachycardia I have isn't dangerous. It won't hurt me, but it does bother me." Some sources have believed that the singer's condition has been complicated by her partying and use of drugs. A doctor told InTouch Weekly (via the Daily Mail), "She could get heart muscle problems and even heart failure at worst. She could even end up with a stroke."
When it comes to her health, Cyrus has taken steps to practice self-care, including getting sober. In 2020, she told Rolling Stone (via The Los Angeles Times), "I didn't want to not make it through being 27. I didn't want to join that club. Probably about halfway into 26, I got sober. Then by 27, [November 2019] I was pretty much fully sober." However, she struggled to stay sober once Covid-19 hit. She added, "Then, like a lot of people during the pandemic, I fell off. It was really a struggle. Mental health and anxiety and all that. I lost myself there."
Inside Miley Cyrus' other health issues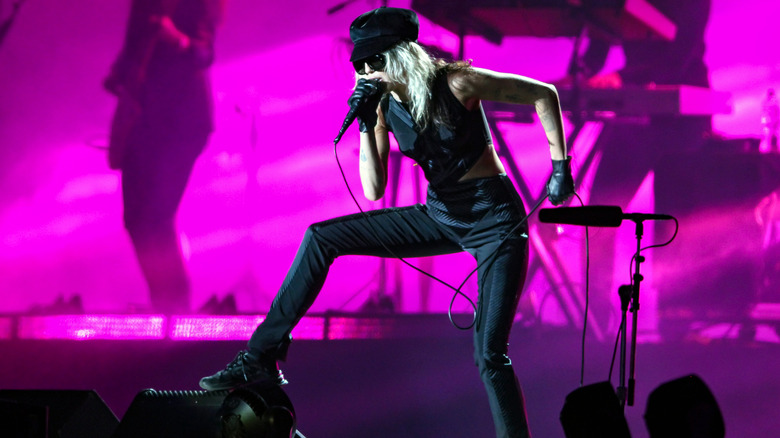 Medios Y Media/Getty Images
In addition to her heart condition, Miley Cyrus has suffered from a plethora of other health issues. In April 2014, she was rushed to the hospital after dealing with an extreme allergic reaction to antibiotics, per People. Later that month, her symptoms flared up again, which prevented her from starting her European tour. In a radio interview with Ryan Seacrest (via People), she revealed that she had been given medication for the flu while traveling for her Bangerz tour. She shared, "It was so scary. I had basically been poisoning myself with something I didn't know I was really scary allergic to."
Cyrus has also struggled with her mental health, a subject she's been incredibly open about. In fact, during a 2021 concert, she felt a panic attack coming on. Instead of keeping it to herself, she talked through her experience to the crowd. She elaborated on why she was facing it, saying, "Like everyone else, for the last year and a half I have been locked away and isolating and it is very stunning to be back in a place that used to feel like second nature. Being on stage used to feel like home, and it doesn't anymore because of how much time I spent at home locked away." She noted that she felt it was important to be honest with how she was feeling. By detailing her journey with her various health struggles, Cyrus is breaking stigmas and sparking important conversations.