The 12 Most Outrageous Oscars Red Carpet Looks Ever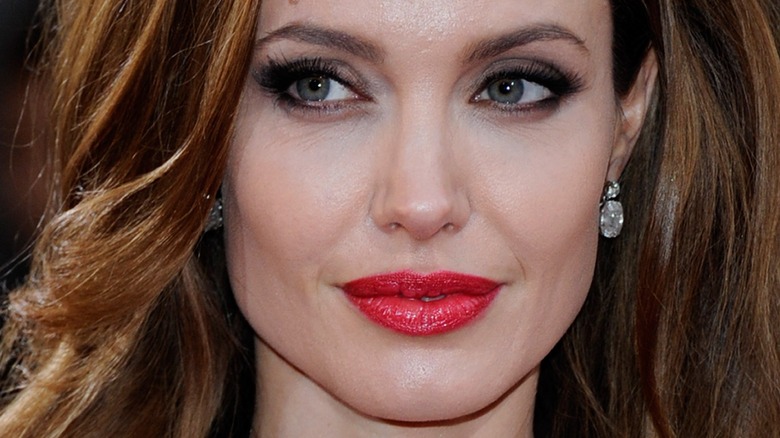 Ethan Miller/Getty Images
For almost a century, the Academy Awards have highlighted Hollywood excellence. Honoring the year's best in movies, the Oscars have evolved from their humble hotel banquet beginnings into the global entertainment extravaganza that we know today. Yes, of course the ceremony is about celebrating the art and craft of filmmaking, but just as important is the event's glamour-factor, often spun from the gowns and tuxedos worn by the elite Tinseltown glitterati. The late comedian Joan Rivers knew that us folks at home cared just as much about movie star outfits as we did about who took home a statue and by simply asking celebrities, "Who are you wearing?" Rivers elevated the Oscar red carpet into a full spectator sport.
Now, the Oscars red carpet has become a global runway, and an unforgettable look can land an actor in the history books. But for every look that has become the standard-bearer for good taste, there are those that have become outrageously notorious. Sometimes fashion risks pay off — just ask Celine Dion about her backwards tuxedo or Björk about her swan dress. While other outfits, like Kim Basinger's confused ball gown, are remembered merely for being fashion blunders. Whether you love them or hate them, there's no arguing that these looks made a statement. So put on your fashion-judging pants (let's be honest, they're probably pajamas) and remember some of the most outrageous Oscars red carpet looks ever.
Trey Parker and Matt Stone's trippy homage to Goop and J.Lo
"South Park" creators Trey Parker and Matt Stone attended the 72nd Academy Awards in 2000 in support of the Oscar-nominated song "Blame Canada" from their movie "South Park: Bigger, Longer & Uncut." Parker was technically the nominee alongside Marc Shaiman, but he brought Stone as his date. Keeping in line with the subversive tone of their animated creation, Parker and Stone took a costume party approach to the event. Parker and Stone considered a number of looks, including wearing duck costumes, to the Oscars, but they settled on a more conservative look for the evening once they realized they probably wouldn't be let into the ceremony looking like literal animals.
Parker and Stone made their Oscars red carpet debut dresses as an homage to early '00s glamor gals Gwyneth Paltrow and Jennifer Lopez. Parker wore a replication of Jennifer Lopez's iconic tropical Versace gown from the 2000 Grammy Awards, and Stone mimicked Gwyneth Paltrow's bubblegum pink Ralph Lauren confection she sported while winner her Oscar for "Shakespeare In Love." The pair let the fashions speak for themselves. Parker and Stone agreed to say nothing about their looks while doing interviews on the red carpet. Oh, and they were both tripping on LSD during the entire experience. Some folks, like Michael Caine, appreciated their efforts, while others (like Gloria Estefan) did not. However you ultimately feel about them, there's no denying the outrageousness of Parker and Stone's looks.
Björk's swan dress was hated at first, but has grown a cult following
Icelandic musician Björk was nominated for Best Original Song at the 73rd annual Academy Awards for "I've Seen It All" from the film "Dancer In The Dark," but clearly the Oscars red carpet hadn't witnessed anything like her infamous swan dress. Now, Björk's previous film festival and awards-circuit looks in support of the film were hardly demure. At the Cannes Film Festival, she donned a poofy pink dress designed by Marjan Pejoski, and at the 2001 Golden Globes, she wore a dress adorned with a sequined portrait of Michael Jackson. For the Oscars in 2001, Björk returned to Marjan Pejoski for a dress that became one of the most sensational red carpet looks of all time.
When Pejoski learned that not only did Bjork wear his swan dress to the ceremony, but also "hatched" her egg purse while walking the red carpet, he told British Vogue, "It was fantastic of her. So rebellious, at a traditional occasion like the Oscars. I respect tradition of course, but everybody and everything deserves to be laughed at from time to time." Sure, the dress was lampooned by pop culture in the subsequent years, but surely Björk is getting the last laugh. Her swan dress has been deemed museum-worthy, having been featured in Björk's MoMA exhibit and The Met's "Camp: Notes on Fashion" exhibition in 2019.
Lizzy Gardiner made sure she didn't leave home without her American Express card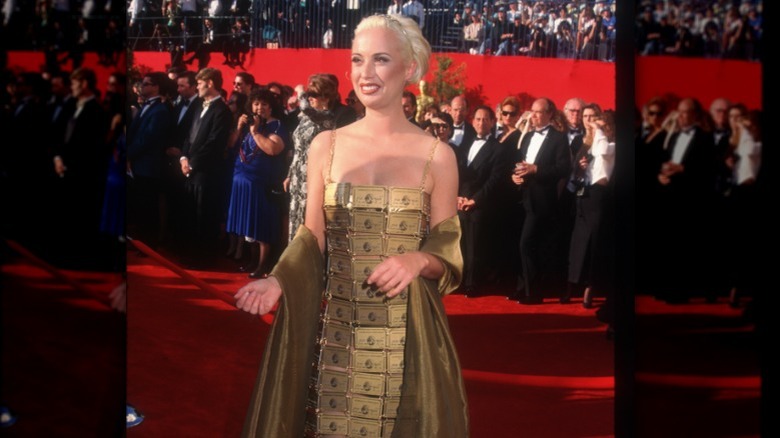 Barry King/Getty Images
If there is one word to describe "The Adventures of Priscilla: Queen of the Desert" costume designer Lizzy Gardiner's 1995 gold American Express Oscars dress, it's "fabulous." Gardiner, along with Tim Chappel, was nominated for best costume design for "Priscilla," and, not expecting to win, she wore a dress made out of credit cards to the ceremony. Gardiner's dress, made with 254 American Express Gold Cards, was supposed to be in the film. However, American Express declined the chance to have their plastic featured in the movie. When Gardiner and Chappel actually won the Oscar, the discarded costume became the talk of global fashion.
Concerning the details of Gardiner's creation, she told ABC News, "They all had my name on them, and I joined all the cards together with wire. Full length, and [it] was split almost to the waist because there was no other way of doing it. I had gold underwear on, and off I went." Even though American Express missed out on being in "Priscilla," the company purchased the gown from Gardiner for an undisclosed sum shortly after the ceremony. The dress now resides at the National Gallery of Victoria's collection in Australia.
Demi Moore rode into fashion infamy with her self-designed bike shorts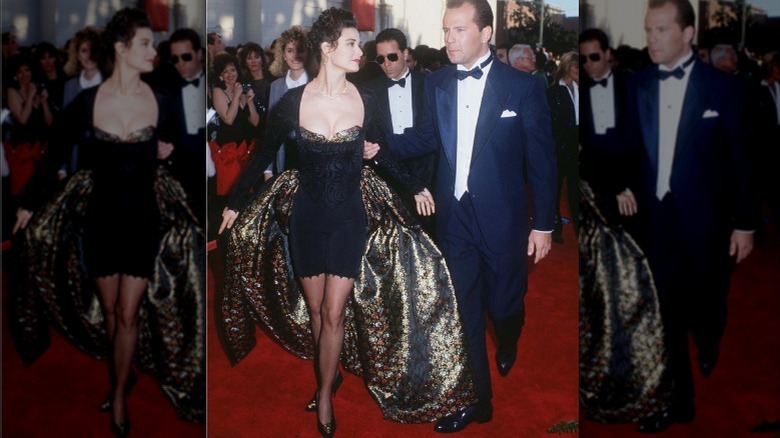 Barry King/Getty Images
When Demi Moore attended the 1989 Oscars with then-husband Bruce Willis, she turned heads by wearing a DIY gown that gave new meaning to a post-gym look. On an Oscars night already filled with bizarre happenings — like the infamous opening number featuring Rob Lowe and Snow White performing a duet of "Proud Mary" — Moore's fashion definitely grabbed attention. Her velvety corset bustier top and lace-detailed bike shorts, complete with gold-detailed skirt cape, easily could go from Renaissance festival to spin class.
With some distance, Moore's look has been received with more kindness. Now, fashion-forward stars like Kristen Stewart are not afraid to rock a short look at the Academy Awards, albeit Stewart's 2022 look was Chanel. But let's not forget that 1989 was also a year in which Corey Feldman walked the red carpet with Drew Barrymore in Michael Jackson cosplay and Olivia Newton-John looked like she wore a formal nap dress.
Sharon Stone was the original high-low fashion icon in her Gap shirts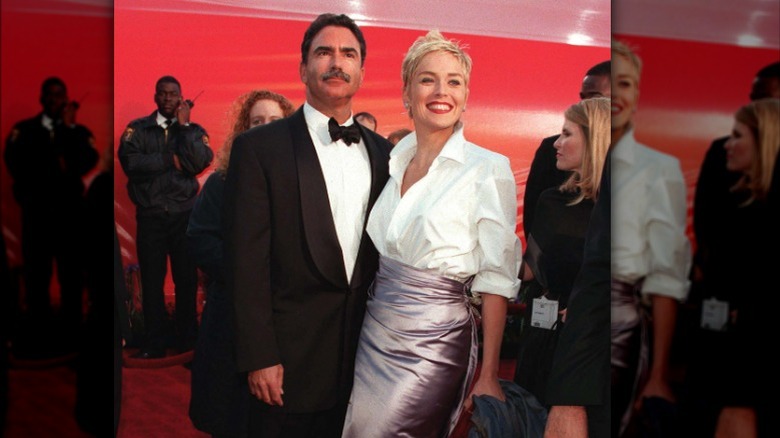 Evan Agostini/Getty Images
Glamorous movie star Sharon Stone has taken a very down-to-earth approach to Oscars dressing over the years. When she attended her first Oscars in 1992, no one would lend Stone a dress. Broke but resourceful, Stone bought a Betsey Johnson jumpsuit and did her own glam. After the release of "Basic Instinct" later that year, Stone became a superstar, and by the mid-'90s, she was nominated for Best Actress for the movie "Casino." But just when she thought easy Hollywood glamor was in reach, she was forced to use her own resources yet again when her planned 1996 Oscars outfit suffered a serious setback.
Designer Vera Wang had actually made two outfits for Stone, but the dress they agreed was awards show-worthy was ruined the day before the ceremony by a clumsy delivery driver. With help from a friend, Stone cobbled together an all-black look. Granted, her Gap t-shirt was layered in luxury — she paired it with a Armani jacket and Valentino skirt — and she still considers it her most memorable red carpet look. For the 1998 Oscars, Stone went back to the mall for another stunning high-low look. She wore a crisp white oxford shirt owned by her then-husband Phil Bronstein and mixed it with a lavender Vera Wang skirt.
Celine Dion's backwards tuxedo was a fashion-forward risk
Evan Agostini/Getty Images
The 1998 Academy Awards was the year of "Titanic." Singer Celine Dion, who performed the sweeping ballad "My Heart Will Go On" on the film's soundtrack, kept her fashion modest in order to showcase a multi-million dollar "Heart of the Ocean" necklace that played an important part in the movie. The song won the Oscar, and Dion completed her fashion duty and kept the focus on her "Titanic"-themed jewelry. The following year, Dion leaned fully into her own sense of style when she wore a white backwards tuxedo designed by John Galliano, complete with wide-leg trousers, sunglasses, and a jaunty fedora.
Some were puzzled by her look, and Dion told Andy Cohen on "WWHL" that some people even thought she put on her outfit wrong, but clearly Dion knew exactly what she was doing. She changed into a more conservative look during the ceremony when she performed a duet with Andrea Bocelli for the Oscar-nominated song "The Prayer" from the animated movie "Quest For Camelot," but we'll always remember that year for Dion's pioneering suit. Dion looks back proudly at her sartorial risk. She told People, "I was the only one with pants in a backward suit from Galliano, and if I would do this today it would work. It was avant-garde at the time. And it doesn't matter, you just have to assume what you wear, you wear, and I did."
Cher's hair-raising Bob Mackie creation certainly turned heads
When Cher attended the 1986 Oscars in a spiky, sparkly Bob Mackie creation, she definitely had people saying "whoa!" Cher had already been an Oscar nominee in 1983 for her performance in "Silkwood," and a few years later, she had serious Oscar nomination buzz for her performance in "Mask." Cher wasn't nominated, but even though she was snubbed by the Academy, she knew exactly how to get their attention. Cher told Vogue that her 1986 Oscars look was an act of rebellion against the Academy. She felt they didn't like her outfits or her young boyfriends, so wearing a skin-baring gown with a towering headdress would flippantly send the signal to the organization that she was a capital-A actor. It's still one of her favorite looks of all time.
Designer Bob Mackie told The New Yorker of his vengeful creation, "There were a lot of people who said, 'That's not fashion!' And I said, 'Of course it's not fashion. It's a crazy getup for attention.' And it did get attention — people talk about it still." Luckily for Cher, the Academy soon snapped out of their snobby ways and awarded Oscar gold in 1988 for her performance in "Moonstruck." And yes, she wore a Bob Mackie gown to accept the honor.
Barbra Streisand's see-through outfit had the last laugh
Entertainment legend Barbra Streisand was at the beginning of her career when she won an Oscar for her performance in the musical "Funny Girl." Streisand starred in the original Broadway production of the musical about vaudeville star Fanny Brice, and she made her Hollywood debut reprising the role its the 1968 big-screen adaptation. In a rare turn of events, Streisand actually tied for Best Actress with Katherine Hepburn, who was honored for her performance in "The Lion In Winter," but only one icon, young Barbra, showed up to accept their trophy. Streisand glided onto the stage in a shimmering bell-bottomed tuxedo designed by Arnold Scaasi, who also made creations for such glamorous Hollywood ladies such as Lauren Bacall, Diahann Carroll, and Elizabeth Taylor.
That night, Streisand had two outfit choices, and she chose the bolder of the two looks, but unbeknownst to her, the outfit became see-through under the spotlight. She told W Magazine, "I had no idea that when the lights hit that outfit, it would become transparent! I wanted a white collar and cuffs, which it had, and I wore my hair under my chin, because I thought to myself, I'm going to win two Oscars in my lifetime, and I'll be more conservative next time." As predicted, Streisand would go on to win another Oscar for Best Original Song for "Evergreen" featured in "A Star Is Born," and she accepted her statue in a much more demure gown.
Isaac Hayes wins Oscar gold in a fur-lined blue tuxedo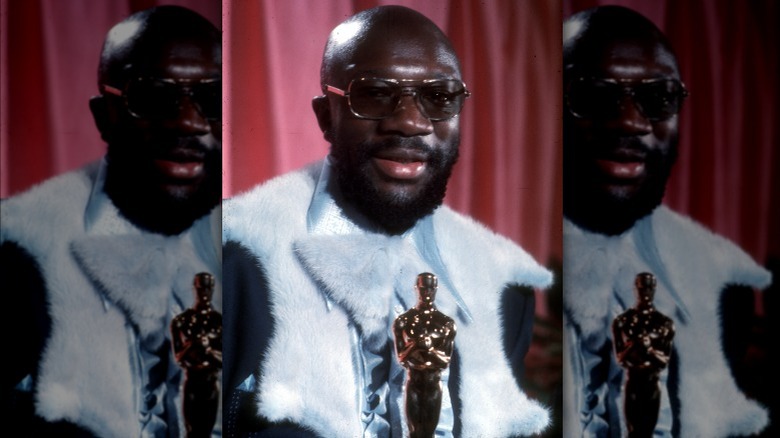 Michael Ochs Archives/Getty Images
Fashion in the early '70s was hardly conservative, and male formal dressing of the time definitely embraced the fun. Pops of color, ruffled shirts, and funky accessories were all integrated into tuxedoed looks of the era. Like many men of that time, musician and actor Isaac Hayes was not afraid of taking his looks into some seriously groovy and psychedelic places. He rocked everything from a leopard-print trench coat, pop art-inspired capes, and lavender pants paired with a Neru jacket.
So when Isaac Hayes was up for an Oscar for "Theme From Shaft" in 1972, of course he wore a tuxedo that fit in perfectly with the times. He accepted his historic Oscar for Best Original Song, in a navy blue tuxedo trimmed with blue fur and paired with a baby blue satin ruffle shirt. Hayes' performance attire was equally cool, sporting a gold chain top and sunglasses while performing his Oscar-nominated song "Theme From Shaft" during the telecast. Certainly, we can dig Hayes' Oscars outfit choices.
Rumor has it Kim Basinger's half dress was designed by Prince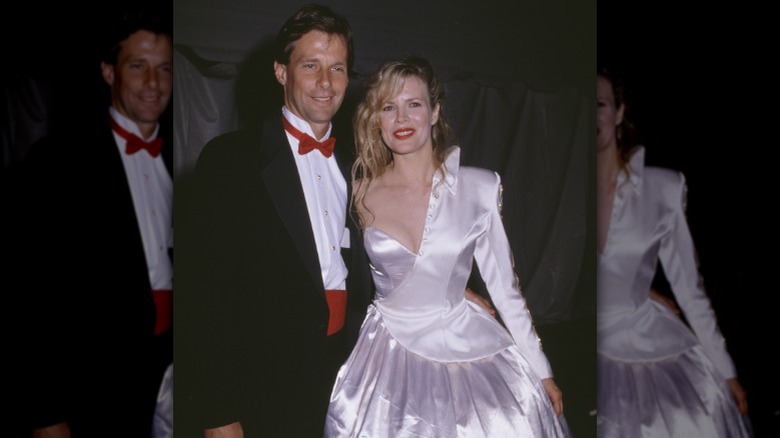 Michael Ochs Archives/Getty Images
Kim Basinger attended the 1990 Oscars ceremony in a funky DIY satin creation that might leave you wondering if it was a complete thought, pairing a poofy ball gown skirt with a top that is half corseted and collared, half gloved and bustier. This identity crisis of an outfit is credited as a Basinger original, however Internet rumors beg to differ. In 1989, Basinger co-starred in the blockbuster film "Batman" as an intrepid photographer — and Batman love interest — Vicki Vale. Legendary musician Prince made the film's accompanying soundtrack, and he and Basinger were an item in early 1990.
Basinger even moved to Minneapolis to be near Prince and recorded an unreleased album under his guidance. While Basinger didn't attend the Oscars with Prince – she was accompanied by her brother Mick – some fans of The Purple One claim it was he who designed her outfit. Prince was heavily involved in the designing of his own fashion, so it wouldn't be surprising if he had a hand in Basinger's look. Regardless of who designed it, and what really happened between Prince and Kim Basinger, her Oscars dress definitely made a statement that was a sign of the times.
Billy Porter's dramatic skirted tuxedo turned heads
Billy Porter went to work on the red carpet of the 91st Academy Awards in 2019 in a dazzling custom-made tuxedo ball gown. Porter might have been interviewing Oscar arrivals as part of ABC's pre-show special, but it was his look that stole the spotlight. At the 2019 Golden Globes, Porter dazzled in a Randi Rahm-designed suit, complete with a dramatic cape which revealed a hot pink lining. Wanting to take his red carpet look to the next level, Porter recruited designer Christian Siriano for his Oscars look, making his ball gown dreams a reality.
Porter gave further insight to Vogue about the creative reasoning behind his look. He said, "We wanted to play between the masculine and the feminine. This look was interesting because it's not drag. I'm not a drag queen, I'm a man in a dress." Porter takes his red carpet fashions seriously. He reflected on the impact that his tuxedo dress had not only on fashion, but on creativity at large. In conversation with Variety, he said "I think that we as artists ... have the power to change the molecular structure of people's hearts and minds and change the world," adding "That dress changed the world."
Angelina Jolie leg stuck out from the crowd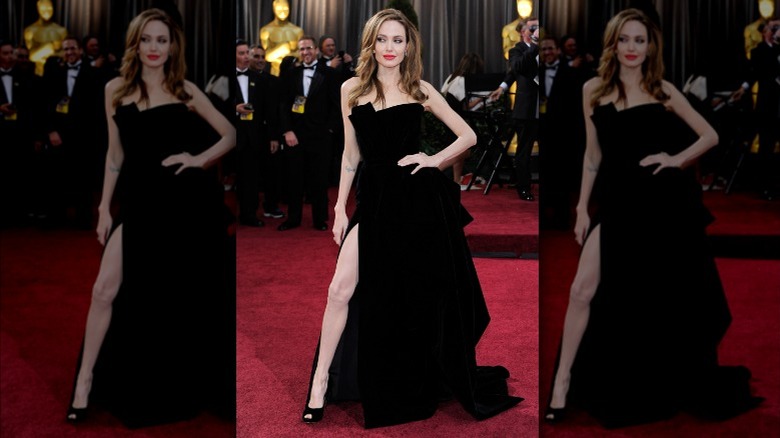 Ethan Miller/Getty Images
Angelina Jolie's Oscars looks have been relatively tame over the years. She's worn ruffles, suits, and shimmer, but Angie keeps it minimal, sticking to mostly black and white with the occasional statement accessory, like the spectacular Lorraine Schwartz emerald earrings she wore to the 2009 Oscars. In 2012, Jolie wasn't making red carpet fashion headlines for her chic jewelry, but rather an accessory that was a little closer to home.
That year, Jolie wore a fairly unsurprising Versace black gown to the Academy Awards, but when she stuck out her leg through the gown's side slit while posing for photographers, she became an Internet sensation. Jolie's confident right leg became an instant meme, even being referenced during that night's ceremony, and quickly spawned its own, since-suspended Twitter account. For Jolie, her dress and her statement leg were simply a matter of feeling comfortable. She told Extra of her look, "I had a more complicated dress and I wore the more comfortable dress, which was that one, and I think I was just so comfortable that ... I think when you feel comfortable ... you feel yourself." The legacy of Jolie's leg continues to loom over the Oscars fashion. In 2023, both Florence Pugh and Cara Delevingne rocked their own gam-forward looks at the Academy Awards.