What Happened Between Prince And Kim Basinger?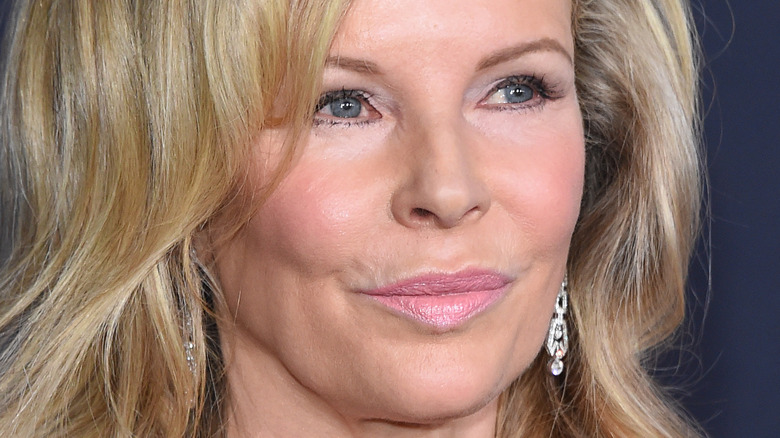 DFree/Shutterstock
Kim Basinger has kept a relatively low profile ever since she and her ex-husband Alec Baldwin pulled the plug on their marriage back in 2002. Basinger admitted in an interview with "Red Table Talk" that she and Baldwin sure had their challenges throughout their relationship, per People. The "30 Rock" actor, meanwhile, likened their separation to the Indochina War. He told The Guardian in 2013, "From 2000-2006, during the Dien Bien Phu of my divorce litigation... I can barely tell you what I did for those six years. It was a period that was so painful, I was staring off a cliff for six years."
But before Baldwin was even in her life, Basinger was making headlines with another A-list celebrity: the chart-topping, sex-symbol musical artist, Prince. Little do some people know that Prince and Basinger had actually worked together on a hit single. But because it turned out to be so steamy, a lot of fans and critics alike couldn't help but wonder if there was something going on between Prince and Basinger behind the scenes, too. And sure enough, there was a whole lot going on.
Kim Basinger's steamy recording session with Prince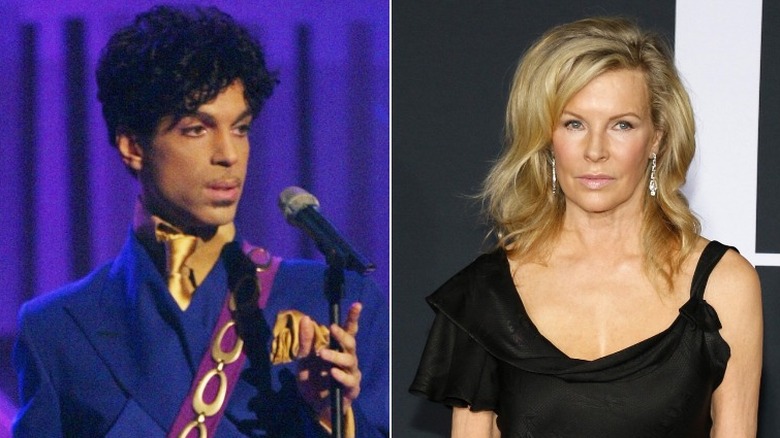 Frank Micelotta/Getty & Tinseltown/Shutterstock
Back in 1989, Prince released a single called the "Scandalous Sex Suite," as part of the "Batman" soundtrack and judging by the title alone, it wasn't the kind of record that you wanted to blare out of your bedroom while your parents were downstairs. The 19-minute single featured Kim Basinger, who also played Vicki Vale in the "Batman" movie. While Basinger doesn't do any actual singing, the song does feature a whole lot of suggestive moaning. While Basinger did work with Prince in a professional capacity for the track, they apparently did spend a whole lot of time outside of the recording studio, too. According to Page Six, Basinger was even willing to leave her Hollywood lifestyle behind to be closer to Prince in his hometown of Minneapolis. Her family eventually managed to bring her back home.
In 2016 and shortly after Prince's death, Basinger admitted that she loved being with the "brilliant talent." She told the Daily Beast, "I don't really have boundaries, so I enjoyed that time of my life. It was a really special moment in time, and I have great memories. I don't put a lot of restrictions on myself, let's just put it that way." That said, little do some fans know that the "Scandalous Sex Suite" wasn't the only track that Prince and Basinger had worked on together. That, and she was also rumored to have dated another famous chart-topper.
Kim Basinger's partners love to sing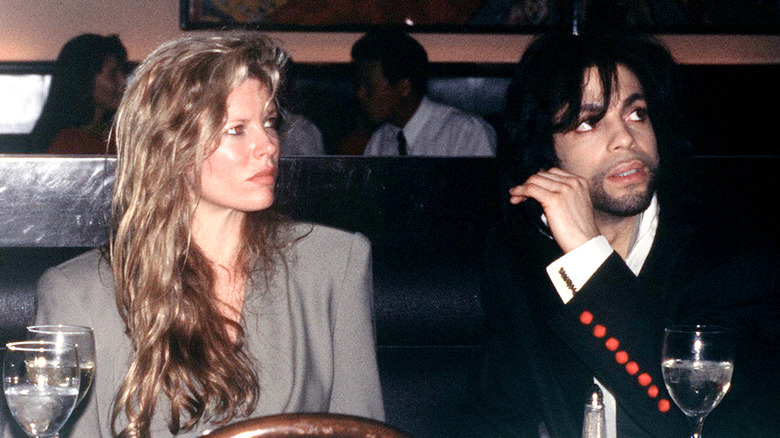 Kypros/Getty Images
According to Page Six, Kim Basinger could have had a career in the music industry. That's because she and Prince had reportedly worked on a never-released album that was titled "Hollywood Affair." In fact, Basinger reportedly rapped on the single "Color of Sex." Some of the lyrics included, "I'll be your slave," along with, "I like the way you make me feel." 
And while both Prince and Basinger's relationship was mostly kept under the radar, she did eventually move on and marry Alec Baldwin in 1993 only for them to divorce in 2002. However, there was some speculation that same year that Basinger might have gotten up close and personal with Eminem while they were working on the movie "8 Mile" together. Basinger played Em's mother Stephanie Smith in the film. The rapper told MTV News that there was no truth to the reports that suggested they were an item. When asked about the rumors, he said, "That was completely untrue. I would not tell a lie." Coincidentally, neither does Prince.