What Did Kim Basinger Do With Alec Baldwin's Engagement Ring?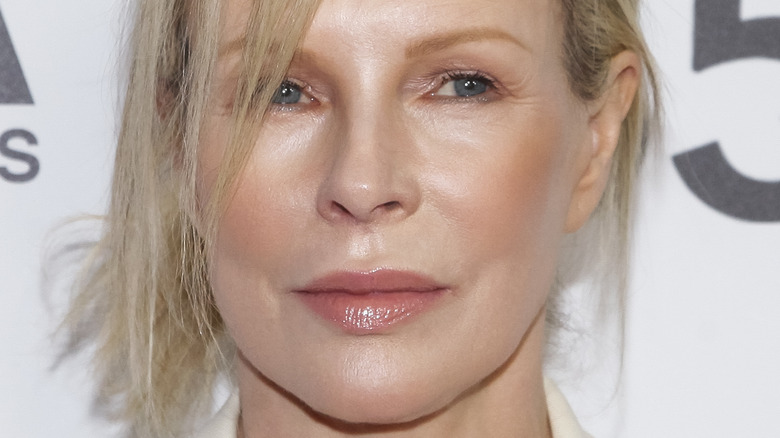 Tibrina Hobson/Getty Images
Through the years a lot has been said and reported on Alec Baldwin and Kim Basinger's 10-year marriage. Much was said of Alec Baldwin's infamous 2007 phone message in which he called his daughter Ireland Baldwin, who was 11 years old at the time, a "thoughtless little pig."  Now, his ex-wife Kim Basinger is revealing what went down behind closed doors during their A-list union. Kim told Jada Pinkett Smith on "Red Table Talk" that her marriage to the "Glengarry Glen Ross" star wasn't easy. Speaking about Ireland's mental health issues, Kim said that her ex-husband wasn't "emotionally and mentally available" to her and also called him a "challenge." She said, via Page Six, "Alec, you know, operates in a very different way in his life."
Kim pulled the plug on their marriage in January 2001 and the divorce was finalized a year later. At the time Kim's father, Don Basinger, told People the same year, "I love Alec. He's the most kind and generous man I've ever known in my life," but added, "His anger. Alec has this kind of anger where he reaches down for something that hurts." After all the drama, what did Kim Basinger end up doing with her engagement ring?
Kim Basinger auctioned off her engagement ring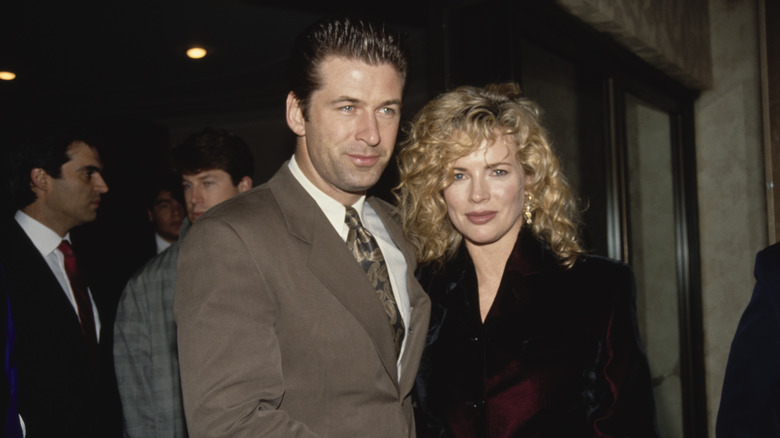 Michael Ochs Archives/Getty Images
Some may keep their engagement and wedding rings or mail them back to their ex like Meghan Markle once reportedly did, but Kim Basinger is not that kind of gal. According to the "Today" show, Basinger auctioned off the engagement ring for a hefty amount: $59,750. Basinger donated the proceeds from the auction of the 3.7-carat Tiffany & Co. diamond ring to The Performing Animal Welfare Society, which is a group that helps elephants, lions, and other performing wildlife. 
Baldwin has never commented about his ex auctioning off her diamond engagement ring, but he has spoken often of her love for animals. In an interview with Vanity Fair in 2000, Baldwin said about his then-wife, "She wants you to get out of the car and get the dog on the Hollywood Freeway, so you jump out of the car and get the dog." He added, "I love Kim. Kim's tastes are very simple, but she doesn't want any of the things anybody else wants." Things didn't get any easier for the couple after their divorce and especially during their custody battle over their daughter, Ireland.
Alec Baldwin compared their divorce to a war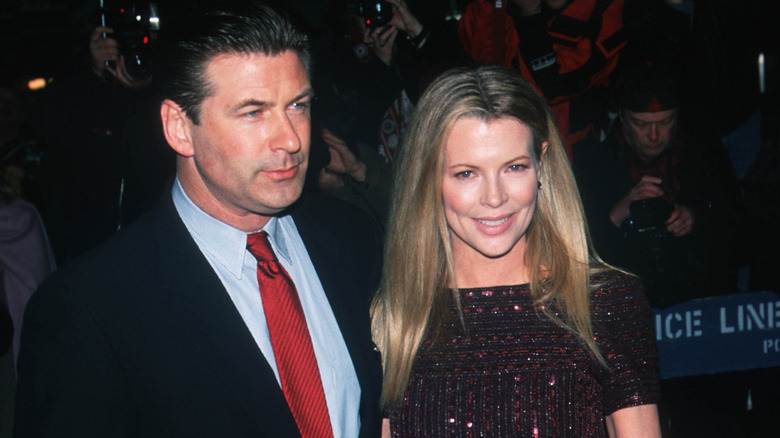 Evan Agostini/Getty Images
It's safe to say that there was probably never a dull moment between Alec Baldwin and Kim Basinger, before, during, and after their marriage. Basinger told Vanity Fair in 2000 that sometimes Baldwin would say, "I hate you, you know," only for her to respond with, "I hate you back." If that weren't enough, in an interview with The Guardian back in 2013, Baldwin had compared his divorce to the Indochina War. He said, "From 2000-2006, during the Dien Bien Phu of my divorce litigation... I can barely tell you what I did for those six years. It was a period that was so painful, I was staring off a cliff for six years."
And like with all wars, the one between Baldwin and Basinger had finally settled down to the point where the two can even joke around with one another now. When Basinger posted an Instagram photo of his sons Romeo, Leonardo, and Rafael, all of whom he shares with Hilaria Baldwin, Basinger commented on the pic (via "Today"), "So cute .... them I mean ...." along with a string of laughing, clapping, and rainbow emojis. Hey, the ex-wife who can troll you, can certainly still be in your life with you, right?