Hugh Grant Kisses His Iconic Charm Goodbye At 2023 Oscars With Snarky Diss To Ashley Graham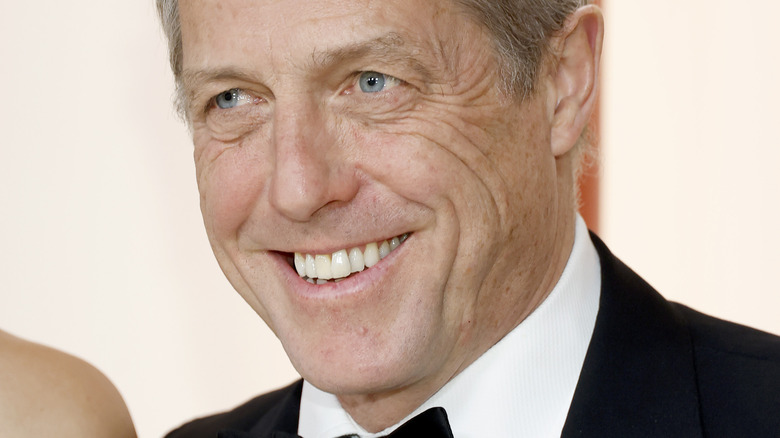 Mike Coppola/Getty Images
The 2023 Oscars kicked off with all the pomp and ceremony that we'd expect and the champagne-colored carpet was studded with Hollywood A-listers, including Hugh Grant. The English actor was interviewed by model Ashley Graham in what has to be one of the most awkward white carpet interviews of all time.
This interview isn't the only awkward part of the night. There's the looming specter of Will Smith's slap from last year. There's no chance it's going to be ignored in 2023, leaving a lot of room for Chris Rock to address said slap on his own terms. On top of that, the announcement of 2023 host Jimmy Kimmel has left fans thoroughly underwhelmed. Will he stand up to the pressure of an unimpressed audience? But before Kimmel even got the chance to surprise us, Grant stepped up to take the cake as the most unpleasant interviewee ever. Fans are defending Graham, and they're annoyed with Grant's spoilsport attitude on Hollywood's biggest night.
Ashley Graham fields an awkward interview with Hugh Grant gracefully
Ashley Graham interviewed Hugh Grant at the 2023 Oscars and people are not impressed with him. Graham asked him what his favorite thing was about coming to the Oscars. "Um. Well. It's fascinating. The whole of humanity is here. It's Vanity Fair," Grant replied. This was the first disconnect. It would appear that Grant was referring to William Makepeace Thackeray's novel of social satire, while Graham thought he was referring to the magazine's famous Oscars party. "It's all about Vanity Fair," Graham said, "That's where we let loose and have a little bit of fun."
Next, Graham asked Grant what he was most excited to see that night. Grant wouldn't roll with it. "To see?" he asked. When she clarified who he was excited to see win, Grant said, "No one in particular." Okay, then. When Graham asked him who he was wearing, Grant was awkward and stony, replying, "Just my suit." When she teased him that he didn't make it himself, he said, "I can't remember. My tailor."
The cringe culminated when she asked about his role in the Oscar-nominated mystery "Glass Onion." He responded, "Well, I'm barely in it. I'm in it for about three seconds." Graham and Grant were done with the unbearable experience. She thanked him and sent him on his way. "You don't have to be that much of a dick, Hugh Grant. I mean you really just don't," someone tweeted. Honestly, that's true.