The Odd Connection Will Smith's Distraction From Oscars 2023 Has To J.Lo And Ben Affleck
Jason Merritt/Getty Images
After the 2022 Oscars, Will Smith embarked on a healing quest. The 54-year-old actor slapped host Chris Rock onstage for taking a jab at Jada Pinkett's Smith shaved head — a decision she was forced to make because of her years-long struggle with alopecia, a condition that causes hair loss, according to Healthline. Smith would later write in an open apology letter that while he had no problem being the subject of a joke, hearing Rock take a swing at his wife's medical condition was unbearable. "I would like to publicly apologize to you, Chris," he added. "I was out of line and I was wrong. I am embarrassed and my actions were not indicative of the man I want to be. There is no place for violence in a world of love and kindness."
Smith received a 10-year ban from the Oscars — a move that was meant to help "[restore] trust in the Academy" as reported by BBC. Though Smith got to keep his Best Actor award, which he won less than an hour after the slap, for his role in the 2021 biopic "King Richard," his decade-long ban means he will not present this year's Best Actress winner with her award, as has been the tradition for many years. He will also not be able to vote on nominated films during his ban.
But Will Smith won't be missing the Oscars, as he seems to be keeping busy just fine.
Will Smith takes a book out of Bennifer's wedding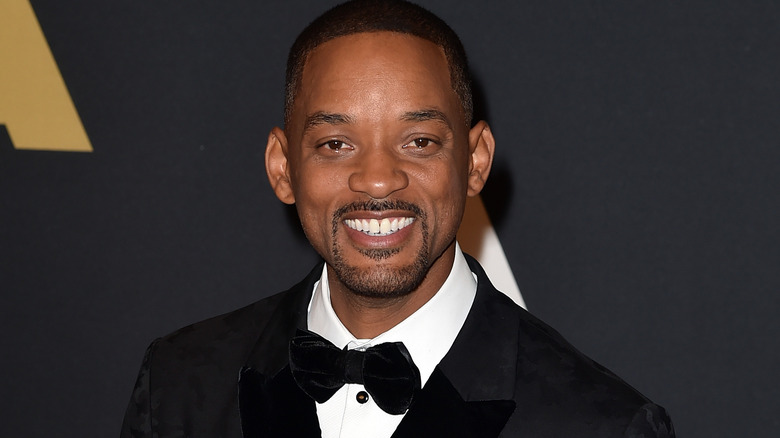 Kevin Winter/Getty Images
One year later and Will Smith is ready to move on — or so it seems. Ahead of the 2023 Oscars, Smith and his wife, Jada Pinkett-Smith were spotted in Los Angeles attending Jay Shetty's show amid his Love Rules Tour. In pictures shared on Shetty's Instagram page, the show also had in attendance, Pinkett-Smith's mom Adrienne Banfield-Norris as well as actor Lauren London. "Feel so blessed to have had this amazing experience with tens of thousands of you so far and I have SO many stories to share with you from my travels," the famous life coach captioned. "We've laughed, we've cried, we've felt and we've healed together. I truly feel closer to all of you and I know you feel my love!"
As many would recall, Shetty, a renowned life coach, previously served as the officiant at Jennifer Lopez and Ben Affleck's 2022 wedding. "I can tell you it is an honor," Shetty told ET of the couple's wedding. "It was absolutely beautiful. And I'm gonna let them share more. But it was truly special — it's beautiful to celebrate love." In addition to Bennifer, Shetty also reportedly officiated Lily Collins' 2021 wedding to husband Charlie McDowell.