Avril Lavigne Was A Guest At Kim Kardashian's Wedding — How Close Were They?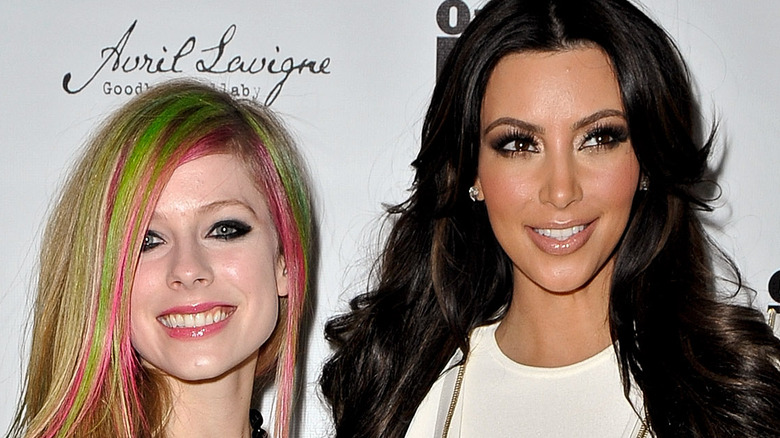 D Dipasupil/Getty Images
Avril Lavigne and Kim Kardashian probably aren't at the top of the list when you think of celebrities who have a lot in common. The former "Keeping Up with the Kardashians" star is known for her figure-hugging style and love of all things feminine, endorsing everything from makeup, to shape-wear, to fragrances — while Lavigne is one of the world's most famous tomboys, often opting for sneakers over high heels, and often rocking baggy pants over skintight dresses.
But, while it might seem like they come from totally different worlds, these two do have quite the connection you may well have forgotten about. Back in 2011, when Kardashian married her second ex-husband, Kris Humphries, Lavigne was in attendance — and was even spotted spending some time with the reality star a couple of times before that! But just how close were these two for the "When You're Gone" hitmaker to snag an invite to the event literally everyone was trying to get into?
Avril Lavigne attended Kim Kardashian's wedding with Brody Jenner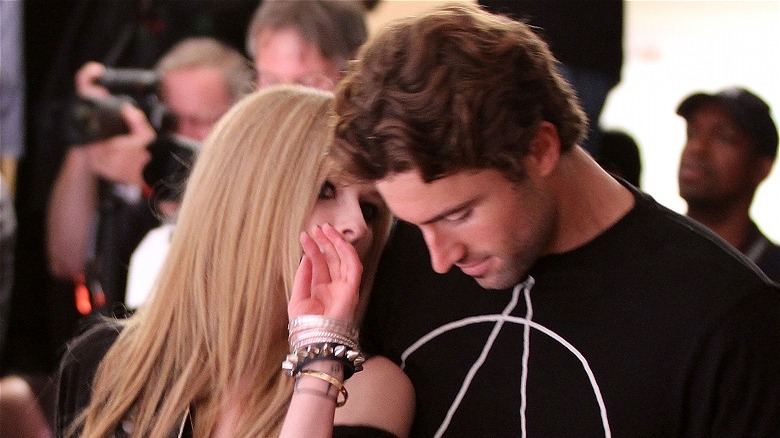 Jerritt Clark/Getty Images
It looks like, rather than Avril Lavigne and Kim Kardashian being soul sisters, the rocker was more than likely invited to the big Kardashian wedding event as a plus one. You may have forgotten that Lavigne actually dated Brody Jenner for a while, and he was, of course, Kardashian's former stepbrother. (Brody is the son of Caitlyn Jenner, who was married to Kris Jenner, Kardashian's mom, from 1991 until 2014.) Lavigne and Brody kept a bit of a low-profile at the very high-profile event, according to E! News, with the outlet claiming the two were seated toward the back and didn't appear to chat with too many other guests.
But Brody and Lavigne did seem to get along well with Kardashian and Humphries. The latter couple actually attended Lavigne's "Goodbye Lullaby" album launch party in 2011 and looked pretty friendly with the singer and her then-boyfriend as they posed for photos. Kardashian, Lavigne, and Brody were also photographed together the year prior when the "Girlfriend" singer was on Brody's arm for the Kardashians' famous Christmas Eve party.
However, the rocker's romance with "The Hills: New Beginnings" star just wasn't meant to be, and it seemed like her connection with Kardashian fizzled as a result. Us Weekly reported in January 2012 the two had gone their separate ways, with a source claiming, "It was mutual, but Brody really broke up with her."
Avril Lavigne's connection to the Kardashians didn't stop there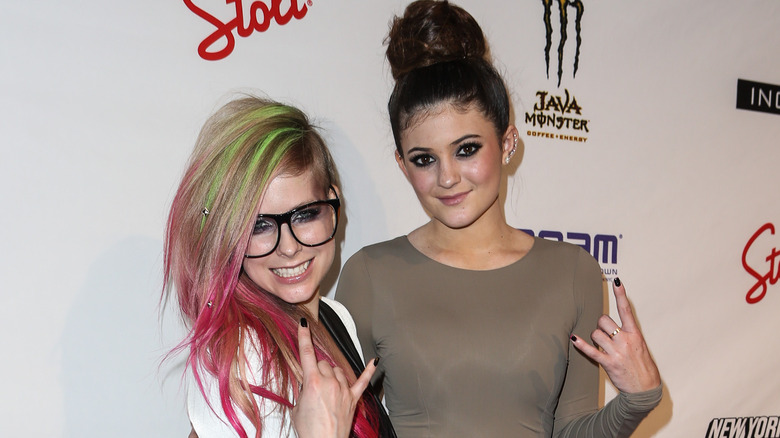 Chelsea Lauren/Getty Images
But Avril Lavigne's breakup with Brody Jenner didn't exactly mark the end of her connection to the Kardashians... and especially not the Jenners. While Lavigne and the famous family didn't make many headlines together for several years in the wake of Lavigne and Brody's split, it wasn't too long before she was back in the family's orbit. In fact, Lavigne actually started dating someone else connected to the famous family. Step forward, Tyga.
In March, Lavigne went public with her new romance with rapper Tyga, shortly after calling off her engagement with Mod Sun. The two had been spotted together before, but while many thought it was all platonic, Page Six proved it definitely wasn't with a snap of them kissing in Paris (which just so happened to be where Mod Sun proposed to her a few months earlier). That Kardashian connection we were telling you about? Well, Tyga famously dated Kylie Jenner (Brody Jenner's half-sister!) for around three years on and off before they split in 2017.
Making things even more awkward? Back in 2011, a teenage Kylie walked in Lavigne's Abbey Dawn fashion show and they even posed together on the red carpet. So, yeah, that's just all pretty awks. We're guessing these two probably don't spend their days binge-watching old episodes of "Keeping Up with the Kardashians" ... or "The Hills," for that matter.