The Scary Accident Behind Morgan Freeman Always Wearing A Glove On His Left Hand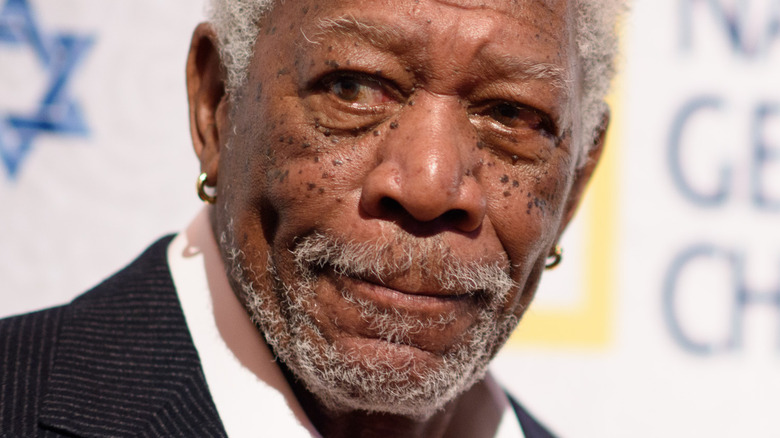 Dave Kotinsky/Getty Images
Morgan Freeman is one of the most beloved actors in Hollywood. From taking on the role of God in "Bruce Almighty," to appearing in the likes of "Million Dollar Baby" and "The Shawshank Redemption," there's literally no role on the planet this insanely talented man can't play.
At this point, it feels like we know all there is to know about this star, as he's been on our screens for decades now (and still shows no signs of slowing down just yet!) but one thing you may not know about him is that, if you're lucky enough to run into Freeman in real life (totally manifesting this for us, by the way), he may well be wearing a glove. On multiple occasions, the actor has walked a red carpet or appeared at an event with his left hand covered, including the 2023 Oscars when he took to the stage alongside Margot Robbie wearing a long, black glove. Before that, he was snapped wearing a similar glove at the "Line of Fire" movie premiere in France in September 2018, while he also looked super suave wearing a white glove and flashing a big smile during a photo call in the European city during that same trip.
But, while wearing a glove may look seriously stylish, it's actually not just a fashion statement for the legendary actor, as there's a more serious reason behind his decision to cover his hand.
Morgan Freeman began wearing the glove after a 2008 car accident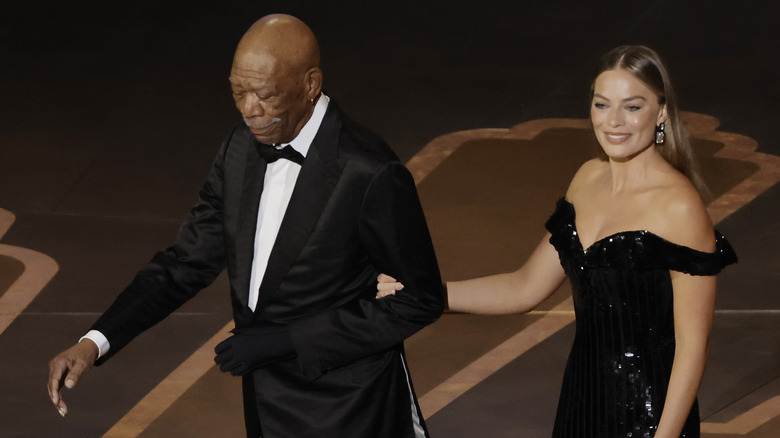 Kevin Winter/Getty Images
Far from being all about style, it turns out that Morgan Freeman often opts for a glove on his left hand as a result of a car accident he was involved in back in 2008. The terrifying accident saw Freeman's car flip multiple times and he was airlifted to the hospital after suffering a broken arm and a broken shoulder. The star underwent surgery on his left hand and arm in an attempt to reconnect the damaged nerves, with his spokesperson sharing in a statement that the surgery took more than four hours, but Freeman was doing well immediately after.
Thankfully, Freeman was mainly okay following the terrifying accident that could have been so much worse, though he experienced some nerve damage as a result. In a candid conversation with Kingdom, the actor explained that, in the aftermath of the accident, he's only able to do some things, like play sports, with one hand. "[The nerve damage] hasn't gotten better. I can't move it. If you don't move your hand, it will swell up," he shared. "Do you know you move your hand about a million times a day?" 
It's thought the single gloves Freeman can often be seen sporting are likely compression gloves which help maintain the blood circulation in his arm and hand.
Morgan Freeman has fibromyalgia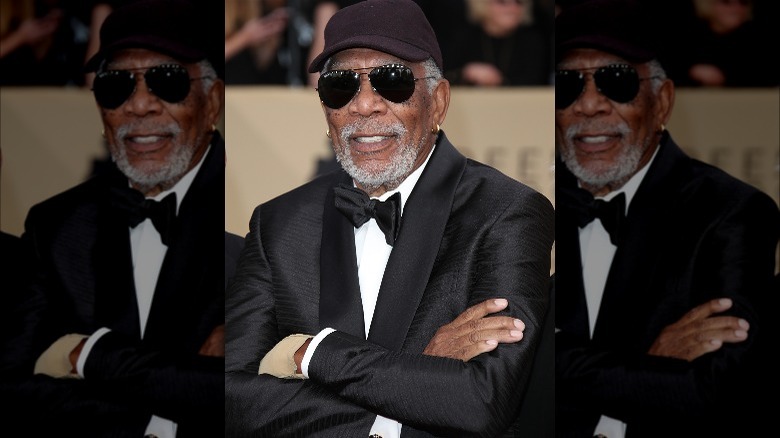 Dan Macmedan/Getty Images
Not only did Morgan Freeman suffer nerve damage in the wake of his accident, but he also experiences fibromyalgia. During a 2012 interview with Esquire, the actor shared that he's often in a lot of pain with his shoulder, while confirming that he was actually rescued from the car crash using the Jaws of Life, proving just how serious the accident really was. "It's the fibromyalgia. Up and down the arm. That's where it gets so bad. Excruciating," he shared, revealing the injury had forced him to give up a few things he used to enjoy, like sailing and flying planes.
It's thought wearing the long glove can help relieve some of Freeman's pain, and we have to say he looks pretty darn good wearing one, too! Though there are still times you might see him on a good day with two bare hands, the star seems to have quite a few different gloves in his collection which he's shown off over the years. In addition to the classic black one he rocked at the Oscars and the white one he brought out in France, he's also sported a few other colors, like the tan glove he sported when he attended the 24th Annual Screen Actors Guild Awards back in 2018, the same year Freeman was honored with the SAG Lifetime Achievement Award.