Angela Bassett And Chadwick Boseman First Crossed Paths Long Before Black Panther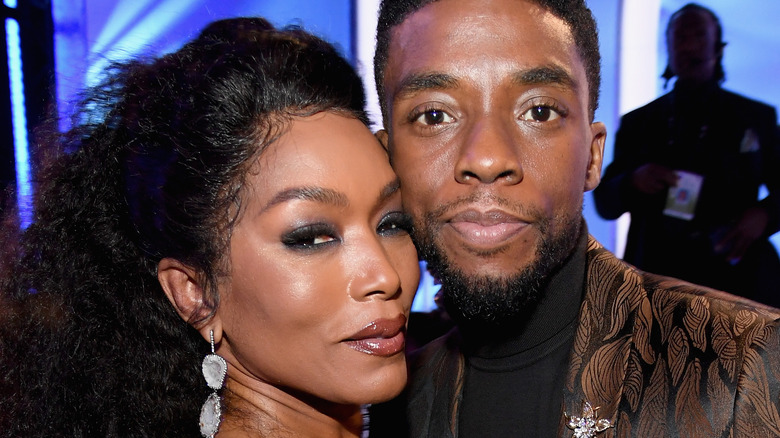 Kevin Mazur/Getty Images
Angela Bassett and Chadwick Boseman had a special friendship before his tragic death in 2020. Not only did the acting pair play mother and son in 2018's "Black Panther," but their connection to each other actually goes way further back than the iconic superhero movie.
Many don't know that the two actor's first on-screen interaction was on a 2008 episode of "ER" — which starred Bassett as the chief of emergency medicine — titled "Oh, Brother." Given a one-episode arc, Boseman guest starred as a boxer who refused to stop fighting despite the serious injuries. In one scene, the "Waiting to Exhale" actor saved her future costar from bleeding out. (And to add on to the boxing theme, actor Carl Weathers, who played Apollo Creed in the "Rocky" series, portrayed Boseman's character's father.) 
Of course, Bassett and Boseman would later team up for the groundbreaking "Black Panther" movie, where Boseman dubbed Bassett the runner-up "Queen of Rap" during their on-set cyphers, per his 2018 interview with Vanity Fair. But it turns out that their connection goes even further back than 2008!
Chadwick Boseman was a student escort for Angela Bassett during college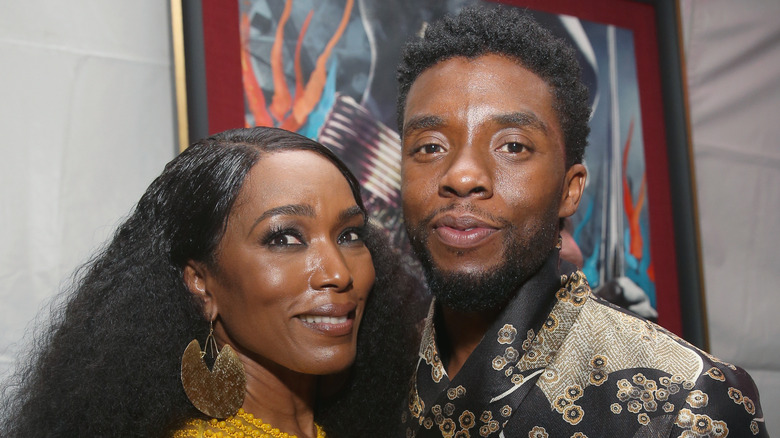 Jesse Grant/Getty Images
Due to a fateful coincidence, costars Chadwick Boseman and Angela Bassett first crossed paths when the future superhero was about to graduate from the historically Black college, Howard University. There, Boseman was part of the class of 2000 and earned a Bachelor of Fine Arts in directing. In 2018, the "42" actor was invited back to his alma mater to deliver that year's commencement speech. Before the ceremony, Boseman visited "Live with Kelly and Ryan," where he discussed the "full circle" moment of how Bassett was the one who spoke at his own graduation, and now they star in "Black Panther" together. When host Kelly Ripa asked if the Oscar-nominated actor knew about this story, Boseman coyly answered, "She knows, yes."
After his unexpected death in 2020 due to colon cancer, Bassett reminisced on this other-worldly coincidence and how Boseman actually reminded her of that 2000 graduation ceremony. "It was meant to be for Chadwick and me to be connected, for us to be family," she wrote in an emotional tribute for the beloved actor. "During the premiere party for Black Panther, Chadwick reminded me of something. He whispered that when I received my honorary degree from Howard University, his alma mater, he was the student assigned to escort me that day. And here we were, years later as friends and colleagues, enjoying the most glorious night ever!"
The Black Panther family continues to keep Boseman's memory alive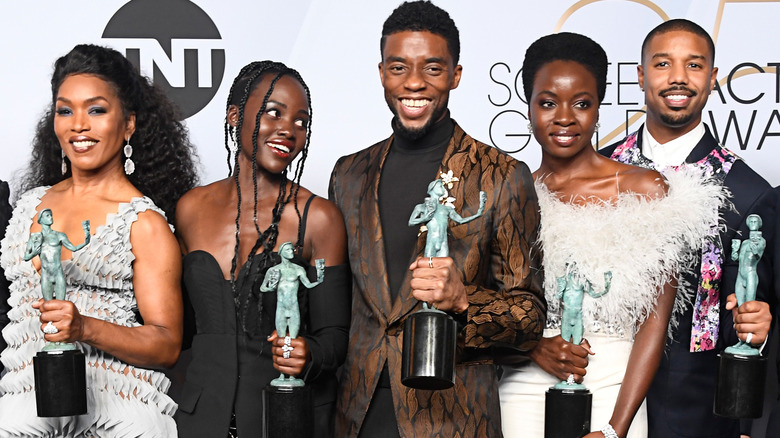 Frazer Harrison/Getty Images
For many, it was impossible to imagine a "Black Panther" movie without its north star, Chadwick Boseman. But after his death, the "Black Panther" cast and crew came together to make a sequel in honor of the massive love the creators and fans have for him. Without spoilers for "Black Panther: Wakanda Forever," we'll say that Boseman's memory is present throughout the emotional film.
On the red carpet of the 2023 Oscars, Angela Bassett — who was nominated for Best Supporting Actress for her performance in the movie — reminisced on how the original King T'Challa inspired the production. "Chadwick Boseman, who's our leader in all of this, now in spirit," she lamented in her on-carpet interview with Sky News. "We assembled again to make a movie that he would be proud of and that would honor him." The film's costumer, Ruth Carter, who won the Oscar for Best Costume Design, shouted out Boseman in her acceptance speech.
When Bassett took home the prize at the Golden Globes, she made sure to honor her late friend when speaking about the film's cast and crew. "We mourned, we loved, and we healed and we were surrounded each and every day by the light and the spirit of Chadwick Boseman," she remarked during her speech. "And we have joy in knowing that with this historic 'Black Panther' series, it is part of his legacy that he helped to lead us to."