What's The Age Difference Between Hugh Grant And His Wife Anna Eberstein?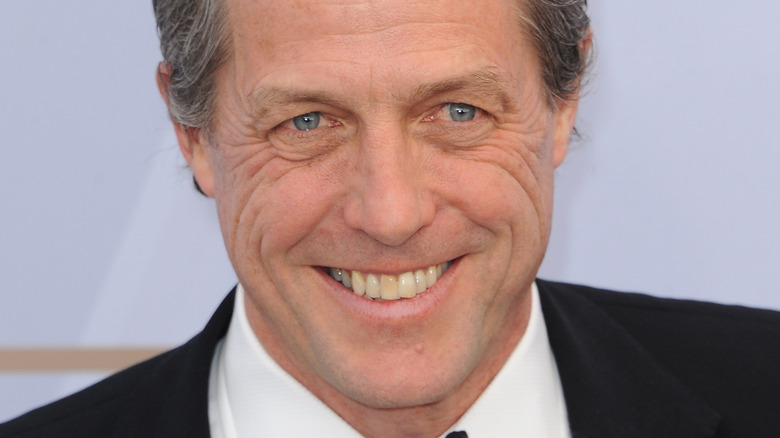 Tinseltown/Shutterstock
Hugh Grant married longtime girlfriend Anna Eberstein in 2018. They tied the knot at the Chelsea Registry Office in London during a relaxing and intimate gathering. "Everybody looked very happy and relaxed. It was obviously an informal occasion with only very close family members present," an insider told The Telegraph. The group took photos afterward. "The group congregated on the steps and Grant stepped in right at the last minute, seemingly in a bid to attract attention," the source added.
Grant has five children. He welcomed his first child with his ex-girlfriend Tinglan Hong; he then welcomed a child with Eberstein and, shortly after, had another child with Hong. So, he got back together with his ex for a time. That certainly makes for a complicated love triangle! Grant and Eberstein went on to have two more children, making Grant a father of five in total. To make matters even more impressive, Grant was 50 when he had his first kid. But how old is Eberstein? And what's their age gap?
Hugh Grant wishes he'd gotten married earlier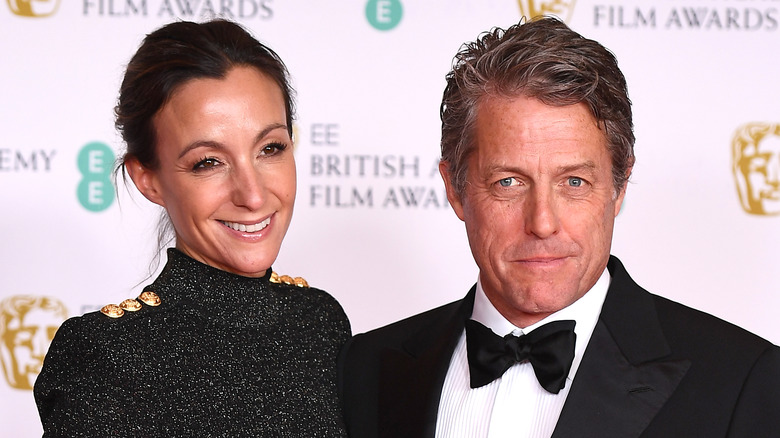 Jeff Spicer/Getty Images
Hugh Grant and Anna Eberstein have an 18-year age gap. He was 57 when they got married, while the Swedish TV producer was 39. Marriage suited Grant well, which came as a surprise to many since he was a bachelor for so long. "It's really nice," he told Savannah Guthrie on "Today." "I can't pretend it isn't. I should have done it before." Grant joked about being a late bloomer. "You don't think I'm too young?" he teased. "I've been lucky. I've got a great wife, and lover."
Grant admitted to USA Today that neither he nor Eberstein were keen on marriage leading up to it; they really did it for their children. "My wife agrees with me that marriage is a pretty preposterous social construct," he said. "But when you've got three children, it's a nice thing to do." In fact, it had a practical reason, too, and one that Grant had to later explain.
Eberstein and Grant faced passport issues before their marriage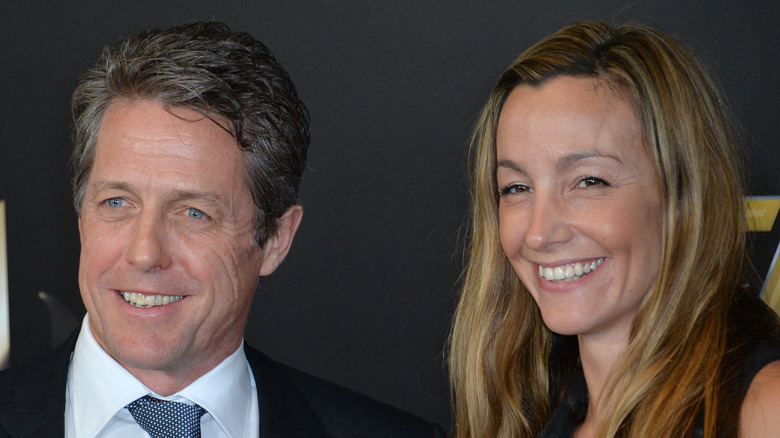 Featureflash Photo Agency/Shutterstock
Since Anna Eberstein is Swedish and Hugh Grant is English, traveling with two different passports became a tough experience. "I didn't like going through immigration into countries where they'd say, 'Everyone with a Grant passport, over here, and all the others through there.' She went through with the nannies. That seemed all wrong," Grant explained.
The comment was taken out of context, and people thought Grant married Eberstein to simplify their passport conundrum. On Twitter, Grant posted a screenshot that showed his wife's name and a link to a previous article that said he married her for passport reasons. "No I didn't, @Internet," he replied. "I married her because I love her."
Someone got cheeky and poked fun at Grant's Google search. "Did Hugh Grant forget who his wife is and have to Google it?" they tweeted. Grant replied, "No. A friend sent it to me." This is the most responsive Grant has ever been on social media! Don't worry, Grant. We believe you!